Distinguished Alumni Awards
Each year the faculty of the Department of Aeronautics & Astronautics recognizes outstanding contributions to aerospace engineering and the nation's progress in air and space by electing a Distinguished Alum.
2017 Distinguished Alumna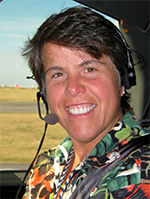 Heather P. Ross; BS '85
Heather P. Ross has spent her career in the aviation industry, as an engineer, military transport pilot, commercial airline pilot, customer demonstration pilot, engineering test pilot, speaker, mentor, and educator.
Heather graduated from the University of Washington, and joined the Boeing Company where she worked as a flight test engineer. She left after three years to join the U.S. Air Force and graduated from Air Force pilot training. She went on to fly the C-5 military transport airplane during Operation Desert Shield and Desert Storm, flying missions into Saudi Arabia, Iraq and Kuwait.
Heather later flew for United Airlines as a first officer on the 737 and 747 airplanes before returning to Boeing as a production pilot, flying first flights, customer demonstration flights, and formation/airborne photography flights. She holds FAA type ratings in all current Boeing models and has participated in numerous test programs on all Boeing airplane models, most recently, the 787-8/9/10, and 737 MAX airplanes.
For ten years, Heather was assigned to the 787 program as an engineering project pilot, responsible for contributing to airplane design decisions, and executing Boeing and FAA certification testing on the 787-8 and 787-9 flight test airplanes. She flew multiple legs of the 787 World Tour in 2012, where she introduced the airplane through media interviews and conducted customer demonstrations all over the world. She is currently assigned to the 777 and 777X program as a project pilot.
Heather is a frequent speaker on aviation and flight testing, has spoken about aviation at colleges, high schools, and to international pilot organizations, and she participates in youth aviation events and other STEM activities. Her contributions to flight test are evidenced by her selection as a Boeing Associate Technical Fellow. She is also a member of the Society of Experimental Test Pilots, and Beta Gamma Sigma Honor Society. Heather was awarded the U.S. military's Air Medal and the Air Force's Aerial Achievement medal for her service during the Gulf War.