March 31, 2020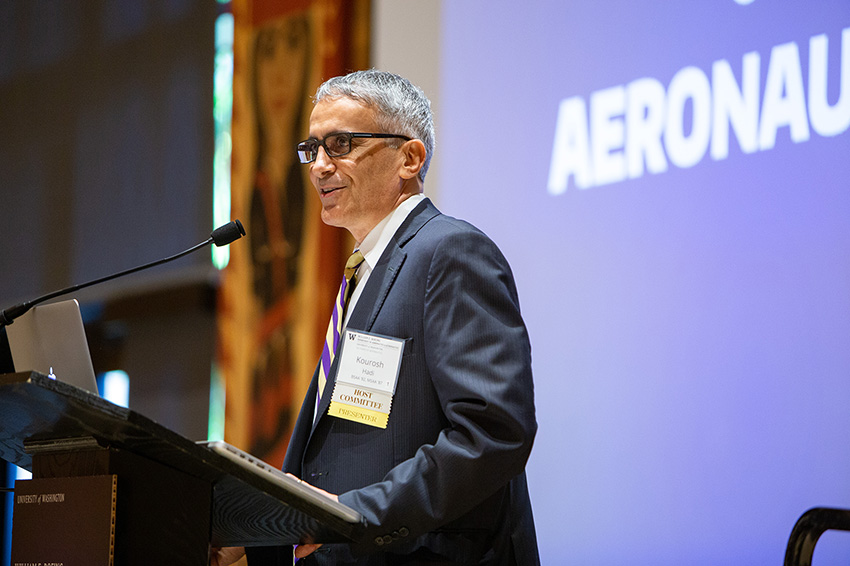 Kourosh Hadi (BS '82, MS '87) has been named the 2020 A&A Distinguished Alumnus. Hadi has made major contributions to the field of aeronautics through his many leadership roles at Boeing as well as his work with the A&A department, starting with his time as an undergraduate on the Kirsten Wind Tunnel crew to his current work as the department's Boeing executive focal.
Since 2012, Hadi has been responsible for development of all new and derivative Boeing airplanes. He oversees advanced concepts, technology integration and competitor airplane analysis. Hadi also serves on the Board of Directors of HRL Laboratories (formerly Hughes Research Laboratories). In his years of different leadership roles in Boeing Commercial Airplane Product Development, he has led the preliminary design and successful launch of many significant programs including 787, 777x, 737-10, 767 Tanker, 747-8, 777 Freighter, 747 Dreamlifter, and 767-400ER.
Before his current position, he was the Boeing 767 Chief Program Engineer including for the KC-46 tanker. He was responsible for leading the program, and maintaining technical integrity and quality engineering design, certification and safety.
Hadi served as deputy Chief Program Engineer and integration leader for 747-400, integration leader for 747-4000ER, and was 767-400ER wing leader. He was promoted into management in the Airplane Configuration and Integration group in 2000, leading product development programs for 747, 767, 777 and new airplane programs. He began with Boeing as a noise research engineer in 1985.
Since 2007, Hadi has been working directly with the A&A department as both the Boeing executive focal and as a member of the Visiting Committee. In these roles, he has worked toward enhancing A&A's excellence in education, research, and experimental capabilities. In particular, he has strengthened the links with Boeing to align research in the department with cutting edge developments in the aerospace industry, work he continues today.