The William E. Boeing Department of Aeronautics & Astronautics is looking forward to celebrating with its Class of 2022!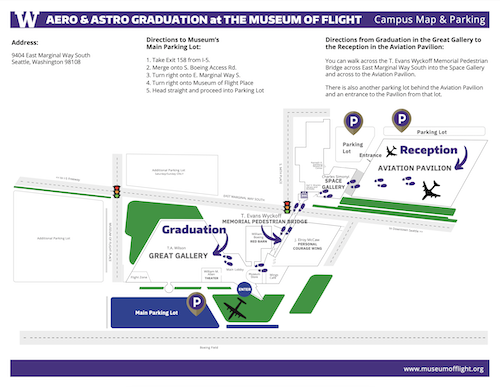 On Saturday, June 11, 2022 (6:00 pm Pacific Time), the Department of Aeronautics & Astronautics will celebrate the class of 2022 at the Museum of Flight. We will also stream the event for friends and family who can not attend. Reception with light refreshments to follow the ceremony in the Aviation Pavilion across E. Marginal Way S.
[UW Commencement is a separate event. Visit the UW Commencement page for those details and registration.]
COVID reminders for you and your guests
Stay home if you're sick. It's hard when there is much to celebrate, but it's important.
Test before attending the event.
Face coverings are recommended – strongly indoors and also in outdoor crowded settings.
We will have face masks available at the ceremony.
Schedule
5:30 - Doors Open to The Great Gallery.
We will direct graduates where to line up and guests where to find their seats.
6:00 - Be There, Be Dressed.
Arrive in your cap and gown.
6:15 - Start.
The ceremony will start promptly at 6:15pm.
7:45(ish) - Reception in the Aviation Pavilion.
A reception with light refreshments will be held immediately after the ceremony in the Aviation Pavilion across East Marginal Way South. The airplanes in the Pavilion will be open for exploration. The evening usually wraps up by 8:30/8:45.
*Please note the walk from the ceremony in the Great Gallery to the reception in the Aviation Pavilion is far for those with mobility limitations. There is a parking lot behind the Pavilion that is open.
Ticket Pick-up & Will Call
Graduation tickets are available for pick-up in GUG 211 until 5pm on Thursday, June 9. If you cannot pick up tickets by the end of the day on Thursday, we will have a Will Call table at the event.
Webcasting
We will have a livestream of the ceremony on YouTube: https://youtube.com/uwaeroastro
Arrival & Check-In
Participating students do not need a ticket (only guests need tickets).
Students will be directed to check in upon arrival to receive your name card and line-up order.
Leave backpacks and bags in the car.
Students are expected to wear business casual attire under their gown.
Graduates will walk across the stage, which includes a few stairs up and down. Choose shoes according to your comfort and confidence.
Accessibility
If you or your guests will be attending in a wheelchair or have other mobility limitations, please let us know if you haven't already so we are prepared to welcome everybody with ready accommodations. You can contact Amy Sprague (sprag@uw.edu) if you have not contacted Advising or Front Desk staff yet.
General Reminders
No balloons permitted at the Museum of Flight. Please ask your guests to save balloon and balloon-like gifts for later.
Evening traffic on graduation Saturday is usually heavy. Plan ahead!

For questions about graduation eligibility, degree requirements, or other end-of-year business, students should contact the academic advising team directly:
Undergraduate Advising: aeroadvising@uw.edu
Graduate advising: aerograd@uw.edu