A&A Quick Facts
The University of Washington's Department of Aeronautics and Astronautics offers the only aerospace degree program in the Pacific Northwest, a region whose aerospace industry has been a major contributor to the technological development, economic vitality and the security of the United States.
Undergraduate Enrollment & Achievements
Undergraduate enrollment

2016

226

Women
Underrepresented minorities

19%
10%

BSAAE degrees awarded Spring 2016

60
Graduate Enrollment & Achievements
Graduate enrollment 2016

234

Women
Underrepresented minorities

18%
13%

MSAA degrees awarded 2015-16

33

MAE degrees awarded 2015-16

34

PhD degrees awarded 2015-16

10
Air Force Research Laboratory Space Scholar
Multiple National Science Foundation Graduate Research Fellows
Clean Energy Institute Graduate Fellow
Lemelson-MIT Student Prize
National Defense Science and Engineering Graduate Fellow
Air Force Research Laboratory Space Scholar
Department of Defense SMART Scholar
Society of Women Engineers Region J Scholar
UW Husky 100 Awardee
AIAA-Aviation Week 20 Twenties Awardee
Forbes Magazine's "30 Under 30" Awardee
19 core tenured and tenure-track faculty and 5 research faculty
8 faculty adjunct with other UW Engineering and science departments
26 affiliate faculty representing industry and outside research institutions
10 post-doctoral research associates
FY 2017 Annual Operating Budget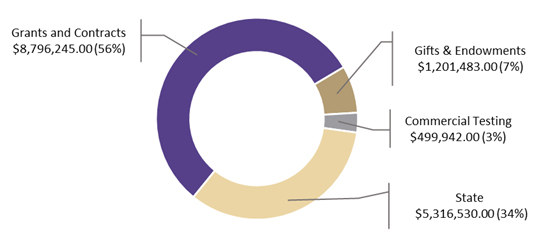 Quick History
Boeing Wind Tunnel (now the Aerodynamics Laboratory (ADL)) built in 1917 at UW.
UW starts one of the first Aeronautical Engineering departments in the nation in 1929, one of seven originally established with the help of the Guggenheim Fund for the Advancement of Aeronautics.
Founding faculty: Fred S. Eastman,  Everett O. Eastwood, Frederick K. Kirsten, John W. Miller.
Kirsten Wind Tunnel built in 1936; formal testing begins in 1939 with the North American AT-6 "Texan."
"Astronautics" added to department name in 1961.
NASA grants $1.5 million in 1966 to build new Aerospace Research. Laboratory (now AERB). Building dedicated in 1970.
Download our department Fact Sheet.