Amy Sprague
December 6, 2018
"Go after the work that you have passion for. Follow your curiosity. Enjoy it every day and be as good at it as you can. Work at it. Put in the time. Don't ever forget first principles – it puts everything else in context." – Laura McGill
Image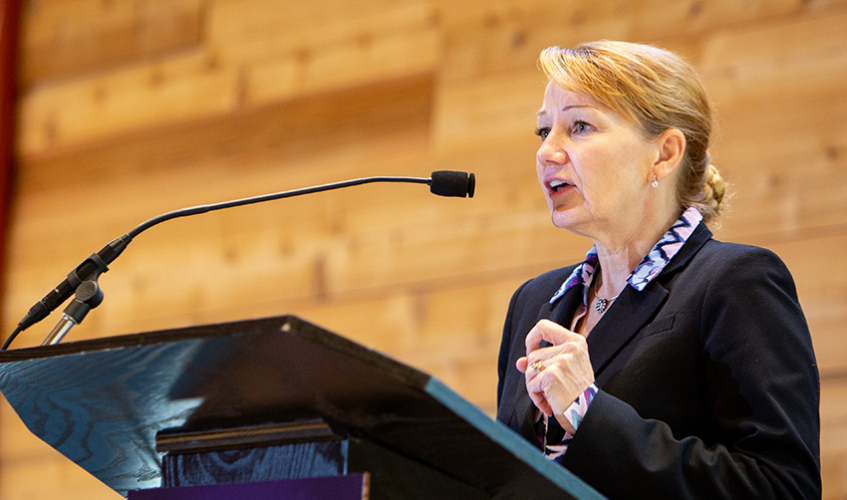 A&A is thrilled to highlight our 2018 Distinguished Alumna, Laura McGill. McGill is Engineering vice president of Raytheon Missile Systems. Previous positions have included chief engineer for the Air Warfare Systems portfolio of programs and chief engineer for Tomahawk cruise missiles.
Of her A&A preparation, McGill said, "A&A really did prepare me for professional life. I felt like I received a strong physics-based 'first principles' understanding of everything I learned, which is important."
She continued, "My education was really excellent and was supplemented by working at the Kirsten Wind Tunnel, providing direct exposure to how work is done in the industry. It also gave me a leg up in my first job because I received credit for professional experience." To emphasize that influence, early in McGill's career as a test integration engineer at General Dynamics, she supported the establishment of a wind tunnel facility for the Taiwan Air Force.
She also fondly recalls the flight test class with Professor Robert Joppa. "The department owned a Beechcraft D18 back then that we used as a flying laboratory – we could log and analyze the data," she said. Later, McGill was responsible for all the flight testing for a major program, and she credits the flight test class with helping her understand how you work with real flight vehicles, "not just how you take data, but there are safety aspects and planning and I developed a real appreciation for how you work with aircraft," she explained.
One of her favorite classes was the junior lab with Professor Adam Bruckner. "My education was very hands-on, but Bruckner's and [Abraham] Hertzberg's classes in particular. Adam's lab was only three credits compared to all of the other five-credit courses, but we spent ten times as much time on that class than others! It gave me terrific hands-on experience that was invaluable as I launched into my career."
Bruckner said of McGill, "It is extraordinarily rewarding to me to see how well Laura has done in her career. I remember her as a dedicated and hard-working student in the three lab classes that I taught back in the early '80s. She applied these attributes to her profession to build an enviable career at Raytheon. I am very proud of her accomplishments."
Upon hearing of McGill's comments on the junior lab workload, Bruckner laughed and said, "I've heard similar sentiments of the enormous workload. I wanted to make my students' experiences tougher here than in the real world to give them an advantage over the competition out there. My strategy seems to have worked!"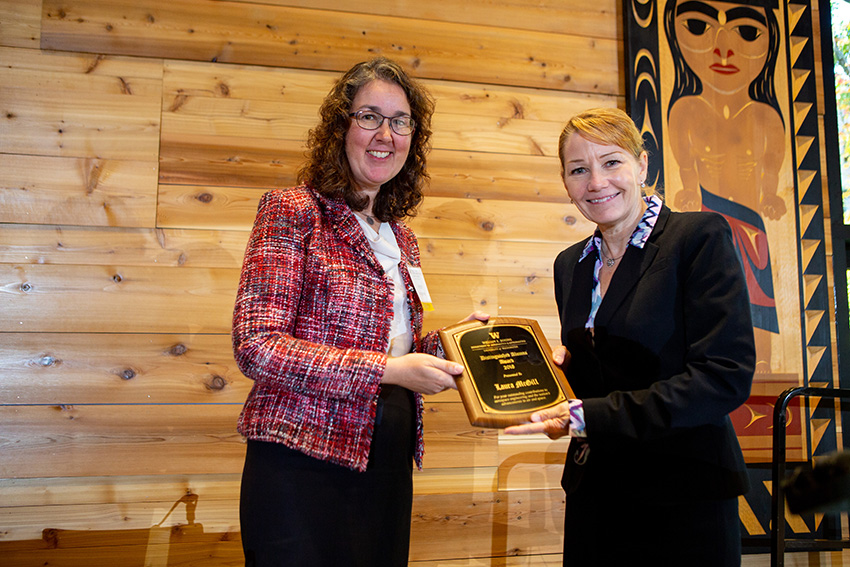 McGill is truly a trailblazer in her field. There were only three women in her A&A graduating class, though she says, "The faculty treated me as an equal which drove the students to treat me as an equal. A&A was very supportive of my work and helped build my confidence to work in a male-dominated career." She was often the "only woman in the room," and has had many notable firsts, including first woman vice president of technical activities for AIAA, first woman chair of a national technical committee on Ground Testing, and at Raytheon: first woman chief engineer of a major program, first woman product line chief of a portfolio of programs, and the first woman vice president of engineering within her business unit.
A&A Interim Chair Kristi Morgansen said of McGill, "A&A is honored to number Laura among our alumni, and particularly among our distinguished alumni. Her career trajectory and community engagement at all stages sets a standard that we aspire for all of our students to achieve."
McGill has some advice for current A&A students and recent graduates, "Go after the work that you have passion for. Follow your curiosity. Enjoy it every day and be as good at it as you can. Work at it. Put in the time. Don't ever forget first principles – it puts everything else in context."