Sarah Chu
August 14, 2023
A&A's 2nd annual Graduate Research Showcase featured cutting-edge research from graduate students across all of our programs.
A&A's second annual Graduate Research Showcase celebrated the department's cutting-edge research. Graduate students delivered 2-minute lightning pitches on their research to the audience and then presented their posters to attendees and judges. A&A Condit Scholar Sarah Li delivered her research via video as a keynote presenter.
We would like to thank our judges, A&A board members Laila Elias, Gary Lai, and Roger Myers, alumna Deanna Farago, and A&A professor Karen Leung. Criteria included accessible messaging, viable solutions, and the potential impact for aerospace and society.
Congratulations to our 2023 Research Showcase winners!
1st Place $600
Chris Hayner and Samuel Buckner
HALO: Hazard-Aware Landing Optimization (for Autonomous Systems)
2nd Place $300
Collins Davis
Rain Erosion: from Multi-physics Modelling to Efficient & Cost-Effective Qualification
3rd Place $200
Troy Nakagawa
Unraveling the Mechanical Behavior of Discontinuous Fiber Composites
People's Choice $300
Tie
Ari Athair
How Can We Improve Underwater Turbines with Hydrodynamic-Exploiting Control?
Peter Thoreau
Performance of the Plume: The ACME Hall Thruster
Research projects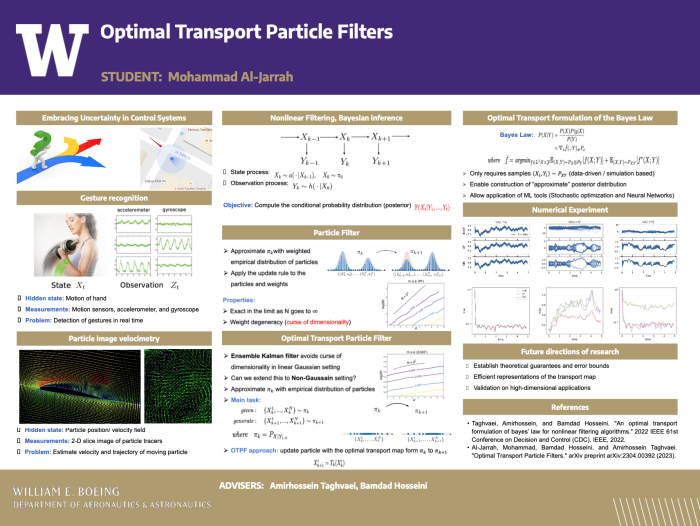 Optimal transport particle filters
Mohammad Al-Jarrah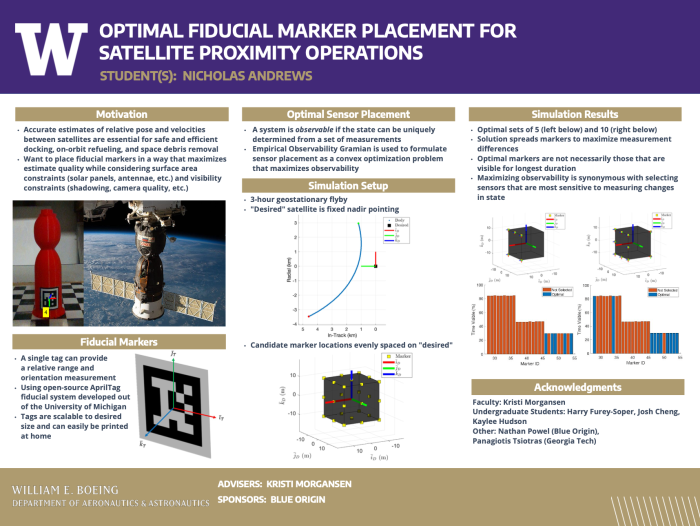 Optimal fiducial marker placement for satellite proximity operations
Nicholas Andrews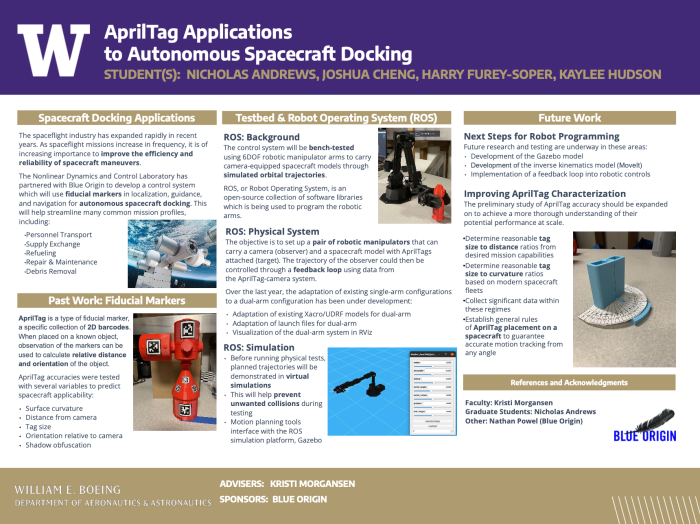 AprilTag applications to autonomous spacecraft docking
Nicholas Andrews, Joshua Cheng, Harry Furey-Soper and Kaylee Hudson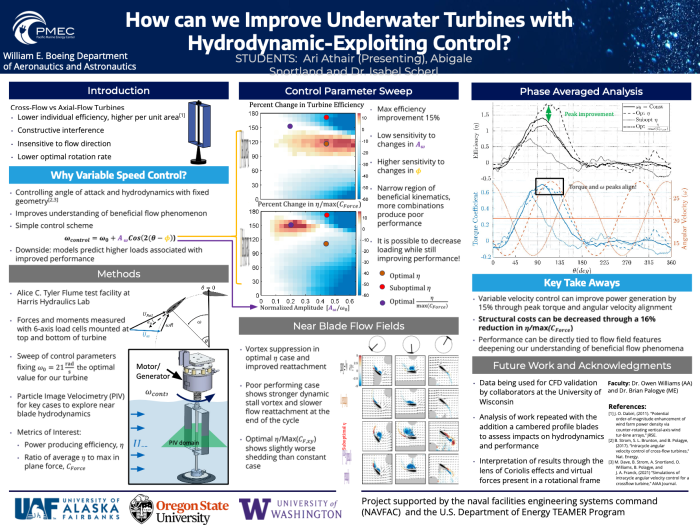 How can we improve underwater turbines with hydrodynamic-exploiting control?
Ari Athair and Abigale Snortland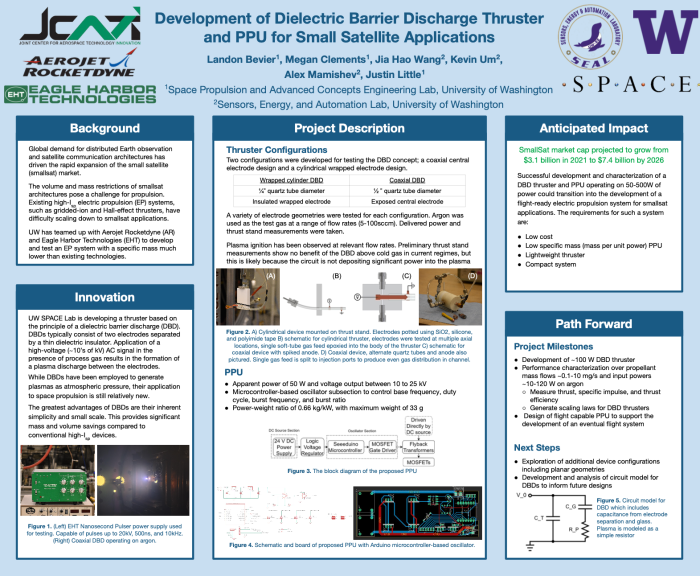 Development of dielectric barrier discharge thruster and PPU for small satellite applications
Landon Bevier, Megan Clements, Jia Hao Wang, Kevin Um and Alex Mamishev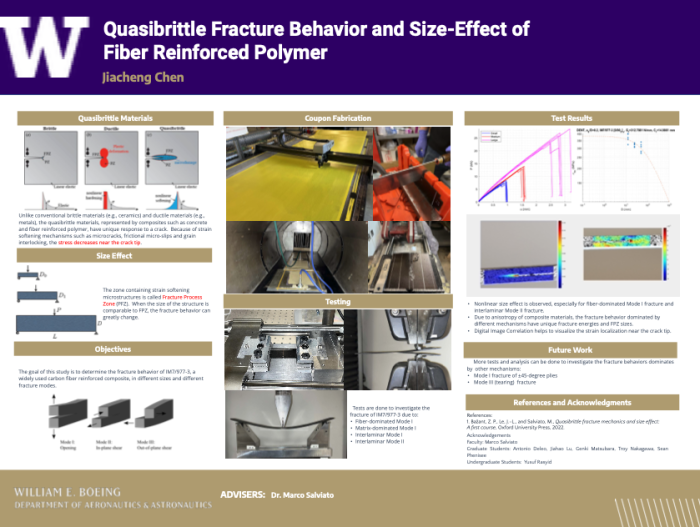 Quasibrittle fracture behavior and size-Effect of fiber reinforced polymer
Jiacheng Chen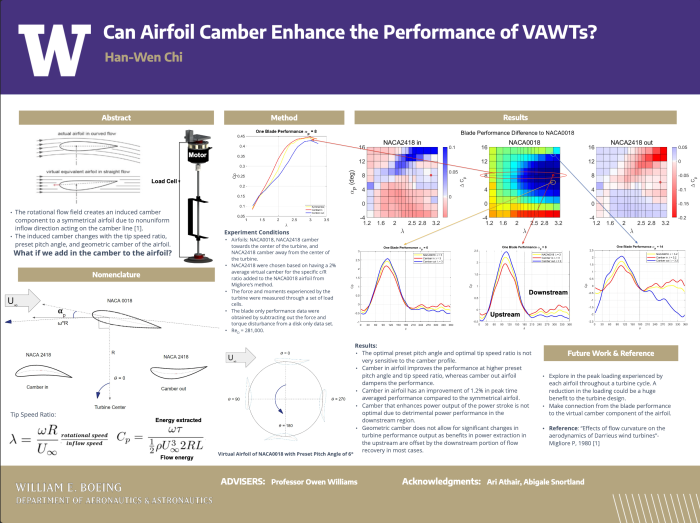 Can airfoil camber enhance the performance of VAWTs?
Han-Wen Chi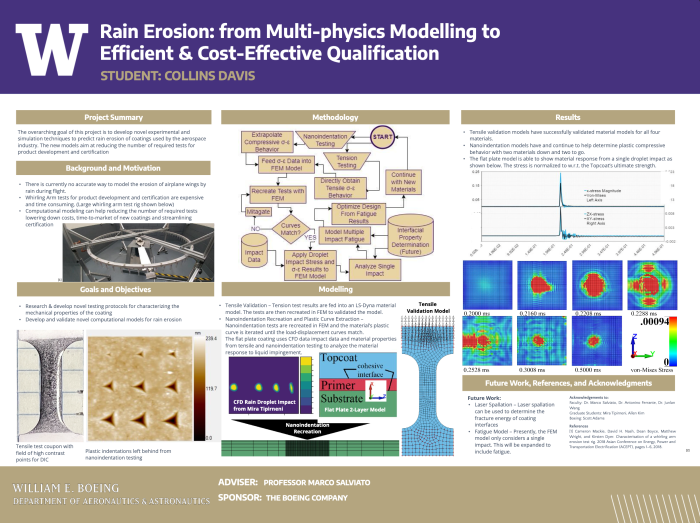 Rain erosion: From multi-physics modelling to efficient & cost-effective qualification
Collins Davis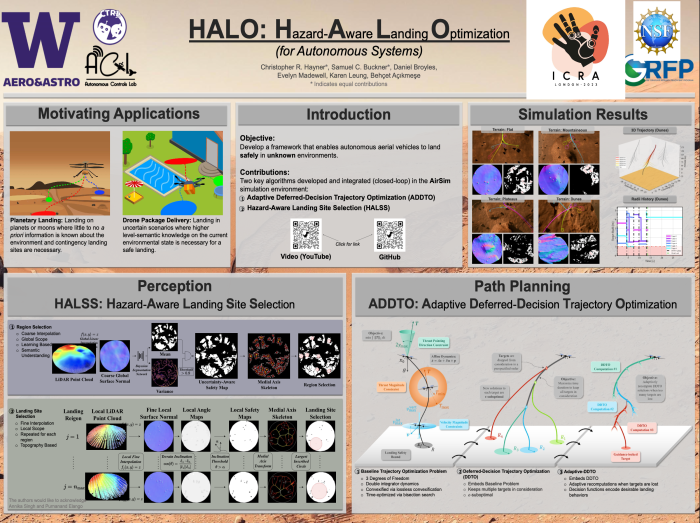 HALO: Hazard-aware landing optimization (for autonomous systems)
Christopher R. Hayner, Samuel C. Buckner, Daniel Broyles and Evelyn Madewell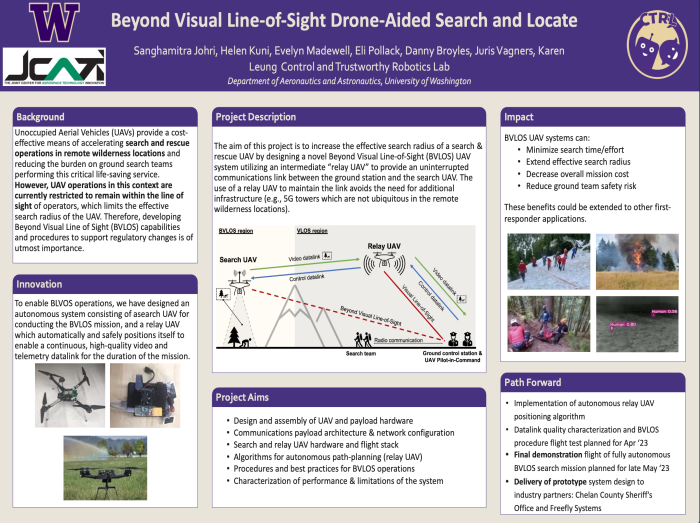 Beyond visual line-of-sight drone-aided search and locate
Sanghamitra Johri, Helen Kuni, Evelyn Madewell, Eli Pollack and Danny Broyles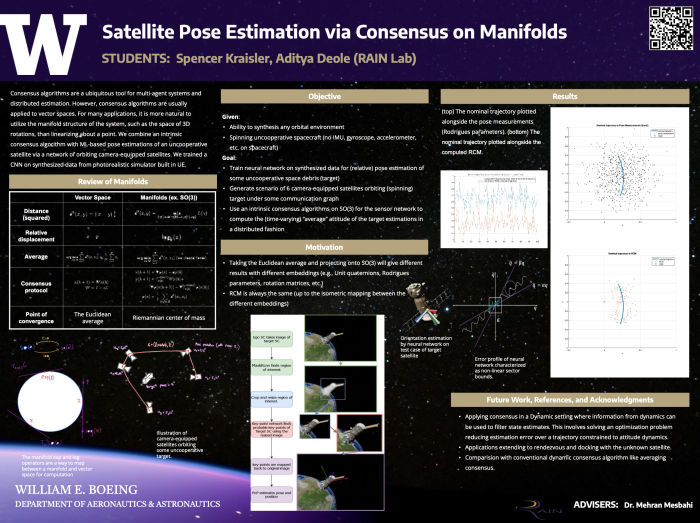 Satellite pose estimation via consensus on manifolds
Spencer Kraisler and Aditya Doyle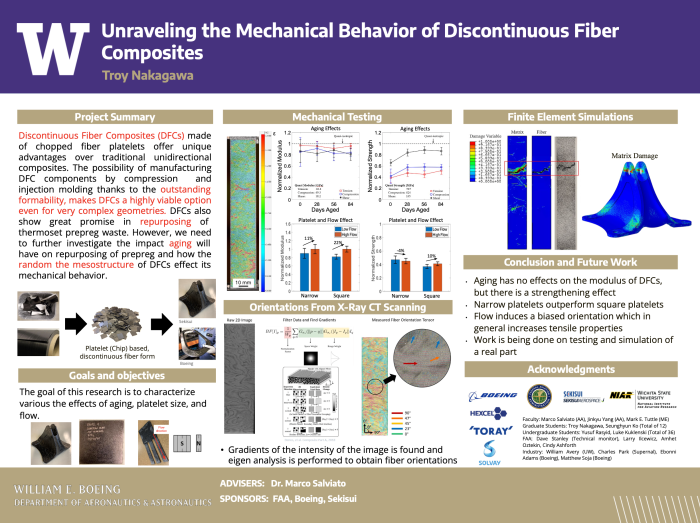 Unraveling the mechanical behavior of discontinuous fiber composites
Troy Nakagawa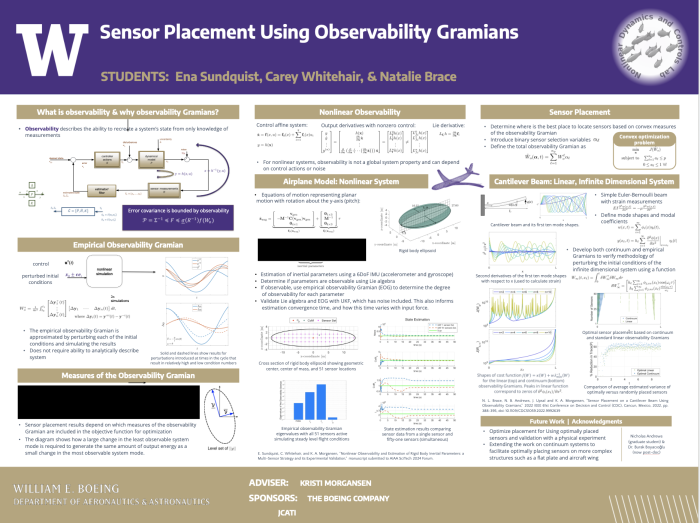 Sensor placement using observability gramians
Ena Sundquist, Carey Whitehair, & Natalie Brace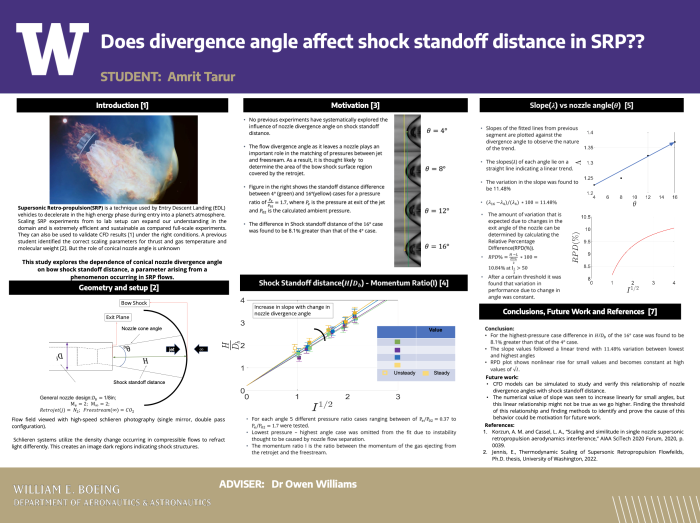 Does divergence angle affect shock standoff distance in SRP?
Amrit Tarur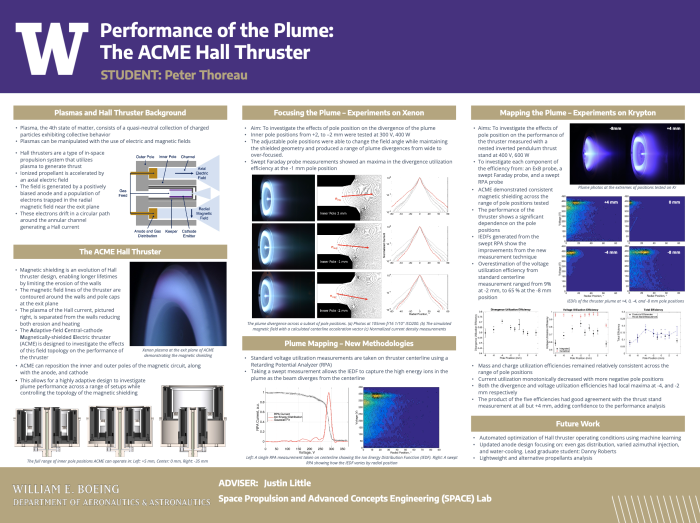 Performance of the plume: The ACME hall thruster
Peter Thoreau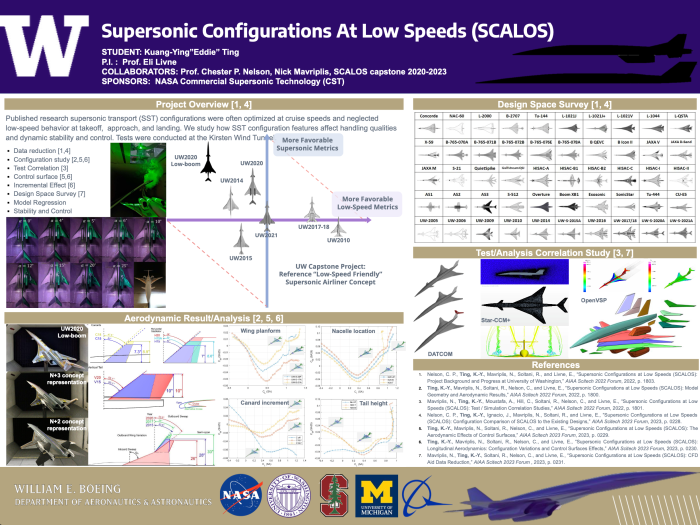 Supersonic configurations at low speeds (SCALOS)
Kuang-Ying "Eddie" Ting