July 12, 2022
A&A organized our 1st Annual Research Showcase featuring cutting-edge research projects from our graduate students.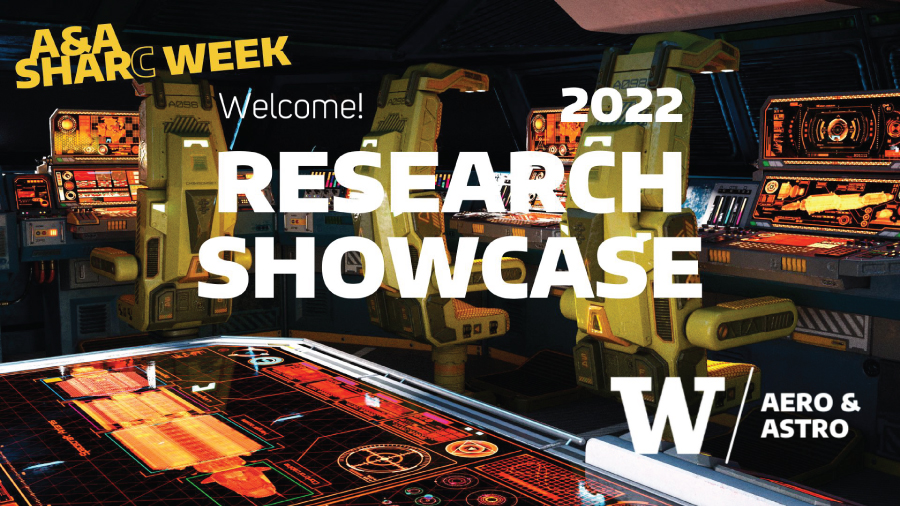 Over Zoom, our graduate student presenters did a round of lightning pitches on their research before splitting into breakout room poster sessions. Visitors could move freely among the poster sessions and speak with the students to learn more about the exciting research underway across all of our research programs.
The Research Showcase is an initiative that grew out of A&A's Strategic Planning to foster community and celebrate and share the research across our programs. Associate Professor Marco Salviato, who leads the Research Task Force of A&A's Strategic Planning, was the lead organizer of the Showcase, and PhD student Landon Bevier, also on the Task Force,  emceed the event and helped make execute the vision of a fun, upbeat evening that also delivered serious research.
Salviato said, "This was an event focused on the students. We wanted to give them the opportunity to share with our community the outstanding research that they perform everyday through hard work and dedication. The response from students and faculty was overwhelming to say the least! It was a lot of fun! The quality and insight of the pitches and posters were really mind-boggling! It made me want to become a student again! I am so excited to do it again next year!"
A&A would like to thank our judges, Roger Myers, Cris Bosetti, Francesco Deleo and Amir Taghvaei, who judged the presentations on criteria such as accessible messaging, viable solutions, and the potential impact for aerospace and society.
Missed the Showcase?
Catch the lightning pitches on YouTube.
Congratulations to our 2022 Research Showcase winners!
1st Place $600
Skye Mceowen
Visual Modeling System for Optimization-Based Real-Time Trajectory Planning for Autonomous Aerial Drones
2nd Place $300
Elliot Jennis
Thermodynamic Scaling of Supersonic Retropropulsion Flowfields
3rd Place $200
Spencer Kraisler
Distributed Consensus Algorithms on Lie Groups
People's Choice $300
Sean Phenisee and Antonio Deleo
Discrete, Mesoscale Modeling of Composite for Attritable Aircraft.
Research Projects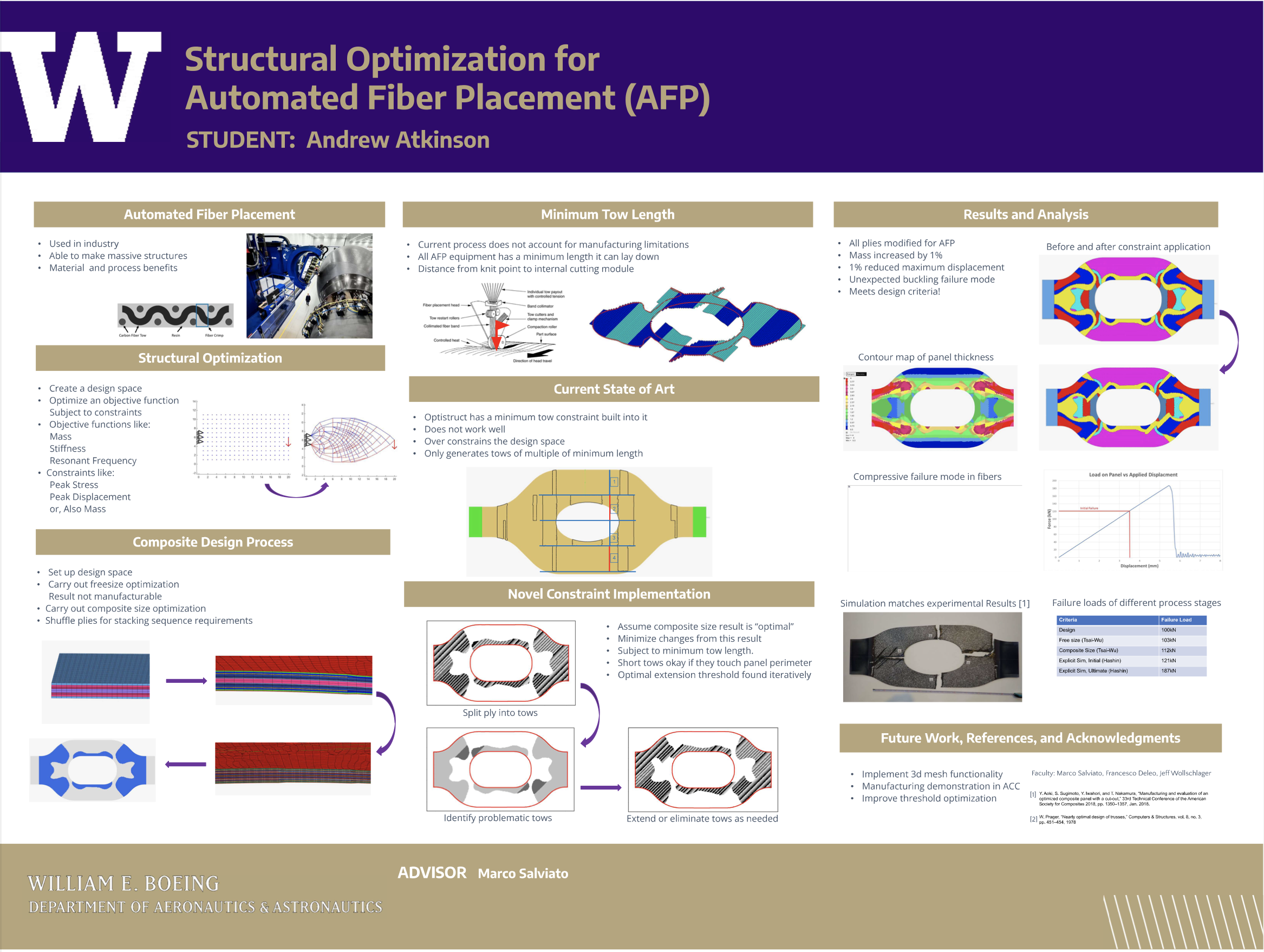 Structural Optimization for Automated Fiber Placement
Andrew Atkinson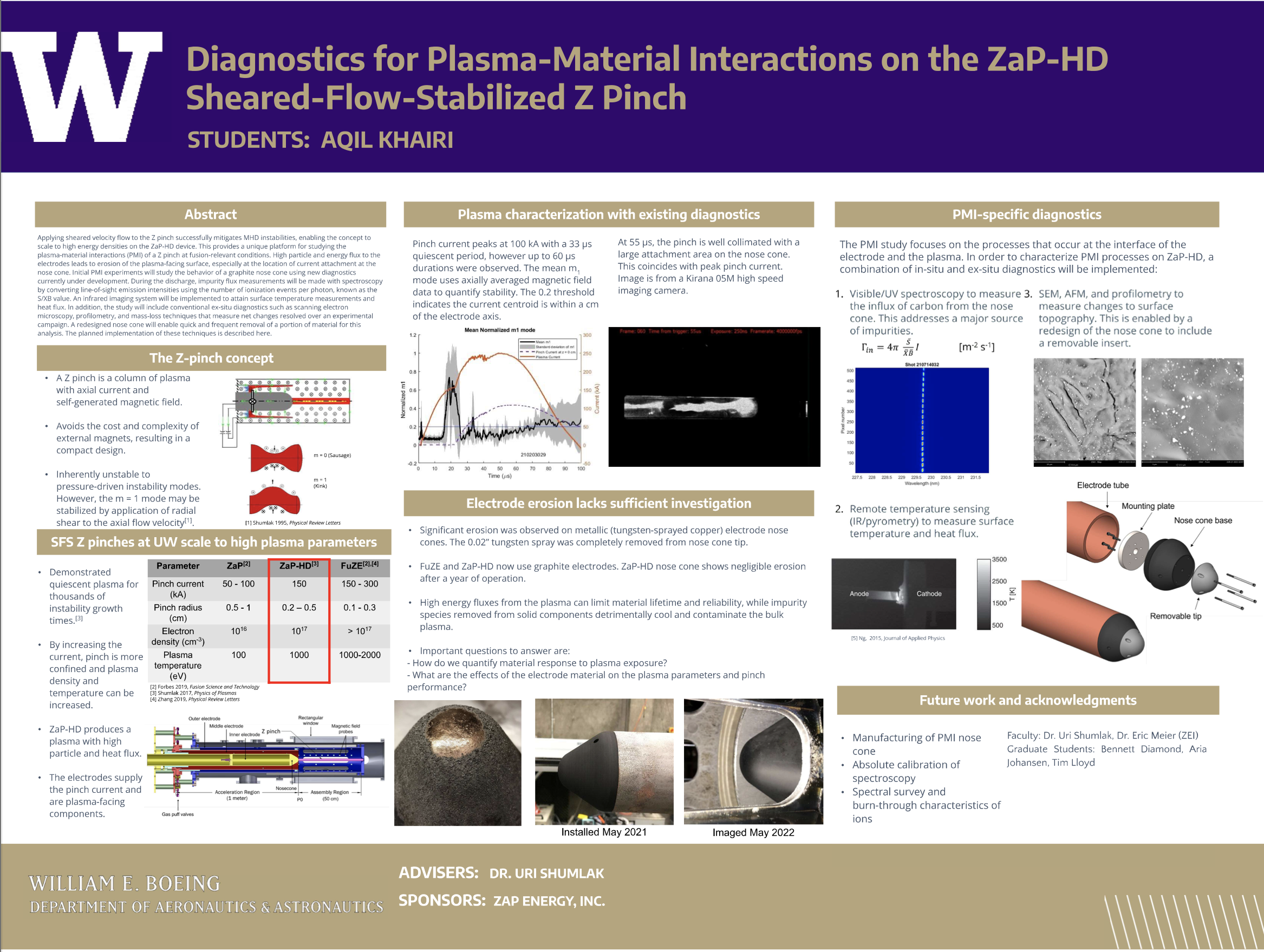 Diagnostics for Plasma-Material Interactions on the ZaP-HD Sheared-Flow-Stabilized Z Pinch
Aqil Khairi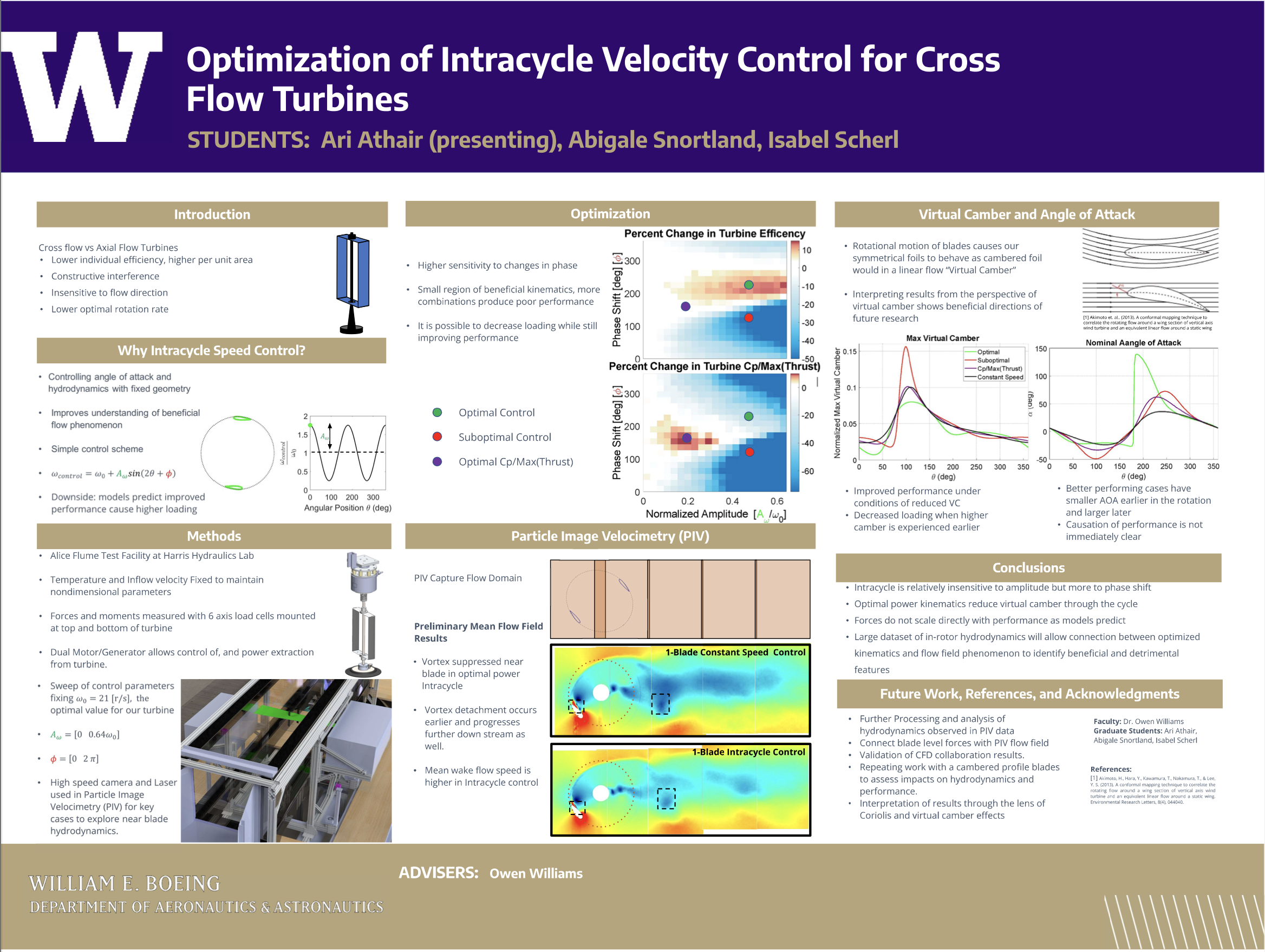 Optimization of Intracycle Velocity Control for Cross Flow Turbines
Ari Athair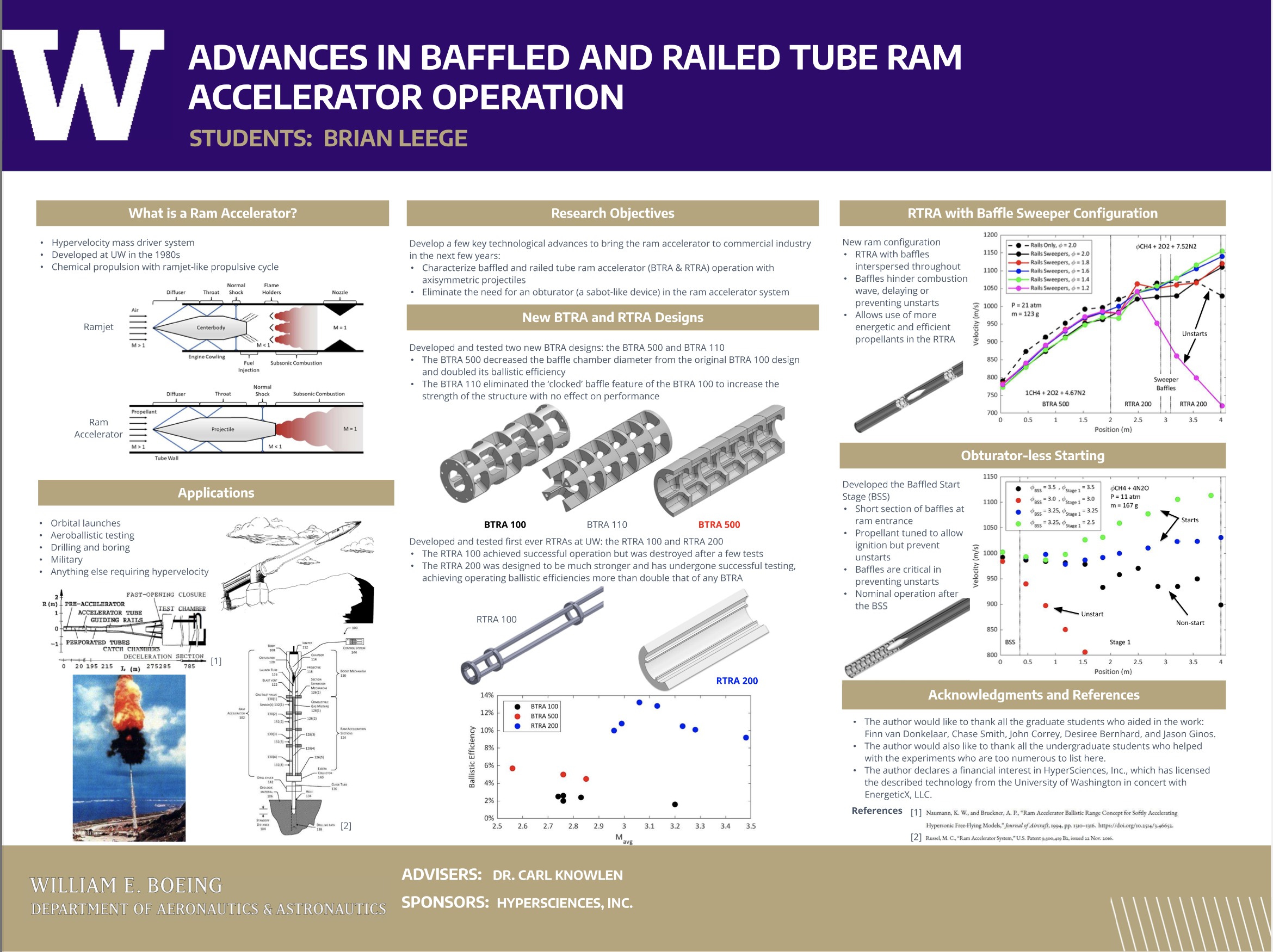 New Technological Advances to Bring the Ram Accelerator to Commercial Industry within a Few Years 
Brian Leege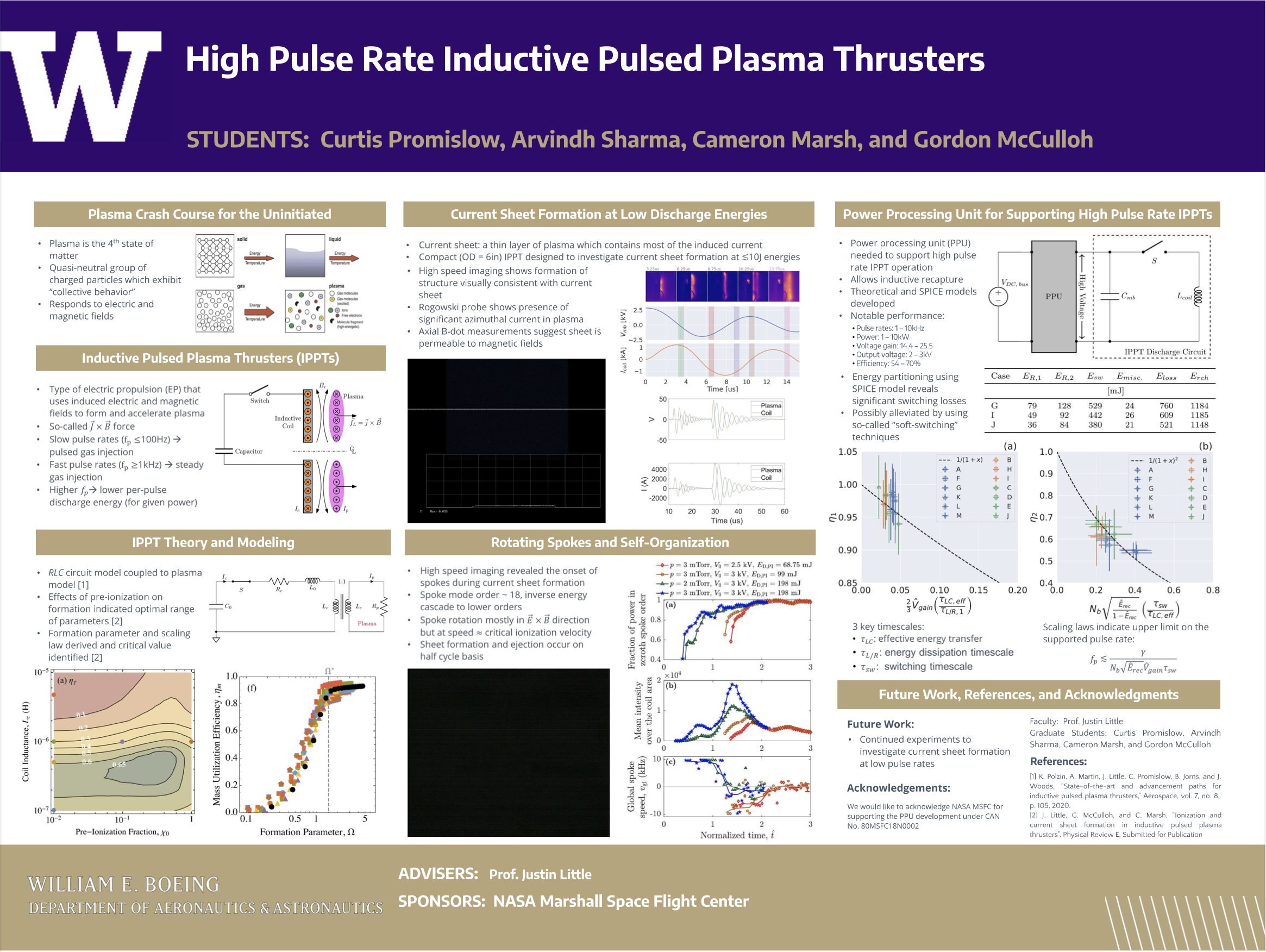 High Pulse Rate Inductive Pulsed Plasma Thrusters
Curtis Promislow, Arvindh Sharma, Cameron Marsh, and Gordon McCullo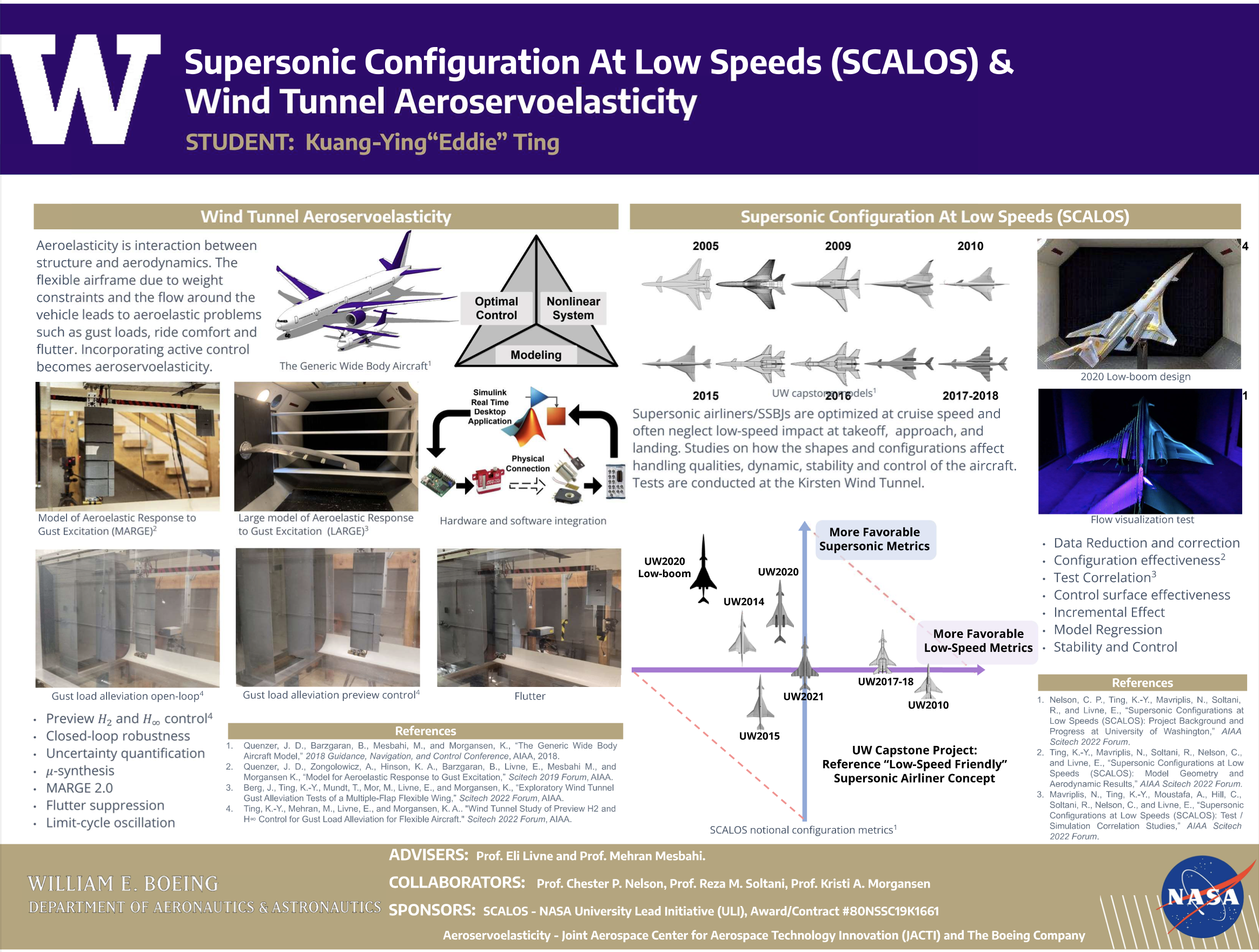 Supersonic Configuration At Low Speeds (SCALOS) & Wind Tunnel Aeroservoelasticity
Kuang-Ying "Eddie" Ting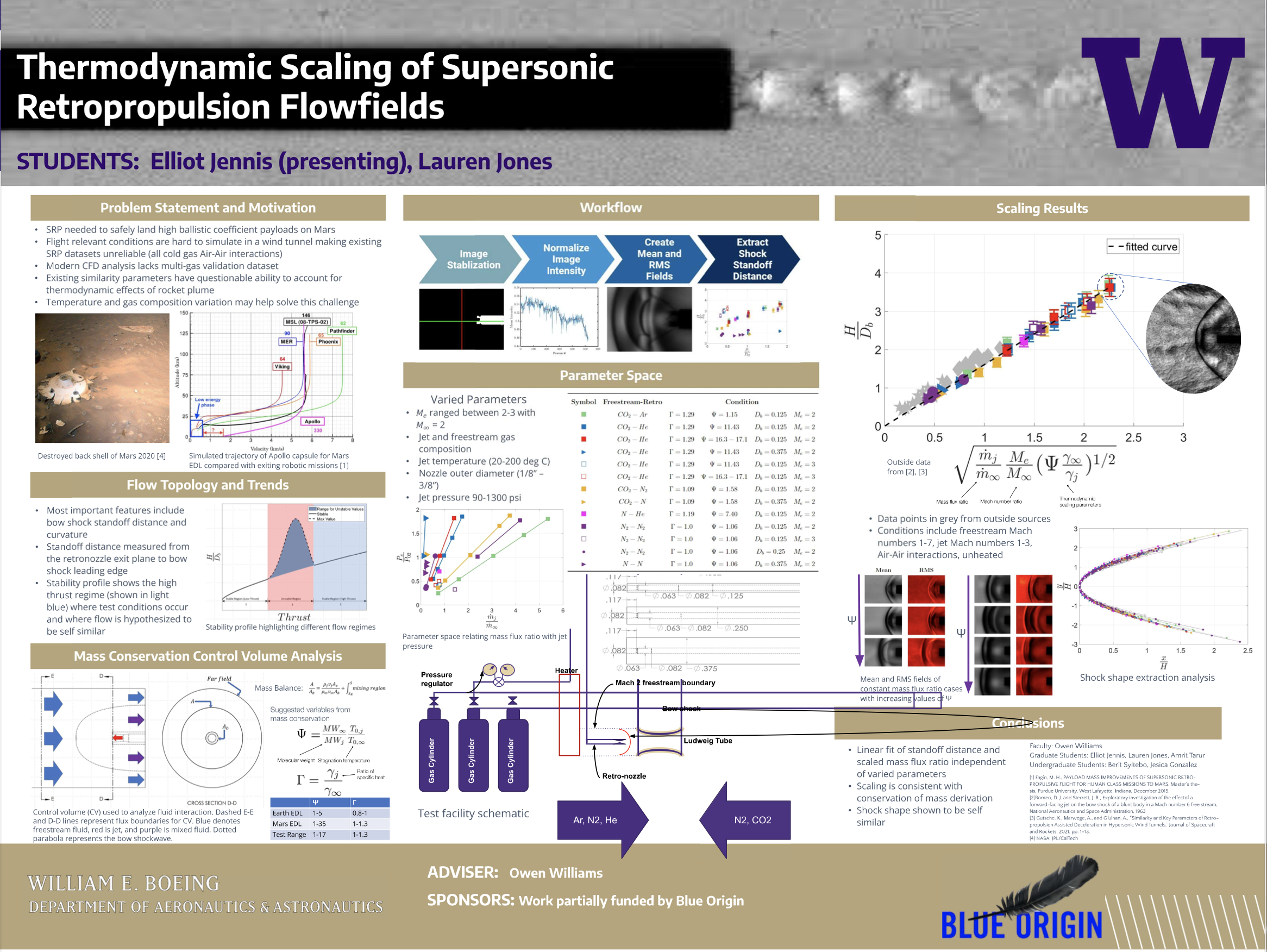 Thermodynamic Scaling of Supersonic Retropropulsion Flowfields
Elliot Jennis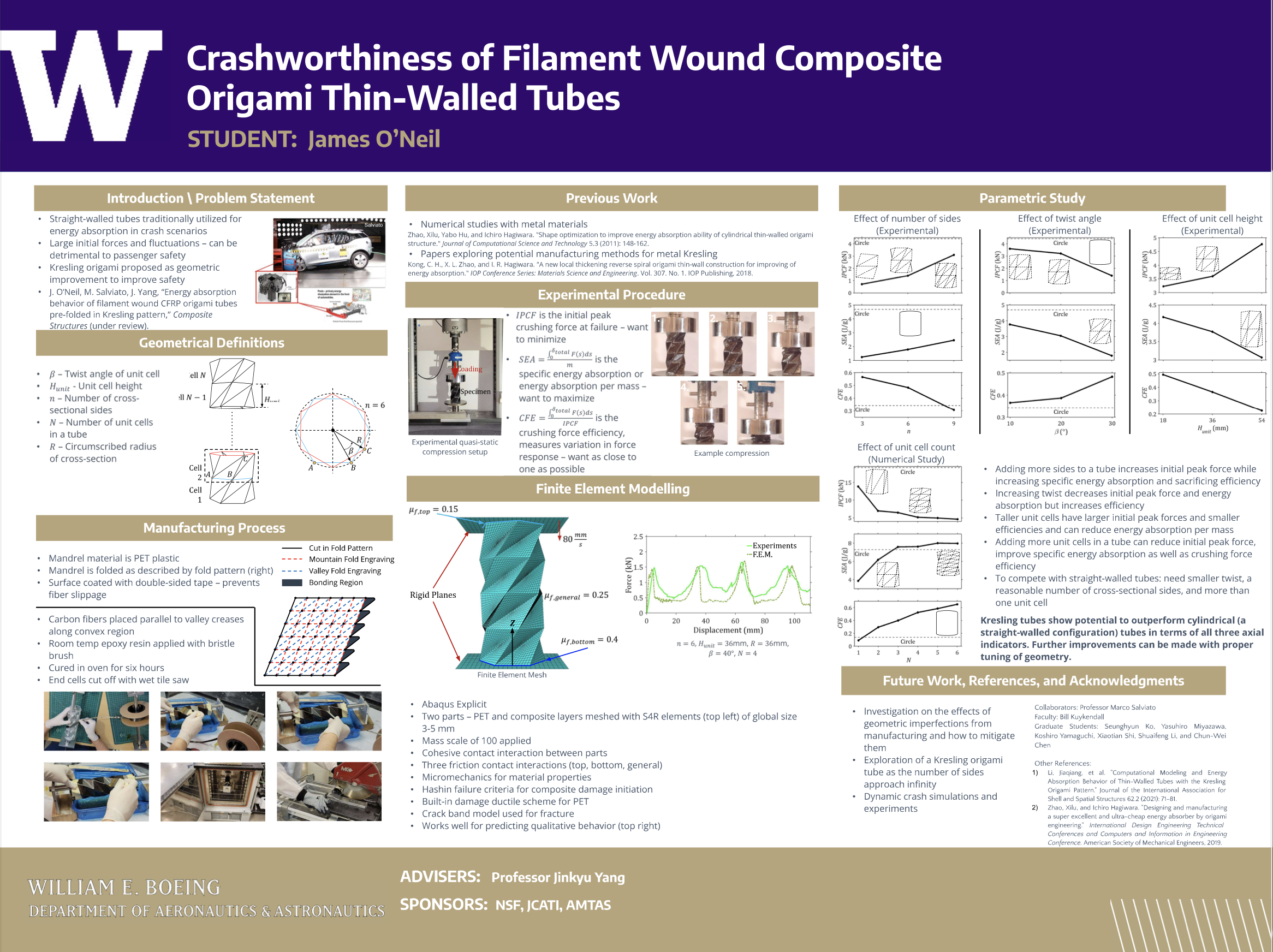 Crashworthiness of Filament Wound Composite Origami Thin-Walled Tubes
James O'Neil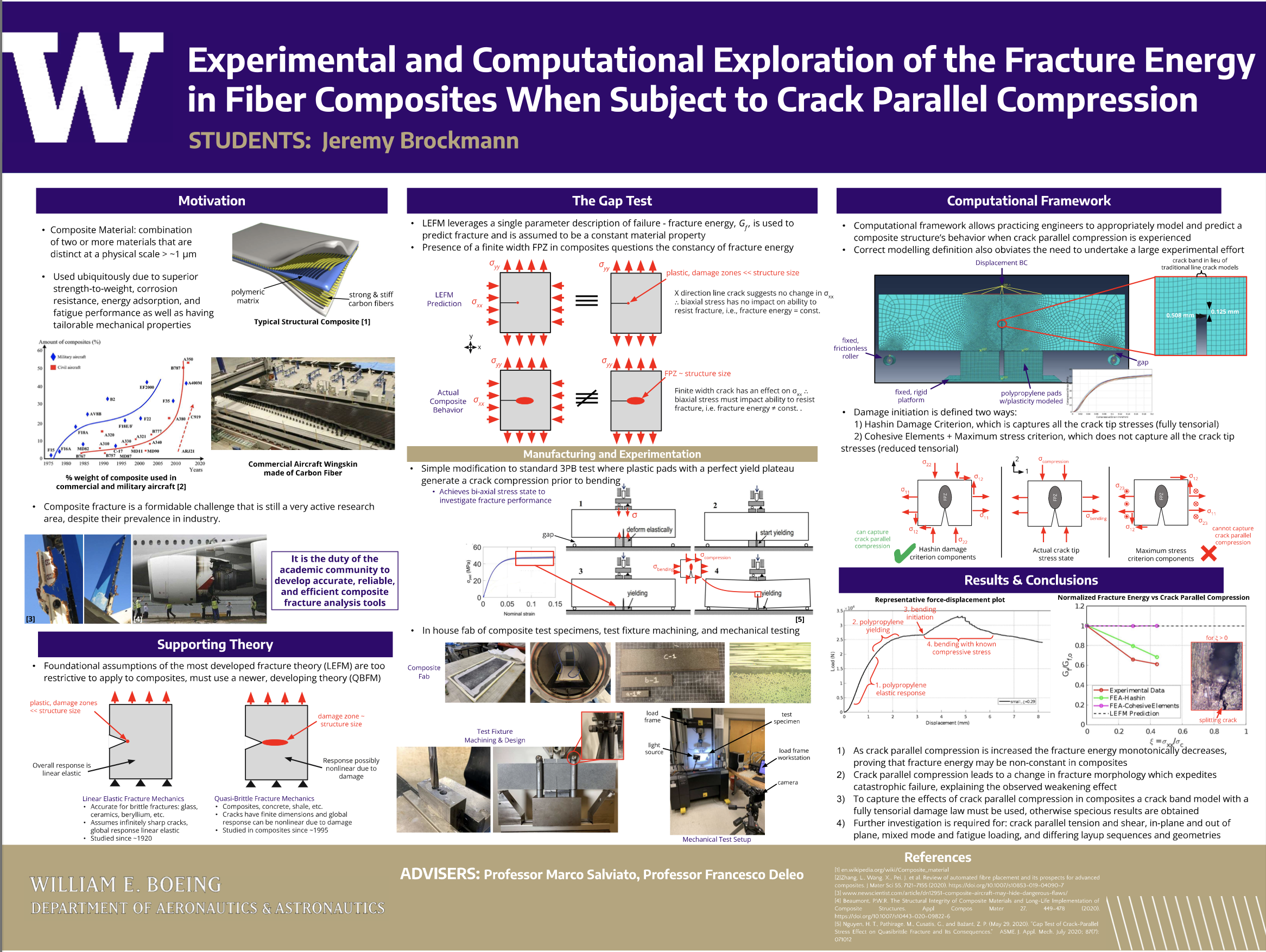 Experimental and Computational Exploration of the Fracture Energy in Fiber Composites When Subject to Crack Parallel Compression
Jeremy Brockmann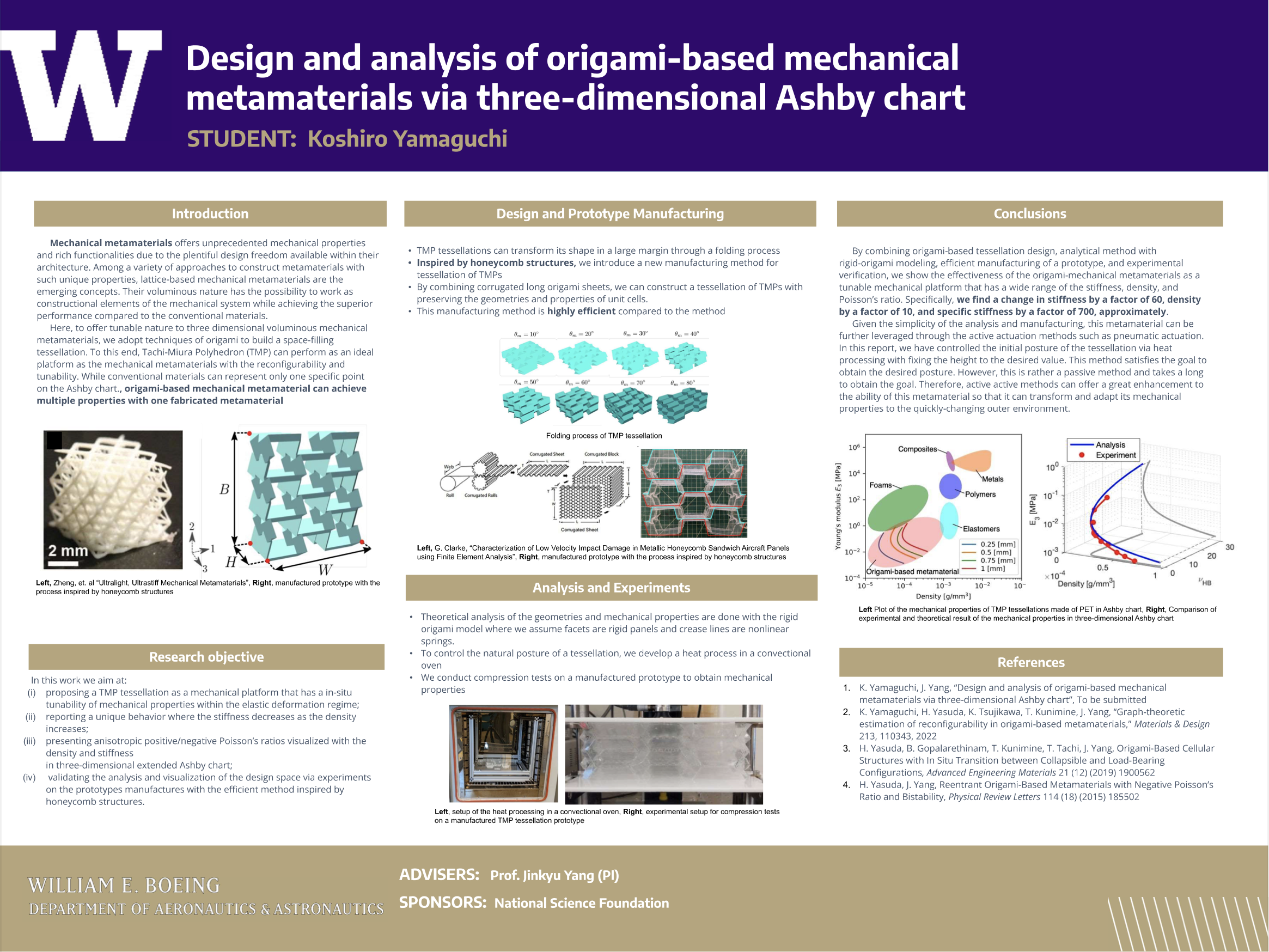 Design and analysis of origami-based mechanical metamaterials via 3D Ashby chart
Koshiro Yamaguchi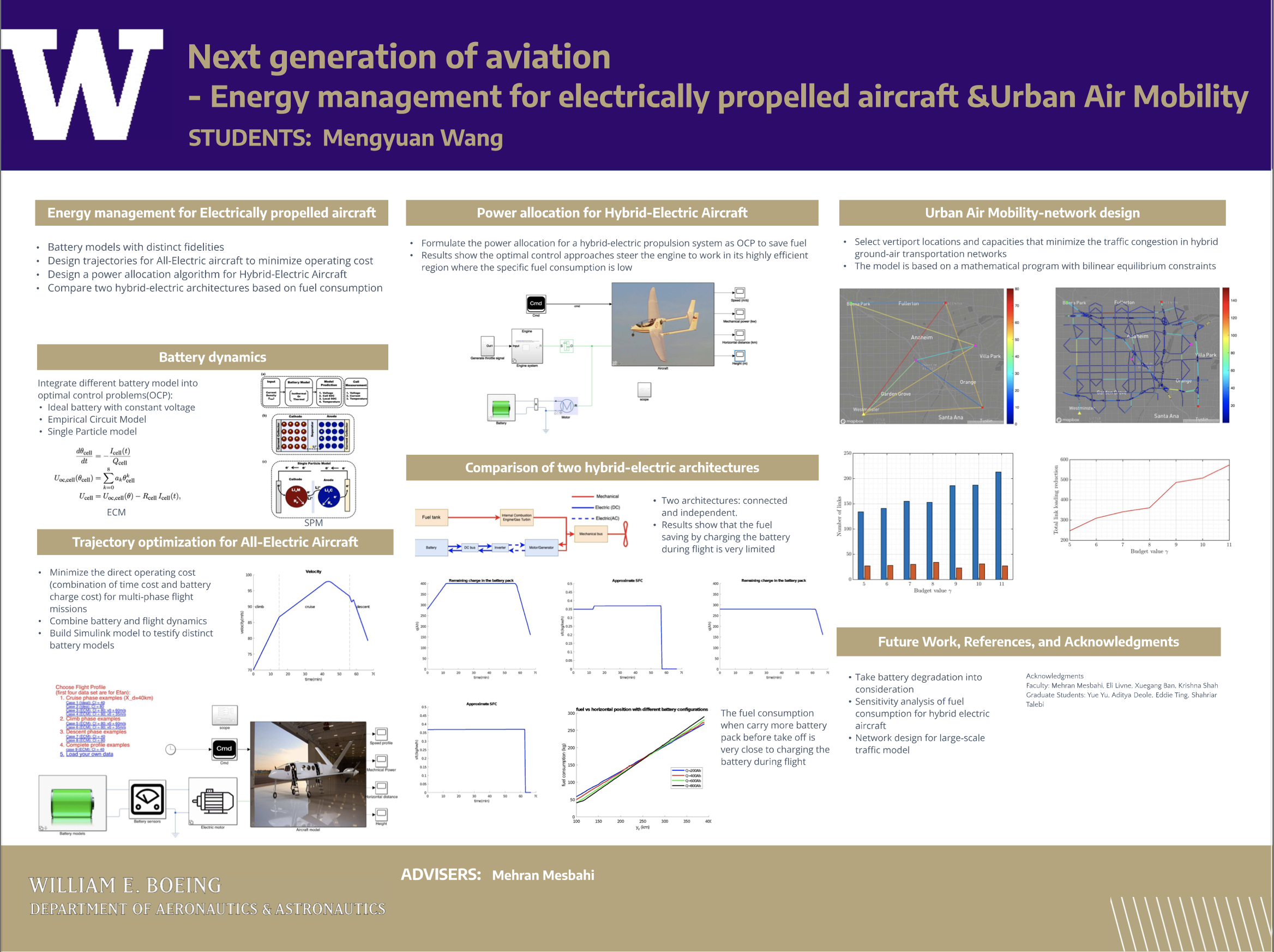 Next generation of aviation:
Energy Management for Electrically Propelled Aircraft & Urban Air Mobility
Mengyuan Wang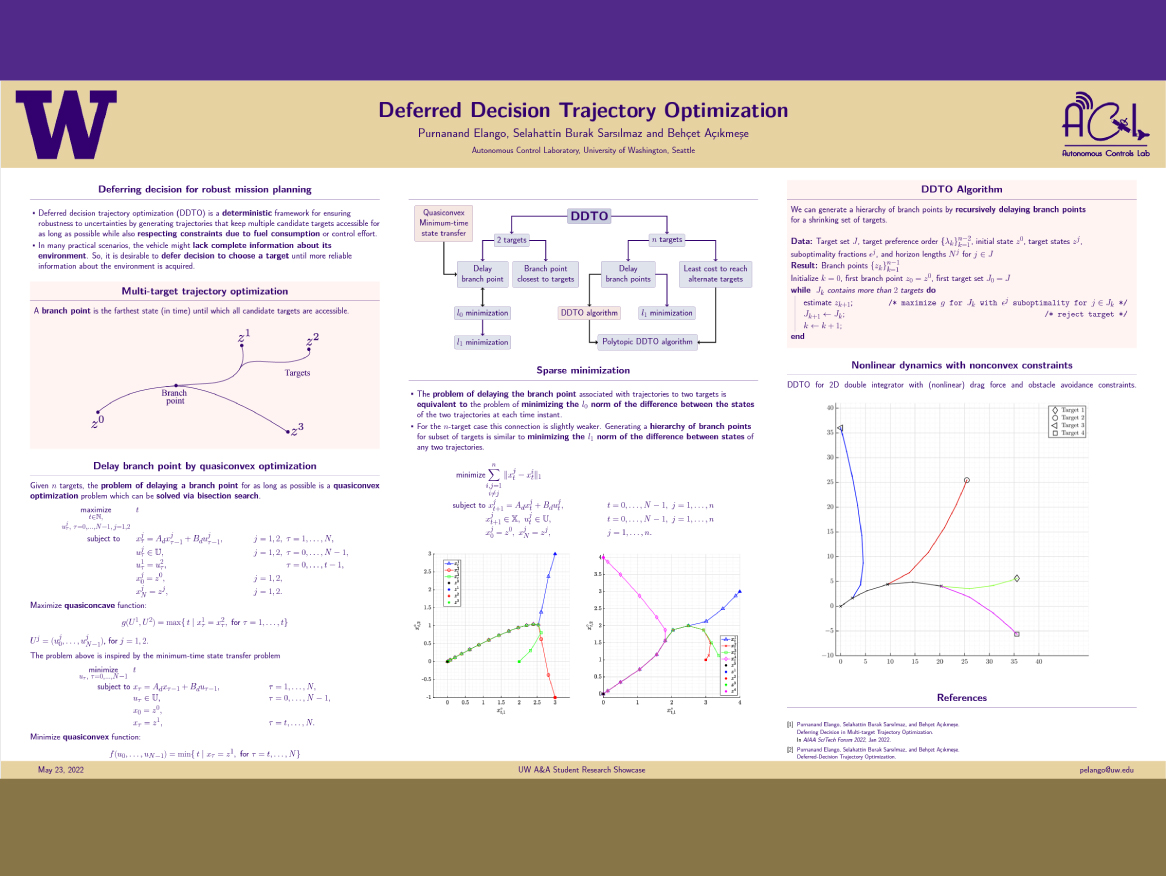 Deferred Decision Trajectory Optimization
Purna Elango and Selahattin Burak Sarsılmaz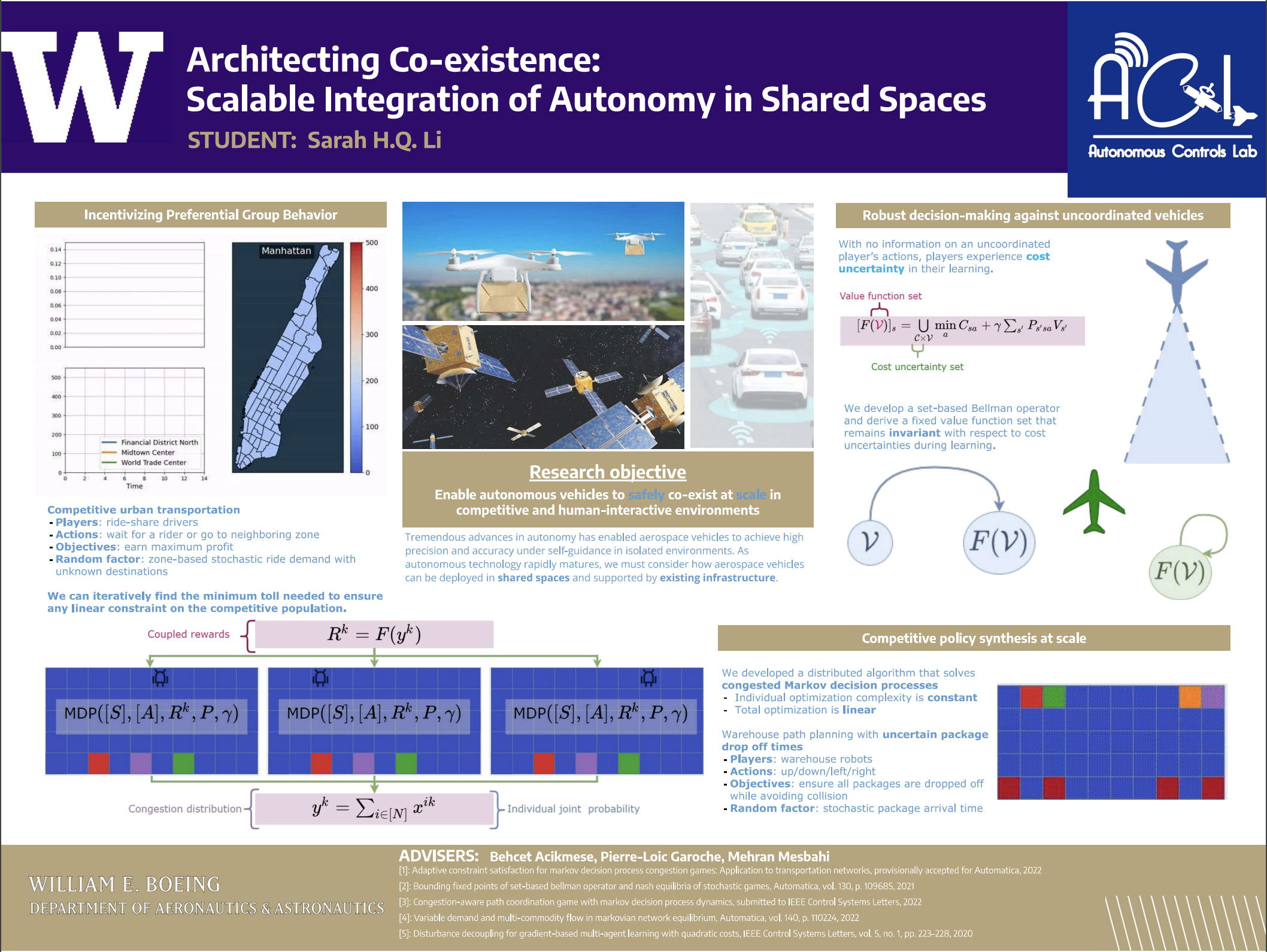 Architecting Co-existence: Scalable Integration of Autonomy in Shared Spaces
Sarah Li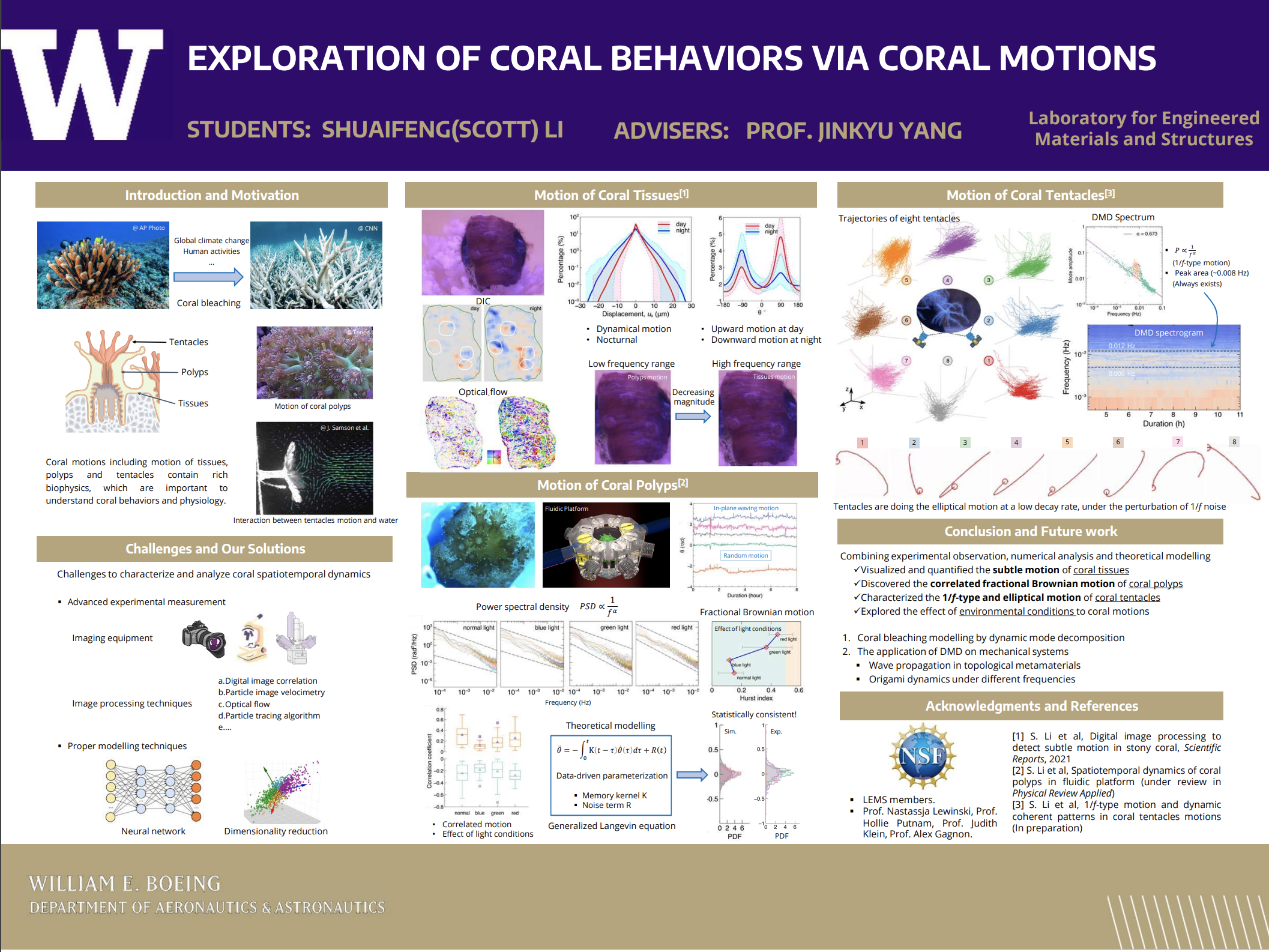 Exploration of coral behaviors via coral motions
Shuaifeng (Scott) Li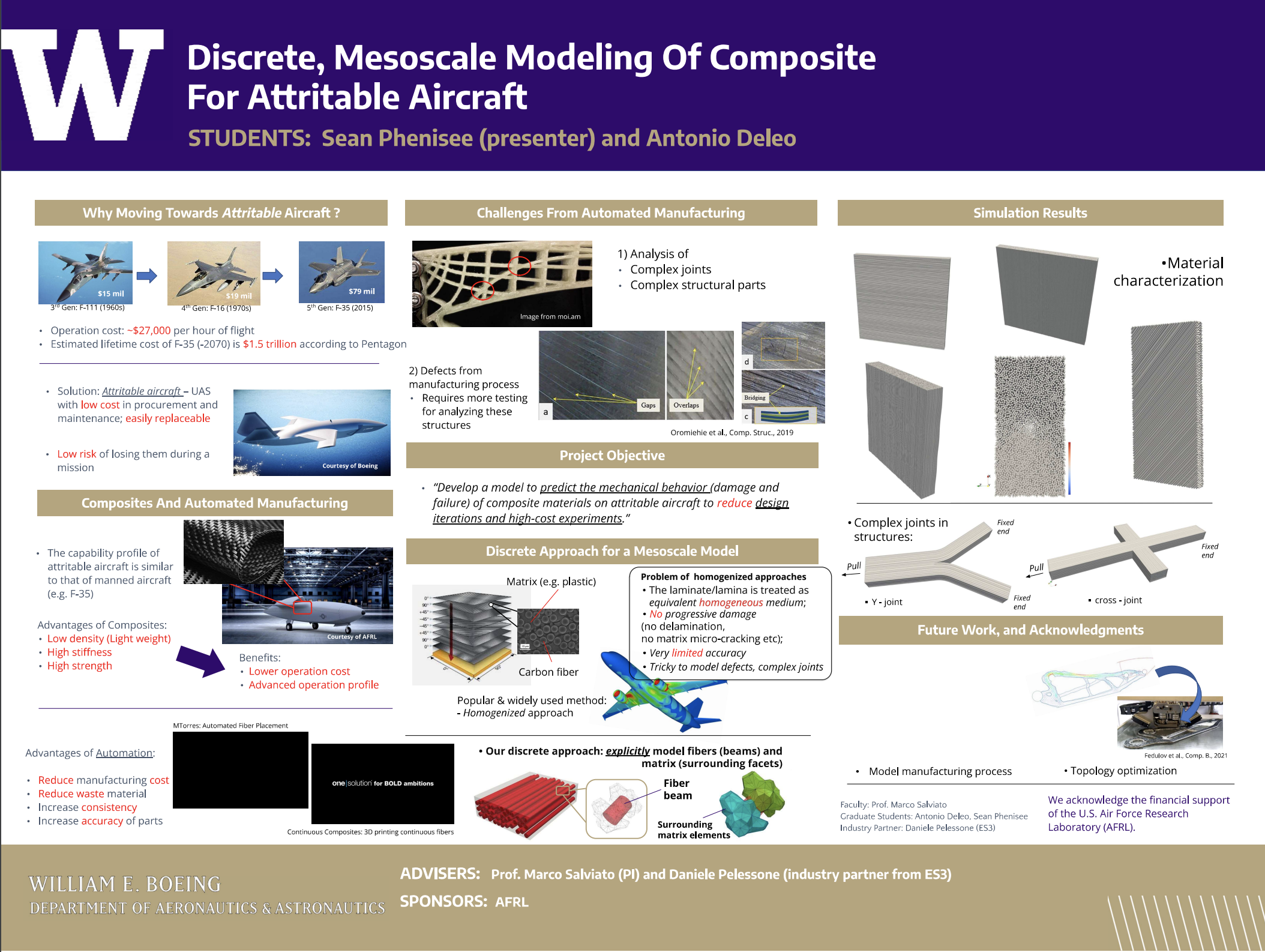 Discrete mesoscale modeling of composites for attritable aircraft 
Sean Phenisee and Antonio Deleo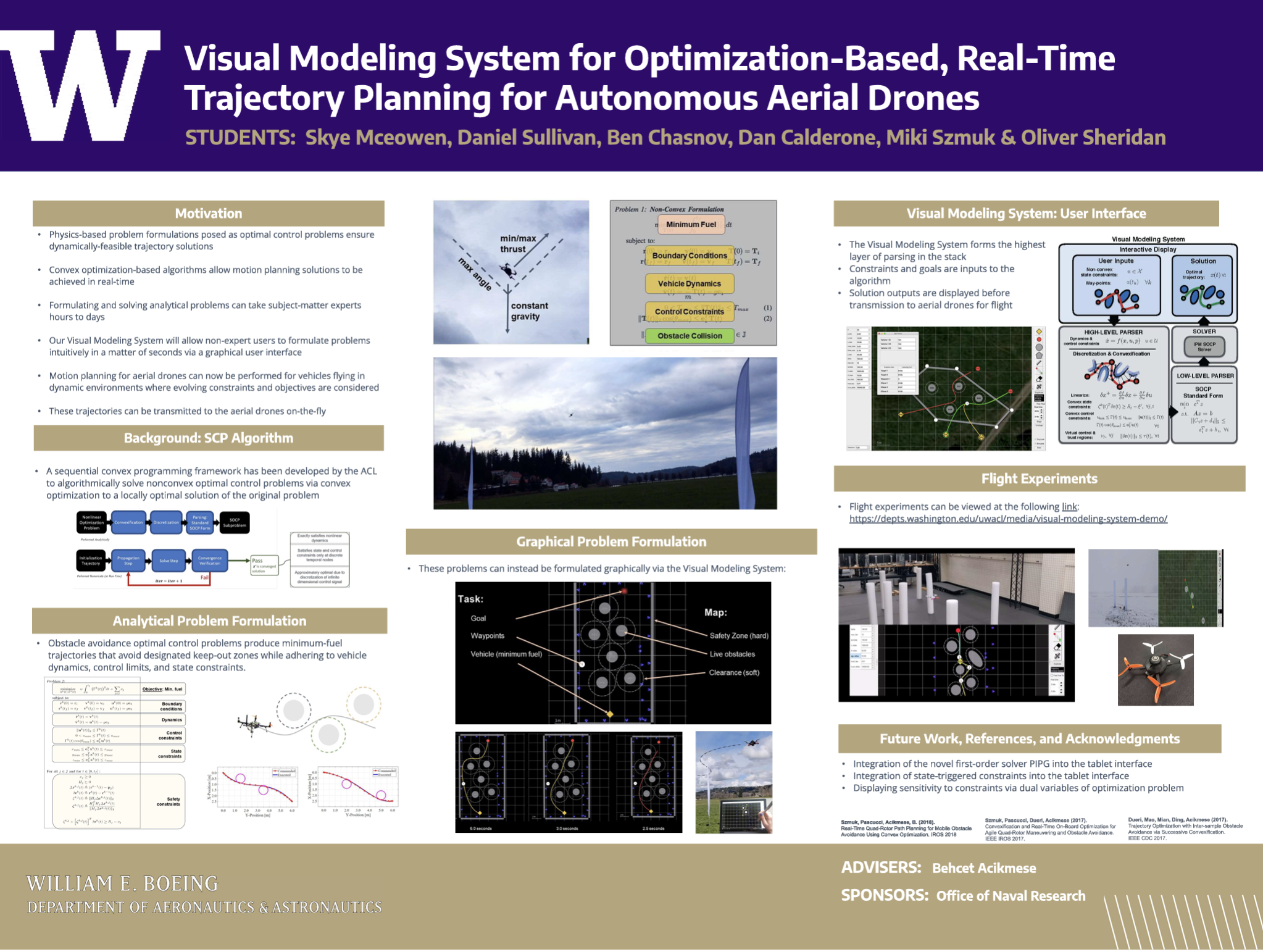 Visual Modeling System for Optimization-Based Real-Time Trajectory Planning for Autonomous Aerial Drones
Skye Mceowen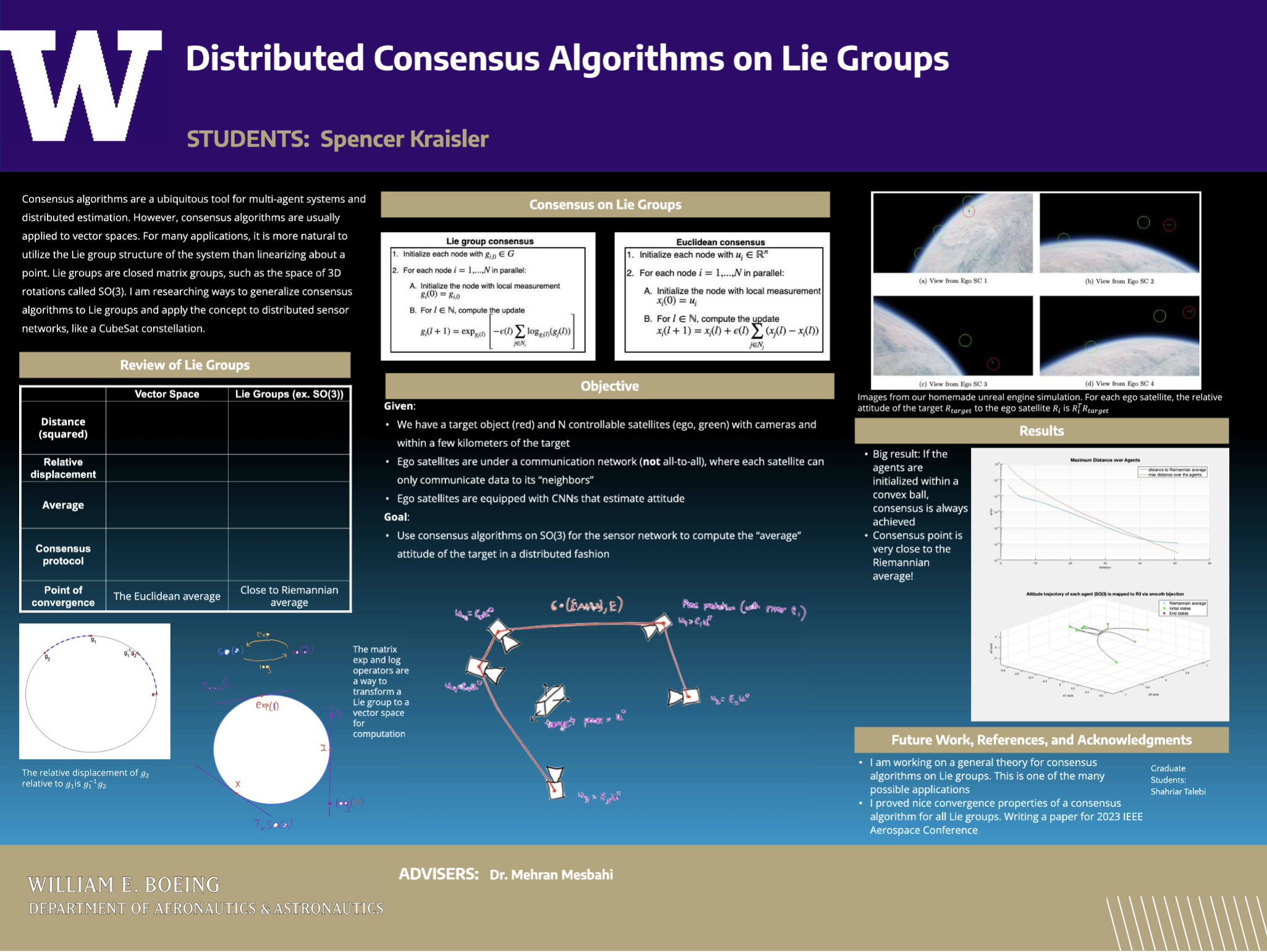 Distributed Consensus Algorithms for Lie Groups
Spencer Kraisler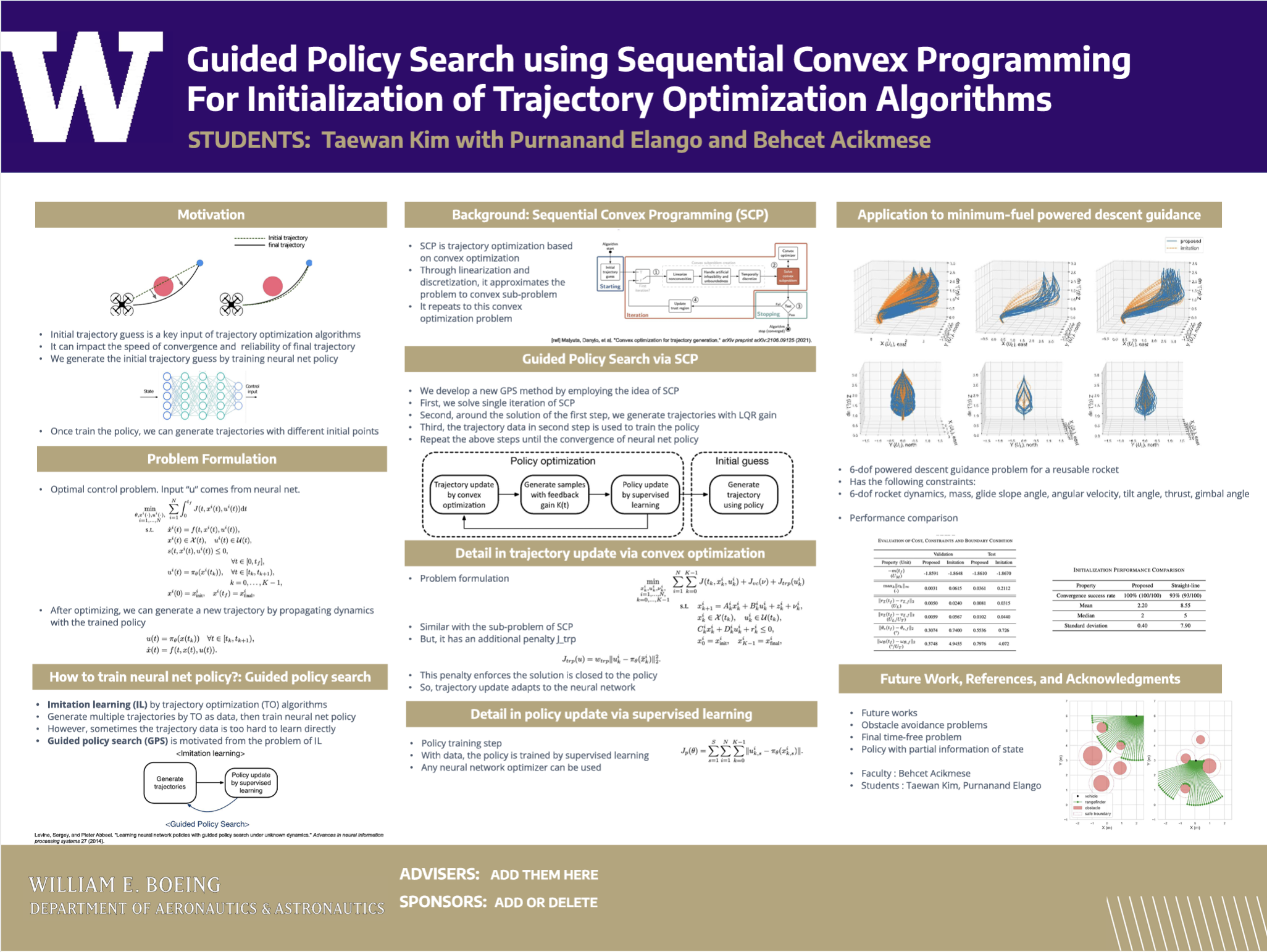 Guided Policy Search using Sequential Convex Programming for Initialization of Trajectory Optimization Algorithms
Taewan Kim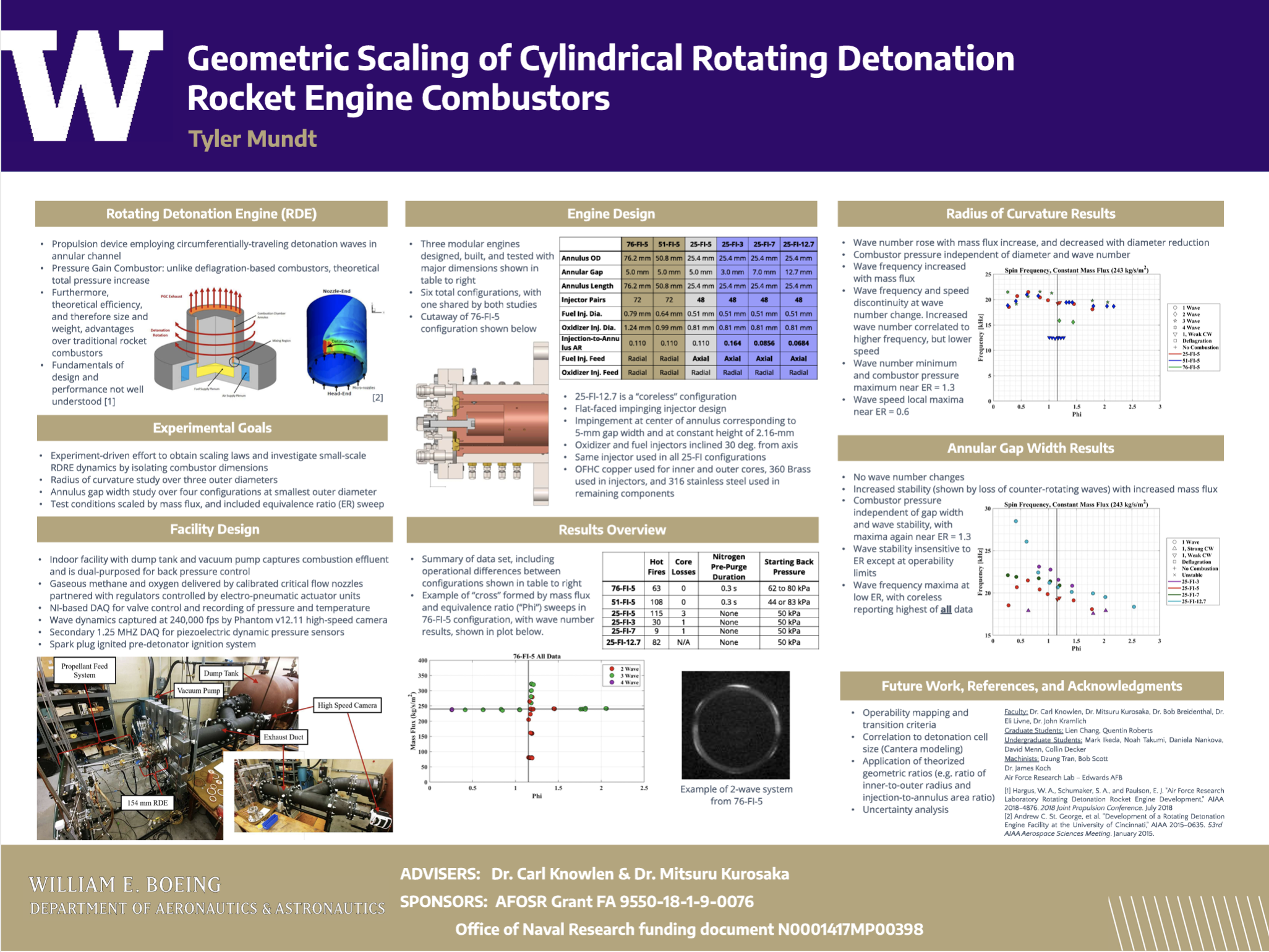 Geometric Scaling of Cylindrical Rotating Detonation Rocket Engine Combustors
Tyler Mundt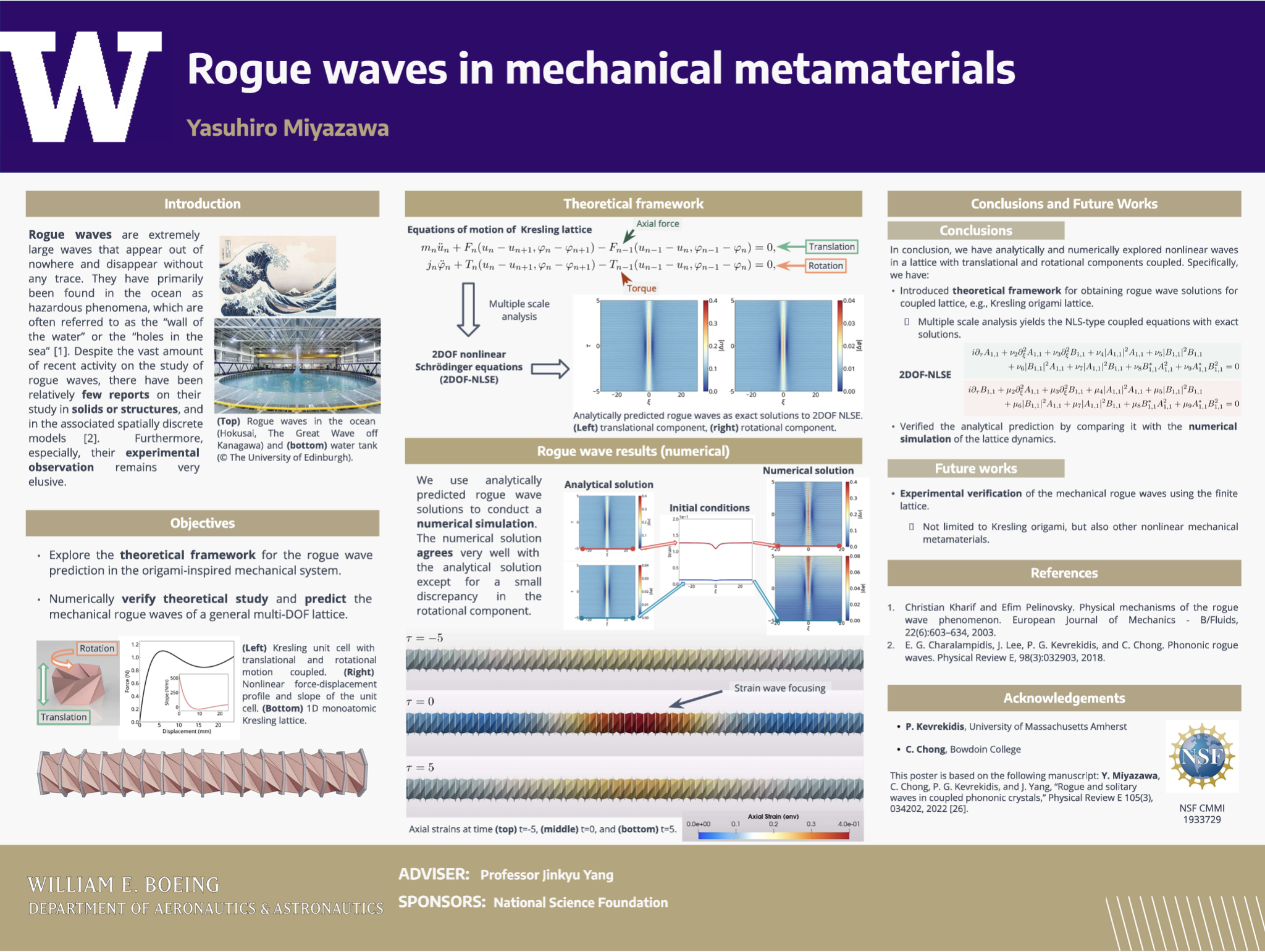 Rogue waves in mechanical metamaterials
Yasuhiro Miyazawa