Anshu Narang-Siddarth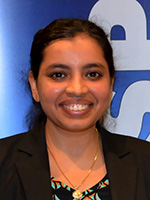 Assistant Professor
anshu@aa.washington.edu
Office: 318D Guggenheim
Personal webpage
Phone: (206) 543-6679
PhD, Aerospace Engineering, Texas A&M University
MS, Aerospace Engineering, Indian Institute of Technology Madras
BTech, Electrical and Electronics Engineering, Jawaharlal Nehru Technological University
Professor Narang-Siddarth's research focuses on aspects of dynamic modeling, control and safety assurance problems unique to autonomous aerospace vehicles. Her work involves studying complex system behaviour governed by ordinary and partial differential equations that span across multiple temporal scales. Professor Narang-Siddarth's current sponsored research projects include continuation based trim and stability analysis for airworthiness certification, automatic verification of nonlinear systems without numerical time simulations, development of computationally efficient space object trajectory propagation algorithms and nonlinear control of hypersonic technologies. 
Books Authored
Narang-Siddarth, Anshu and Valasek, John, "Nonlinear Time Scale Systems in Standard and Nonstandard Forms: Analysis and Control", SIAM, 2014, xvi +219 pages, ISBN 978-1-611973-33-4, http://bookstore.siam.org/dc26/.
Awards
NSF CAREER Award
Advisor, Best Graduate Student Paper Award in Guidance, Navigation & Control, AIAA SciTech Forum, 2015 and 2016.
Distinguished Graduate Student Award for Excellence in Research -Doctoral, Texas A&M University, 2013
Outstanding Achievement Award in Dynamics & Control, Aerospace Engineering, Texas A&M University, 2013
Amelia Earhart Fellowship, Zonta International Foundation, 2011
Professional Societies
Member, AIAA Guidance, Navigation & Control Technical Committee, 2012-present.
Member, IEEE/SAE Aerospace Control and Guidance Systems Committee, 2014-present.
Member, American Institute of Aeronautics and Astronautics, 2008-present.
Member, Society for Industrial and Applied Mathematics, 2012-present.
For more information