Master of Aerospace Engineering
The Master of Aerospace Engineering (MAE) is a multidisciplinary professional graduate degree for recent graduates as well as working professionals. The MAE emphasizes the applied skills and experience needed in industry and differs from the Master of Science in Aeronautics & Astronautics (MSAA), which emphasizes preparation for independent, academic research.
The MAE is a terminal, coursework-only degree (does not lead to a PhD). This degree is meant to be completed part-time in three years. Courses meet in the evening, once per week, with all students having flexibility to attend classes on campus or via distance learning (online).
Once admitted to the MAE program, students declare an area of concentration. The area of concentration will appear on the student's records. Currently, the department offers concentratiosns in the areas of: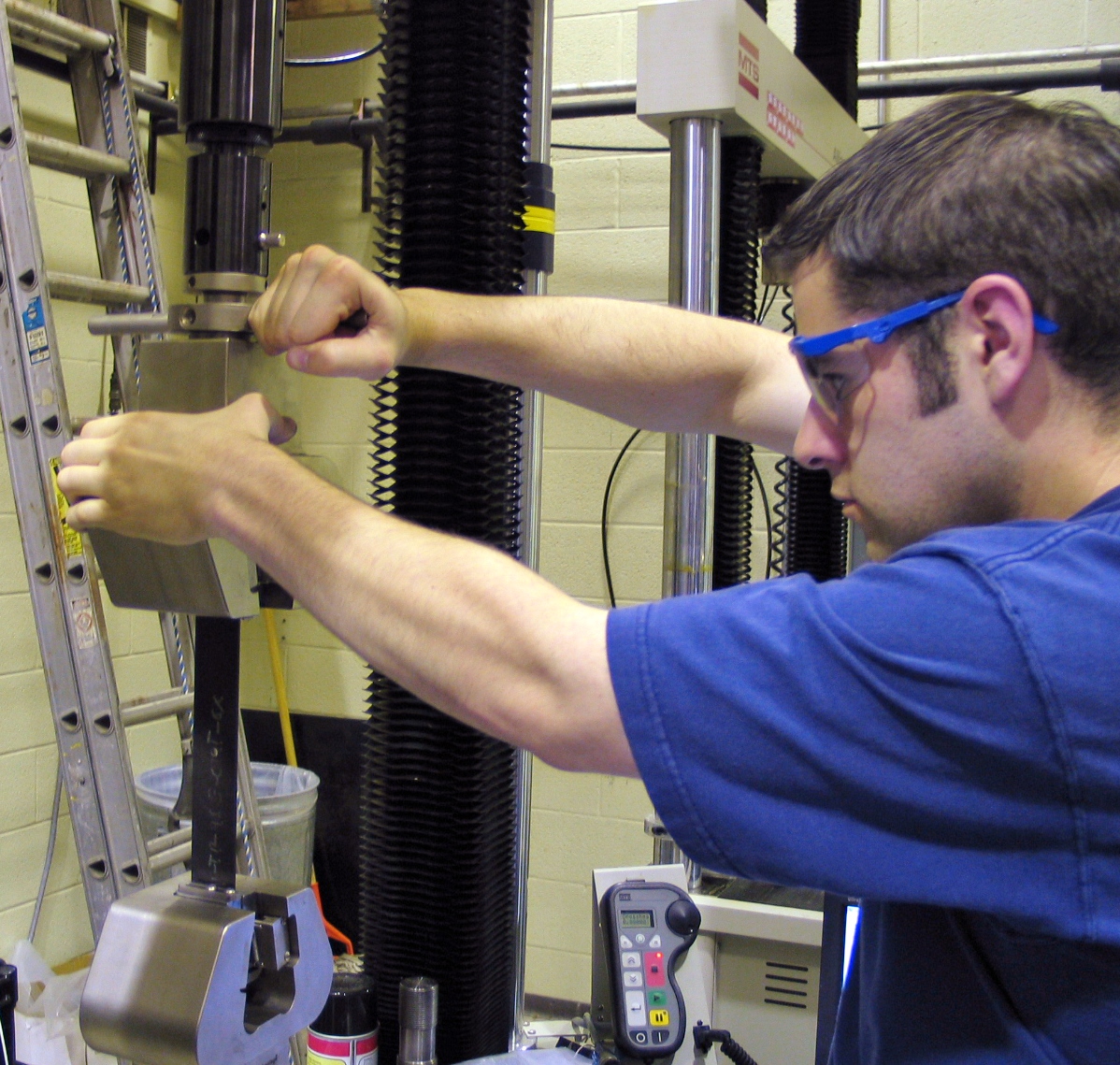 Controls
Fluids
Structures
Composites (formerly MAE-CMS)
Visit these links for more information:
MAE - Admissions
MAE - Graduation Requirements
---
Applying to the Master of Aerospace Engineering
Admission Requirements
When to Apply
How to Apply
Distance Learning Options
Cost of Attendance
Financial Aid
International Students
---
Admission Requirements
Previous Academic Preparation: The Master of Aerospace Engineering is a technical engineering degree. It is expected that admitted applicants will hold an undergraduate degree in aerospace or mechanical engineering.
Undergraduate degrees in other fields may be acceptable, as long as the applicant has completed fundamental engineering and math coursework. (For an example of appropriate math and "engineering fundamentals," please see the requirements outlined in our department's Bachelor of Science curriculum).
Professional experience, though highly desirable, is not accepted in lieu of college-level coursework.
Minimum GPA and Exam Scores: The University of Washington Graduate School requires an applicant to have a minimum 3.0 GPA to be considered eligible for admission. Beyond this, our department does not maintain a fixed minimum for either GPA or exam scores.

However, admission to our department is a competitive review process. We are able to provide historical data on the average GPA for students admitted to this program.
| Admitted Applicants | 2013 | 2014 | 2015 | 2016 | 2017 |
| --- | --- | --- | --- | --- | --- |
| Average GPA | 3.60 | 3.46 | 3.41 | 3.36 | 3.47 |
---
When to Apply
The department accepts new degree students for autumn quarter only. Completed applications must be submitted by 11:59pm (Pacific Time) on the deadline date. Late applications will not be accepted.
Application Deadline: Priority Deadline April 1, Final Deadline August 1.
The department does not review applications until after the deadline has passed. After the deadline, the application system will stop accepting new applications while the department begins its review process. You can monitor the status of your application by logging in to the application system. However, if there are any questions or concerns regarding your application we will contact you.
The department strives to provide decisions within 8-10 weeks of the application deadline. However, the actual date of notification will vary depending on factors such as the size of the applicant pool. Applicants will be notified via email when a final decision has been made.
---
How to Apply
Applying for admission to a graduate degree program begins with the online application system managed by the University of Washington Graduate School. All materials, including letters of recommendation, will be submitted electronically through this system. Once an applicant submits an application, the application and all supporting materials are routed to the department for review.
Required Application Materials: The following materials must be provided in order for an application to be considered complete and eligible for review.
Please note that, effective 2013, GRE scores are not required for admission to the MAE program.
A Statement of Purpose should convey additional information not available on your transcripts or resume. It should be approximately 2 pages in length and should offer a clear overview of your reasons for pursuing this graduate degree, your previous preparation, and your plans for seeing this degree through to completion. Other relevant information may also be included.
Letters from academic references and relevant professional references are equally acceptable. Strong letters will be substantive, specific, and will address (1) an applicant's technical experience and ability, (2) the applicant's likelihood of success in graduate-level studies, and (3) the relevance/appropriateness of the MAE program for the applicant's professional goals.
Resume
Transcripts
We only want transcripts from institutions where you received (or will receive) a degree. Please do not mail official paper transcripts.

Unofficial electronic transcripts should be attached to your electronic application. They should be drawn from documents generated by the institution. A scan of an official transcript is strongly preferred. However, an unofficial transcript or "academic history" generated by an online student portal may also be acceptable.

Electronic transcripts must clearly show the institution's name; the student's name; a list of all courses taken and all grades received; as well as the title and date of any degrees conferred. Electronic transcripts must be in PDF format.

Anything that appears to be self-generated or otherwise lacking in the information specified above will not be considered valid (this includes "copy and pasting" from a website) and may be grounds for declining an application. Illegible or indecipherable documents may also negatively impact an application. The department admissions committee reserves the right to require further documentation, up to and including an official transcript, prior to reaching a final decision.

Statement of Purpose
Two (2) Letters of Recommendation
English Proficiency
English language exams may be required by the Graduate School for students who do not hold a degree from a U.S. institution. Click here for further details regarding English proficiency requirements. 
---
Distance Learning Options
Distance learning enrollment is available for all students (including international students) in the MAE program.
Courses completed via distance learning rely on the exact same content (i.e., lectures, assignments, exams, and evaluation) as courses completed on campus. Distance learning simply provides access to view lectures via live webcast or to access them after they have been recorded. Homework/exams can be completed remotely. Distance learning students are reminded that they are held to the same standards of performance and same deadlines as students attending class in person. Distance learning technology is facilitated by the Online Learning Technical Support in the University's division of Professional & Continuing Education (PCE).
Click here for further details on distance learning.
---
Cost of Attendance
The Master of Aerospace Engineering is a fee-based professional program. Instructional fees are assessed on a per-credit basis. All students are responsible for the same per-credit fee rate regardless of residency. Registration and fees for this program are managed through the UW division of Professional & Continuing Education (PCE).
Instructional fees are subject to change from year to year. For the 2016-2017 academic year, instructional fees have been set at $940 per credit. This does not include other, additional student services fees or the cost of textbooks/materials.
---
Financial Aid
Departmental Assistance: The department is unable to offer financial assistance (assistantships or fellowships) to professional students in the MAE or MAE (General Studies) programs.
University Assistance: MAE students may be eligible for other forms of aid (such a loans) administered through the University. For this reason, all applicants are strongly encouraged to complete a Free Application for Federal Student Aid (FAFSA). For more information on the FAFSA and aid eligibility, contact the Office of Student Financial Aid.
Other Sources of Assistance: Prospective students are strongly encouraged to explore other avenues of potential financial support including outside funding agencies such as NSF, NASA, DoD, and DoE. The University of Washington "Grant and Funding Information Service" webpage is an excellent informational resource on this topic.
Employer-based Assistance: Students and prospective students who wish to use employer reimbursement or other employer-based education benefits should contact the appropriate benefits office at their place of work.
---
International Applications
International applicants who hold an appropriate undergraduate degree from an accredited university are eligible to apply to the MAE program.
However, the MAE is a part-time program. Therefore, students in the MAE program are not eligible for student visas. International students will be solely responsible for any and all documentation necessary to enter or remain in the United States. The University will not issue visas to students in this degree program.
When preparing their applications, international students must be certain to provide legible, fully translated copies of their undergraduate transcripts.