Graduate students enrolled in the MAE degree programs are eligible to participate in coursework on-campus or online.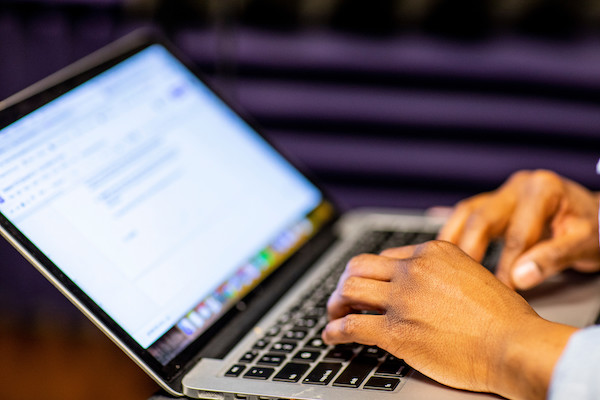 Online learning is made possible as part of a fee-based program offered by the William E. Boeing Department of Aeronautics & Astronautics and our partners in the UW Continuum College (formerly PCE).
Utilizing online learning allows working professionals and students located outside of the Seattle area to participate in the same graduate-level classes as on-campus students. Online learners have the opportunity to watch live webcasts in real-time or to access lectures as archived videos after they have been recorded and posted to the course media page.
Some courses allow students to download and save copies of lectures. Other courses only provide the opportunity to stream the video archive online. Contact your instructor to ask if they allow downloadable copies of class lectures.
Are online learning classes different from on-campus classes?
Courses completed online rely on the exact same content (i.e., lectures, assignments, exams, and evaluation) as courses completed on campus. Online students are held to the same standards of performance and same deadlines as students attending class in person.
Are the costs different for online classes?
Online classes are made available as a fee-based program (which differs from the on-campus tuition system). Instructional fees are assessed on a per-credit basis and all students are responsible for the same per-credit fee rate regardless of residency. For some students, fee-based enrollment may cost more than on-campus tuition.
Instructional fees are subject to change from year to year. This does not include other, additional student services fees or the cost of textbooks/materials.
How do I register for online classes?
All MAE students will register for courses online via the MyUW portal. MAE students will enroll in the PCE section of each AE course (section B), which can be found on the PCE time schedule. Detailed information about the registration process, including step-by-step instructions, can be found on PCE's website.
How do I view lectures?
Students can access lectures (both live webcasts and recordings) through your course's Canvas website.
Once you are officially registered in a class, you should automatically see the course appear in your list of current Canvas classes.
Some courses allow students to download and save copies of course media (audio/video). Other courses only provide the opportunity to stream the video archive online. Contact your instructor to ask if they allow downloadable copies of class materials.
How do I take exams?
Online students are encouraged, whenever possible, to come to campus for exams. However, students can arrange to have their exams proctored off campus.
If you expect to have your exam proctored off-campus, plan ahead. Your instructor will let you know the steps to have your exam proctored off-campus and this may vary from course to course.
If time zones (for example) make it impracticable to schedule your exam at the usual course time, you must coordinate with your instructor in advance regarding an acceptable adjusted time. Only the course instructor can approve date/time adjustments.
How do I turn in homework?
Students will be expected to submit all homework assignments electronically through the "Canvas" system, or by another method arranged with the instructor.
Students should be prepared to provide good-quality PDF images of homework. Assignments should be submitted as single documents. Please do not submit each page as an individual file. See Technology Requirements below for further details.
Who manages online learning technology?
Online learning technology is facilitated by the Aeronautics & Astronautics Department's Senior Computing Specialist
What are the technology requirements for online learning?
To participate successfully and effectively in online learning, students will need the following.
Consistent access to a home or work computer equipped with reliable internet access. A fast Internet connection (broadband DSL or cable) is strongly encouraged for web video.
Some courses may require additional software, which will be noted in the course descriptions each quarter. Enrolled graduate students are eligible for discounted student versions of these packages from the UW Bookstore. Additionally, degree-seeking students in our department have access to departmental computer resources (including remote access to servers and certain software).
A means to create easily legible images of homework and convert those images into single PDF files. Student should consider purchasing a desktop scanner with a minimum scan resolution of 96 ppi.

Small scanners such as the Doxie One are popular.
Smartphone and tablet users might consider apps such as TurboScan (iPhone) or CamScanner (Android).
Does the department offer computing resources to online learning students?
Yes. Online students have the same access to departmental computing as on-campus students. This includes file storage, remote Windows sessions (with software access), and high performance computing.
Additional questions?