May 15, 2019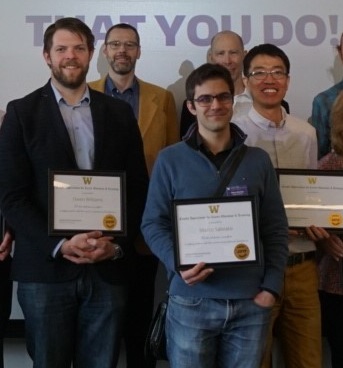 Eight faculty members in the A&A Department have been recognized by the first annual Faculty Appreciation for Career Education & Training (FACET) program, organized by the College of Engineering's Career Center (CC@E).
In an effort to recognize Engineering faculty members who influence the professional development of their students, the CC@E sought nominations directly from current Engineering students for one faculty member who made a distinguished mark on their career or professional development.
Thirty-seven faculty members across the College were honored in the FACET program for their dedication and support of their students.
Recognized A&A faculty include the following:
The faculty honorees were recognized at a brunch on May 2. A&A doctoral student Gustavo Fujiwara was invited to speak about Professors Eli Livne and Michael Bragg.
Fujiwara said "It is rather remarkable that in addition to preparing lessons for classes and advising academic and research activities, these faculty walk the extra mile to provide their students with advice on career and professional development. This is extremely valuable and immensely appreciated in the increasingly competitive job market."
He continued, "Both Professors Bragg and Livne have been incredible mentors and advisors throughout my academic training. Their leadership and good examples have enriched my career beyond the technical level and have given me opportunities to network with leaders from industry, academia, and research institutions to market myself for a smooth career transition post graduation."
Congratulations to all of the A&A FACET awardees!