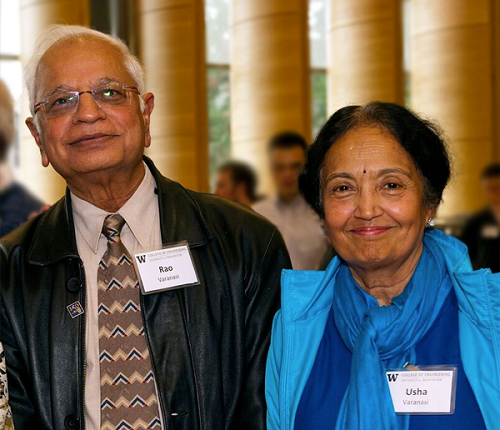 In late 2017, S. Rao (Ph.D. '68, Aeronautics & Astronautics) and Usha (Ph.D. '68, Organic Chemistry) Varanasi made a significant estate commitment to the UW. This planned gift enhances the legacy they have already created across the University with various endowments to support graduate students.
Rao and Usha, who met as master's students at CalTech before earning their doctorates at the UW, benefitted greatly from the educational opportunities they received from great institutions in the U.S., Rao explains. He adds, "Since the gift of education is eternal, it's a joy for us to be able to give back to the country and the community some of the benefits we enjoyed." Initially, their giving focused on their home departments, where they established endowed fellowships. Over time, however, their scope broadened to supporting a variety of units to "promote an interdisciplinary approach, and provide opportunities for under-represented communities," Usha says. "We want to provide seeds of imagination and incentives to students to open up new interdisciplinary careers, because as the planet is changing, we need more global thinking."
The Varanasis' support of and involvement with the UW goes far beyond their generous philanthropy; following distinguished careers at Boeing (Rao) and NOAA's Fisheries Northwest Science Center (Usha), they are now both affiliate professors at the UW, and are very active as volunteers in the College of Engineering and the College of the Environment.