Kirsten Wind Tunnel student crew member
Job Description:
Organizational job title: Crew Member.
Alternative job titles: Student Engineer, Engineering Technician, Test Technician.
UW HR job title and job class code: Student Assistant, 0875.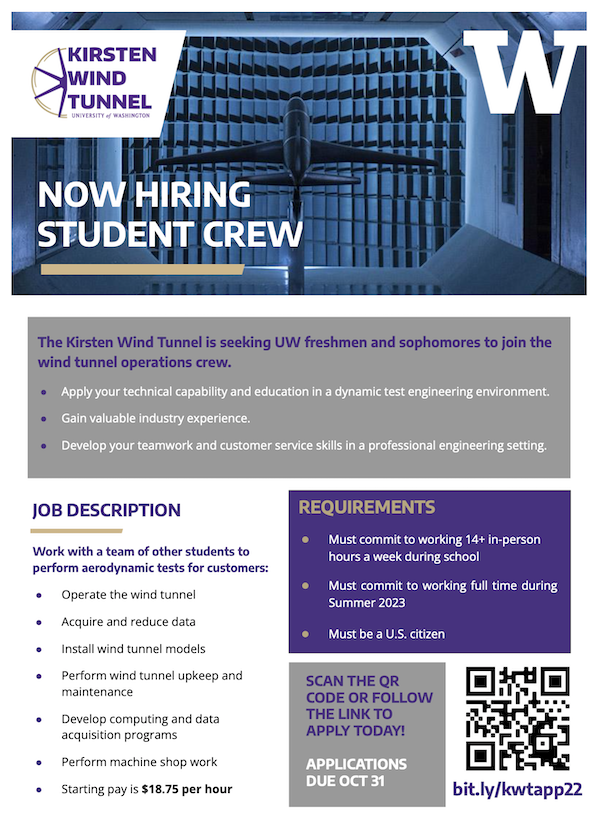 Work with a team of other Crew Members to perform aerodynamic tests for customers. The position has elements of operations and engineering. Examples of operations include running the fans, data acquisition, installing the model in the test section, cleaning work areas, and following maintenance procedures. Examples of engineering are processing data sets, writing test reports, trouble-shooting VisualBASIC computer codes, using data presentation software, and running data reduction software. The job requires the ability to carry tasks through to completion with little supervision and the ability to maintain a courteous professional attitude in a customer oriented environment.
Default hours of operation are weekdays 7:30 AM until 4:30 PM. Sometimes customers contract with us for longer shifts that go into the evening, or they may contract for testing on weekends and holidays. We attempt (usually successfully) to keep the test schedule clear during Winter Break. During Autumn, Winter, and Spring quarters, crew members are scheduled for about 15 hours per week and work schedules are set around classes. If testing has to be scheduled on holidays or during breaks, sign up sheets are used, with unfilled shifts assigned as necessary. During the Summer, we require crew members to work a normal 40-hour work week, although exceptions for a class or two are usually granted.

Since the job requires several months of training, we like to have you stay with us for at least two years. Therefore we rarely hire anyone less than 90 credits away from graduation.
Summary of Eligibility:
Official employment requirements are on the job application form. Those requirements include the following:
US citizenship
You must be enrolled at the UW as a matriculated undergraduate for at least 6 credits per autumn/winter/spring quarter.
There are a few physical requirements consistent with job duties.
Confidentiality and non-disclosure agreements are incorporated in the application form.
Legal signature on the application form.
Application For Employment (UW undergrads only)
Applications are only accepted during announced hiring cycles. Check this page, email us, or watch for flyers posted in engineering buildings and email announcements to find out exactly when to apply.
Deadline is October 31, 2022