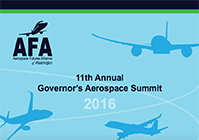 UW A&A Professor and Chair Tony Waas will be moderating a panel discussion on Additive Manufacturing at the Washington Aerospace Futures Alliance 11th Annual Governor's Aerospace Summit on Oct. 6, 2016.
"Hear how industry, and academia are working in tandem to attract the next generation of aerospace workers through programs geared toward incumbent workers, high school-age boys and COOL GIRLS(C). Get an insider's view of how careers in advance manufacturing, such as composites, additives and mechatronics, are being promoted to millennials as the exciting and high paying career choices they are. Gain insights to a new education model that is skill-set specific and company specific to help propel Washington's aerospace industry into the next millennium." - afa-wa.com
Panelists include Jill McCallum, President of Pacific Rim Aerospace; Dr. Robert Yancey, Vice President of Additive Manufacturing at Altair (also a UW A&A Affiliate Professor); and Mike O'Brien, Senior Project Leader at The Aerospace Corporation. The summit will bring together aerospace leaders in academia and industry to discuss the future of aerospace and aviation.
Registration & conference details are available online:
http://www.afa-wa.com/aerospace-summit-2016