Amy Sprague
February 25, 2020
This award is equivalent to a monetary value of $300,000. NASA will provide all of our launch integration services and effectively guarantee SOC-i a ride to space between 2021 and 2023. – Charlie Kelly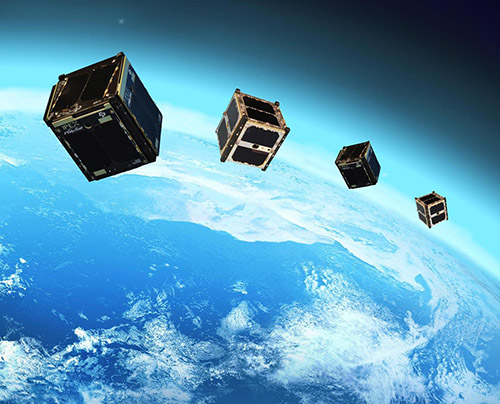 A&A's CubeSat Team, launched only in 2018, has secured one of only 18 spots for its "SOC-i" CubeSat in the NASA CubeSat Launch Initiative (CSLI). As the team's co-founder Charlie Kelly explains, "This award is equivalent to a monetary value of $300,000. NASA will provide all of our launch integration services and effectively guarantee SOC-i a ride to space between 2021 and 2023."
A CubeSat is a small, standardized spacecraft about the size of a loaf of bread which carries research projects into space. NASA will assign each selected CubeSat to a planned spaceflight mission. After launch, the CubeSats will be released into orbit from the launch vehicle or from the International Space Station.
This first A&A CubeSat, the Satellite for Optimal Control and Imaging, dubbed "SOC-i" with a nod toward the Pacific Northwest salmon, will have a specific mission to demonstrate the ability to satisfy two constraints with its orientation control and imaging systems. SOC-i's on-board software will orient its navigation sensors toward the sun at all times for accurate positioning while its cameras must never face the sun to avoid damaging its lens.
Taylor Reynolds, the team's other co-founder, says, "While SOC-i is the first A&A CubeSat, the team's objective is to lay a foundation for long-term satellite engineering projects at the UW through providing students with this inspiring opportunity to work with spaceflight hardware and software."
NASA's Sam Fonder, program executive for the Launch Services Program, describes CSLI as "the perfect win-win" for educational institutions and NASA: "Developers get a chance to build and test small spacecraft for research in space. NASA can use this research to assist in accomplishing its mission objectives."
Kelly and Reynolds emphasize how much work the team contributed to apply for this award. Reynolds says, "The team leads submitted over 200 pages of material for the application, in addition to the full year of design and prototyping behind that. The reward is that our A&A CubeSat team has gone from zero-to-accepted satellite with this huge financial and logistical boost in a little over a year's time. Even though some of us will have graduated by the time SOC-i launches, this achievement alone is a lot to be proud of."
SOC-i is supported by the UW College of Engineering and the Aerojet Rocketdyne Foundation and is advised by A&A professors Mehran Mesbahi and Behçet Açıkmeşe.
For more information, see NASA's press release.