Amy Sprague
April 15, 2019
Industry provides the challenge, and A&A can run with the challenge giving students hands-on experiences. – Jinkyu Yang
JCATI creates shared value for industry and academia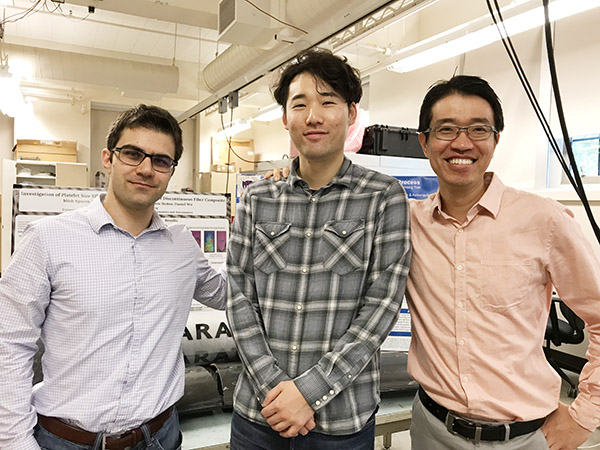 A&A professors Jinkyu Yang and Marco Salviato have partnered with French-based aerospace composites industry leader Chomarat in a series of projects to advance the cutting edge of composites research and bring hands-on experience to students. Many of these projects have secured funding from JCATI, the Joint Center for Aerospace Technology Innovation.
JCATI is a state initiative that funds collaborations between industry and Washington State's public universities to stimulate the local aerospace economy. A&A has secured grants every year since JCATI's founding in 2012. Yang and Salviato, whose projects have been awarded multiple JCATI grants, see the program as a valuable and advantageous resource for A&A.
Advancing the versatility and strengths of composites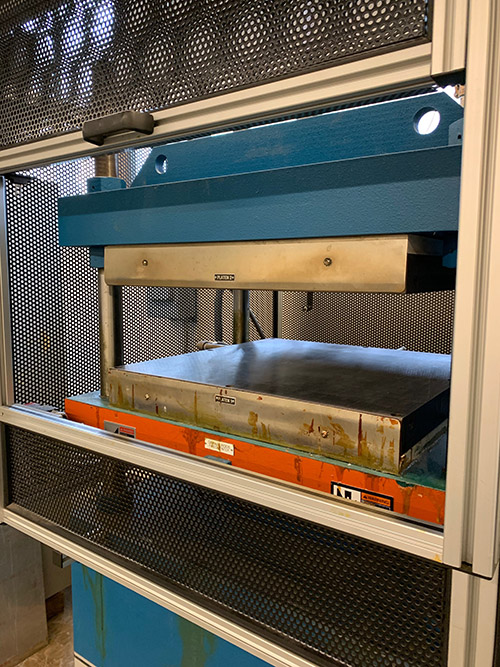 Yang explains that, with respect to his composites work, industry has not been taking advantage of the full range of qualities composites can deliver because the fabrication and design process gets exponentially more complicated. Says Yang, "We have been suppressing the design freedom and the advantages of composites because of the manufacturing hurdles, but if we explore the properties of non-conventional composites more, we can make great strides in enhancing the strength and stiffness of the materials, while reducing weight and breaking into many broader applications for the technology."
In 2014, Yang, in consultation with Chomarat, explored making a new type of composite structure with thin plies with fibers laid in shallow angles. The following year, with the support of JCATI, Chomarat and A&A built a wind turbine blade prototype made of non-conventional carbon fiber using this technique. The results supported this new technique by showing twice the structural bending stiffness than previous models. These projects succeeded in harnessing a complexity in the material to deliver benefits in strength and complexity. This was an important step toward the design freedom in composites Yang was seeking.
A&A Ph.D. student Seung Ko joined the Chomarat projects as an undergraduate and is now writing his doctoral dissertation on a current project aiming to recycle the vast scraps of composite materials left over after the primary shapes are cut out. He says, "When you have scraps, you're left with a pile of uneven shapes. While we're not going to make structures like wings or fuselages out of the recycled materials, we could make secondary or tertiary structures like brackets or overhead bins, which wouldn't have the same strength requirements. As part of this project, we are building brackets and testing for strength and durability."
The scraps are collected, cut into small strips, and placed in aluminum molds. The molds are transferred to a hot-press machine, which applies heat and pressure to shape the scraps into new raw material. This project is also engaging local industry players Boeing and the Composite Recycling Technology Center, based in Port Angeles. This coordination with local industry injects communication, technology transfer, and logistics training into these projects.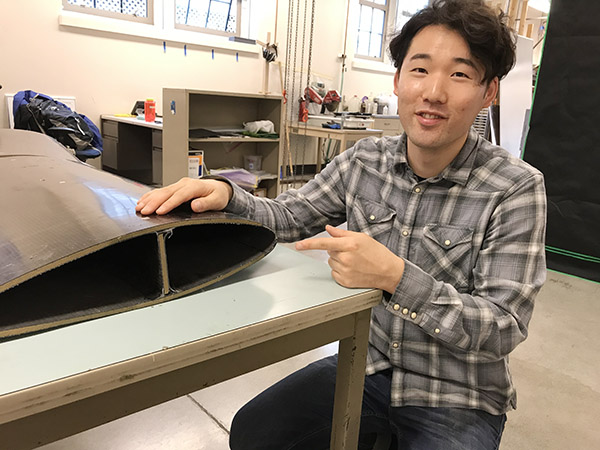 The implications of this work with Chomarat reaches far beyond this project. This is a new type of composite process, so aerospace, automobile, yacht, and turbine companies are especially interested because these composites can be formed into the complex shapes they need. In addition, the Federal Aviation Administration is following this work closely because the structures and strengths of various composites are not well known yet, but will need to be closely documented for adoption and regulation.
From the recycling point of view, this project is of particular interest to companies in Europe who are under tremendous pressure to recycle their waste products. This technology would solve that problem with the added benefit of feeding their raw material back into the production process, creating savings and efficiencies.
Student takeaways and a competitive edge
Sean Lay, a former A&A graduate student working on the Chomarat project and now a structural design engineer at Blue Origin, notes that the experience on the project gave him relevant hands-on experience for his current job and elevated him as a more compelling candidate. He notes, "Before this Chomarat work, I knew next to nothing about the fabrication of composite materials, and I was immediately drawn to the work because it was a newer technology that I could touch, analyze, and validate to make sure that our designs were appropriate."
Lay observes that a lot of his day-to-day activities at Blue Origin are skills he learned through the work with Chomarat. "From day one here, I have been doing test planning, developing test matrices, part chasing, and coming up with quick engineering drawings on hand. The experience I gained of the manufacturing process was also super-helpful because I gained an early understanding of material costs, capital costs, equipment, and how we operate within budget constraints. And not least of all, this project also developed my communication skills so that I could coordinate with machine shops, suppliers, coworkers, and more to coordinate and manage the project."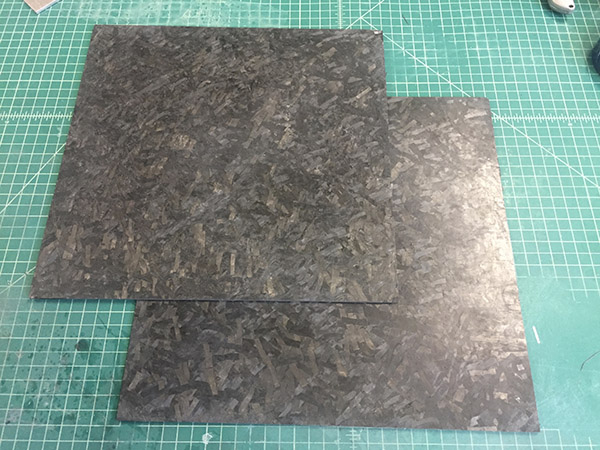 Ko says that from the student perspective, "This project provides a nice undergraduate experience that can serve as a litmus test for whether students will want to pursue composites as their intended field. For example, students in this current recycling project start from scratch, figuring out how to cut the scraps which is the first step in the process. It's very hands-on. And then further on in the process, they get data analysis experience, so it's a full range of activities and research."
In addition, several graduate students are working on elements of these projects for masters theses or, like Ko, doctoral dissertations. These projects include manufacturing, failure, and fracturing analyses of discontinuous fiber composites and examining the use of thin-ply laminates on the structural performance of wings.
Yang sees the JCATI grant structure as an efficient way to transfer knowledge, talent, and resources between industry and academia: "Industry provides the challenge, and A&A can run with the challenge giving students hands-on experiences. These skills make the students a valuable resource to industry and a vehicle to transfer additional knowledge back to industry. Industry then develops additional academic challenges. It's a nice closed loop of innovation, training, and knowledge transfer."