The William E. Boeing Department of Aeronautics & Astronautics is committed to creating and maintaining an educational and professional environment that uplifts people from marginalized backgrounds and supports all members of our community.
Initiatives Programs & organizations Scholarships & funding Further reading News
Justice, equity, diversity and inclusion are fundamental to our department and to our mission as a public educational institution. Diversity brings new ideas and perspectives to engineering which are critical for more creative, inclusive and successful solutions and innovations. We strive to create a supportive learning and working community, grounded in these principles, to foster understanding, communication, respect, and collaboration among people with diverse backgrounds, ethnicity, nationality and experiences that are critical to tackling significant challenges as students, teachers, professionals, and members of society.
We believe
A strong education can improve the lives of individuals and foster healthy, thriving communities that can close gaps due to disparities in opportunity and access.
Factors such as income, ethnicity, race, gender identity, sexuality, physical or learning differences, national origin, and faith have unjustly shaped many disparities in our society.
Systemic biases exist in our society and our institutions, including academic institutions.
We commit to
Recruit, welcome, and support faculty, staff, and students from all backgrounds, specifically including individuals from historically underrepresented groups in aerospace engineering.
Acknowledge, understand and directly confront the historical inequities in our field and the structures and barriers that have led to those inequities.
A&A's JEDI initiatives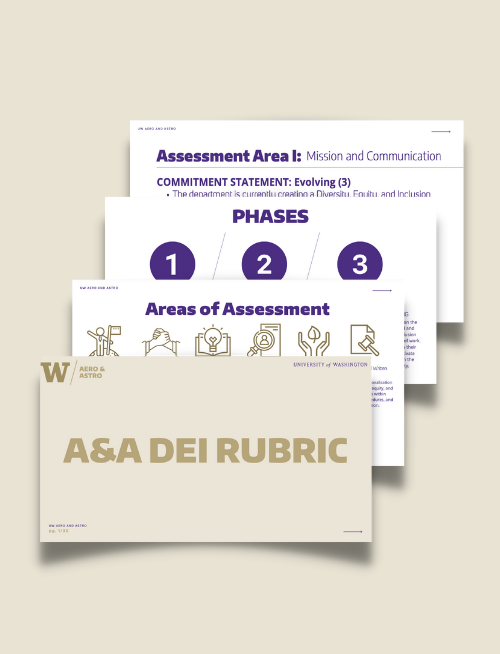 A&A's JEDI Committee completed the new UW DEI Rubric, a tool used to review and access the effectiveness of DEI efforts, initiatives, strategies as well as existing policies, practices, and written materials across the University. See how A&A scores now and next steps.
JEDI Committee: A&A's JEDI Committee meets bi-monthly to discuss initiatives and communications for the A&A community to deepen their understanding of key issues to advance the department's collective understanding of and commitment to DEI. Contact: aa-dei@uw.edu
WA Space Grant: A&A is now home to NASA's Washington State's Space Grant Consortium with programs to expand STEM pathways to students from underrepresented communities. Research fellowships, scholarships, and activities participating in NASA's Artemis Challenges, CubeSats, and more are available.
A&A's JEDI Dialogues: Our monthly discussion series with short suggested readings or other media. See our events calendar for upcoming dates.
A&A's student organizations with a focus on diversity
Training opportunities
Online Training on Land Acknowledgement for Staff and Faculty
Are you interested in reciting a land acknowledgment at a gathering or in the classroom? The Office of Inclusive Excellence (OIE) created training videos to walk staff and faculty through the components of land acknowledgments – while also providing historical context and exploring the significance of land rights today. Learn more here: Land acknowledgments: Online training for staff and faculty | UW College of Engineering (washington.edu)
Anti-Racism and creating a welcoming environment for all
As we strive to build an inclusive and equitable environment for learning, research, service and outreach we ask you to review and reflect on these instances and consider the role you can play in creating a welcoming environment for all. Learn more here: Anti-Racism and creating a welcoming environment for all | UW College of Engineering (washington.edu)
Hazing prevention (required for UW employees)
All employees at the University of Washington, including student employees, are required to report hazing if, as a result of observations or information received in the course of employment or volunteer service, any employee has reasonable cause to believe that hazing has occurred.
"Reasonable cause" means a person who witnesses hazing or receives a credible written or oral report alleging hazing or a potential or planned hazing activity. Watch training.
Title IX training (required course for UW employees)
Husky Prevention & Response is a foundational, required online prevention and response course about sex- and gender-based violence and harassment for staff, faculty, other academic personnel, and student employees.
Why must we diversify?
Diversity creates positive outcomes for innovation. We are looking at trends across national engineering programs, aerospace programs, and how A&A stacks up in comparison.
UW programs and organizations for diversity in STEM
The University of Washington Office of Minority Affairs and Diversity (OMA&D) works to increase diversity on campus and enrich the collegiate experience of all UW students, faculty and staff.
Graduate Student Equity and Excellence is at the heart of the Graduate School's commitment to expanding graduate education to underrepresented minority (URM) communities.
Disability Resources for Students (DRS) is dedicated to ensuring access, accommodations, and inclusion for all students with temporary or permanent physical, health, learning, sensory or psychological differences.
The University of Washington Q Center is a primarily student-run resource center dedicated to serving anyone with or without a gender or sexuality – UW students, staff, faculty, alumni, and community members.
There are many fellowships and scholarships specifically created to support access, persistence, and success for underrepresented communities in engineering.
Further reading on JEDI and STEM
The College of Engineering has created a resource on "Anti-Racism and creating a welcoming environment for all" (UW NetID required) with invitations to reflect and consider the role each of us plays in creating a welcoming environment for all. The following list of resources is also helpful in understanding DEI in the context of STEM:
Preparing the Next Generation of STEM Innovators: Identifying & Developing our Nation's Human Capital (2010) by the National Science Board.
Broadening Participation in Science & Engineering Faculty (2003) by the National Science Board.
L. Ketzner, M. Aaronson, and L. Juliano, "How Women Can Help Close the Talent Gap in Aerospace and Defense", Boston Consulting Group, Boston, Tech. Rep., 2019.
C. A. Shapiro and L. J. Sax, "Major selection and persistence for women in STEM", New Directions for Institutional Research, vol. 2011, no. 152, pp. 5–18, Dec. 2011.
S. D. Herrmann, R. M. Adelman, J. E. Bodford, O. Graudejus, M. A. Okun, and V. S. Y. Kwan, "The Effects of a Female Role Model on Academic Performance and Persistence of Women in STEM Courses", Basic and Applied Social Psychology, vol. 38, no. 5, pp. 258–268, Sep. 2016.
C. J. Nemeth and J. Wachtler, "Creative problem solving as a result of majority vs minority influence", European Journal of Social Psychology, vol. 13, no. 1, pp. 45–55, Jan. 1983.
M. Estrada, M. Burnett, A. G. Campbell, P. B. Campbell, W. F. Denetclaw, C. G. Gutierrez, S. Hurtado, G. H. John, J. Matsui, R. McGee, C. M. Okpodu, T. J. Robinson, M. F. Summers, M. Werner- Washburne, and M. Zavala, "Improving Underrepresented Minority Student Persistence in STEM", CBE—Life Sciences Education, vol. 15, no. 3, P. Marsteller, Ed., es5, Sep. 2016.
C. Brinkworth, A. B. Skaer, C. Prescod-Weinstein, J. Teske, and S. Tuttle, "Building an Inclusive AAS - The Critical Role of Diversity and Inclusion Training for AAS Council and Astronomy Leadership", arXiv, Oct. 2016. arXiv: 1610.02916.
M. A. Eisenhart and E. Finkel, "Women's Status and the Discourse of Gender Neutrality at Work", in Women's science: learning and succeeding from the margins, 1998.
D. R. Johnson, M. Soldner, J. B. Leonard, P. Alvarez, K. K. Inkelas, H. T. Rowan-Kenyon, and S. D. Longerbeam, "Examining Sense of Belonging Among First-Year Undergraduates From Different Racial/Ethnic Groups", Journal of College Student Development, vol. 48, no. 5, pp. 525–542, 2007.
D. R. Johnson, "Campus Racial Climate Perceptions and Overall Sense of Belonging Among Racially Diverse Women in STEM Majors", Journal of College Student Development, vol. 53, no. 2, pp. 336– 346, 2012.