Facilities in the Advanced Dynamics, Validation & Control Research Laboratory support investigation of our theoretical and computational breakthroughs through levels of implementation:
medium and high-fidelity computation
demonstration on indoor testbeds
real-time hardware in the loop experiments.
The laboratory has 494 square feet of laboratory space dedicated for research activities in the Department of Aeronautics & Astronautics.
5DOF Satellite Simulator
The laboratory is equipped with a five degrees-of-freedom plug-n-play satellite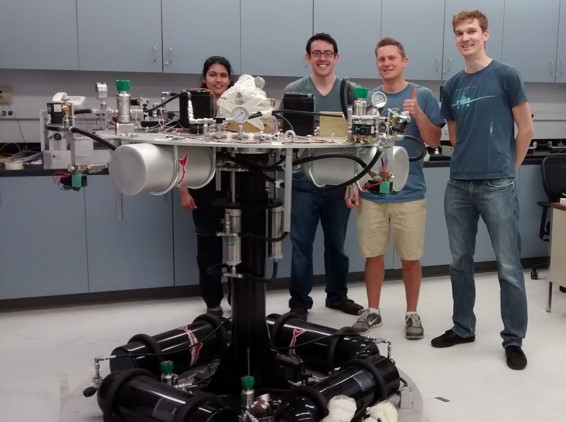 simulator, developed by Andrews Space under contract by the Air Force Research Laboratory. The test-bed enables verification of spacecraft subsystems and development of advanced control algorithms. The test bed is integrated with active control actuation systems and an air bearing to conduct hardware in the loop simulations and demonstrations, including formation flying. The simulator has four control moment gyros in a pyramid configuration for pointing and control accuracy.
Flight Simulator
High-fidelity, real-time simulation and control is enabled by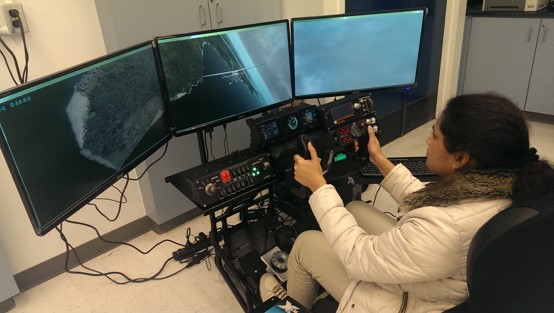 a fixed-base motion simulator. The fixed-base simulator housed in a Voltair Sim cockpit is a standalone integrated hardware and software. It uses a quad-core processor that is overclocked to 4.3GHz to enable real-time calculations, three LCD 27" monitors for out-the window view, Saitek yoke, pedals and two-engine jet throttle quadrant with flap lever, Pro Flight switch, radio and multi panels and three Pro Flight LCD Instrumental Panels. The simulator is based on XForcePC's General Aviation Dream Package customized for University of Washington. The fixed-base simulator uses X-Plane to provide the out-the-window visualization.
Currently work is underway to develop a capability that enables the user to interface a custom simulation with XPlane. The customization is being done within X-Plane to overwrite the aerodynamic data model with other high-fidelity simulations of interest. Upon completion, the software components utilized within the simulator will be fully customizable based on the needs of the user/experiment.
High-fidelity nonlinear flight simulations
ADV-CTRL has a suite of high-fidelity, nonlinear, six degree-of-freedom simulations including models of flight controllers, sensors, atmosphere and wind turbulence, engine, and augmentation systems for the following aircraft:
Generic transport model (5.5% dynamically scaled commercial transport model) developed by NASA
Transport class model (full scale model of a transport class aircraft with turbofan engine models)
ADMIRE (The Aero-Data Model In a Research Environment) using the Generic Aerodata Model (GAM) developed by Saab, AB
F/A-18 High-angle-of-attack research vehicle
F-16A fighting falcon
X-29A model
T-38
Skoshi F-5
to evaluate the approximations and the control algorithms developed by the group.
Computing Facilities
The ADV-CTRL includes four (Intel Core i7-4, 3.9GHz, 8GB DD3 1600MHz RAM, 1TB 7200RPM SATA Hard Drive 6.0 Gb/s) computers dedicated for research and educational activities.