Summer in Seattle

Summer on the campus of the University of Washington has a relaxed feel. On sunny days, Mt. Rainier is visible from Rainier Vista where people picnic, throw Frisbees or stop to take photos of the view. In the center of campus, Drumheller Fountain sends cascades of water into Frosh Pond, splashing the resident ducks amidst the blooming roses. The William E. Boeing Department of Aeronautics & Astronautics looks on; quiet on the outside but inside the air simmers with excitement and creative energy.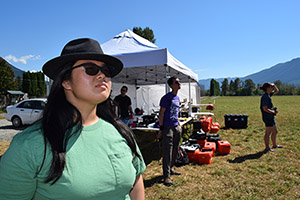 Watching UAVs outside the Mobile Launch Operations Unit.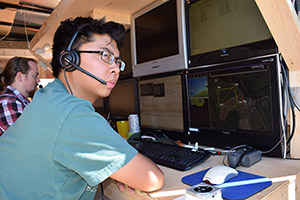 Launching UAVs from the Mobile Launch Operations Unit.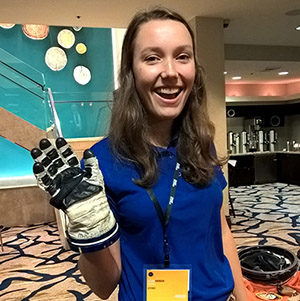 Senior Alexis Harroun.
Energetic high school students spend time on campus, exploring their academic options. Graduate students work with faculty on special projects, some delving into fundamental sciences while others advance proprietary technology for industry partners. Undergraduates in the Autonomous Flight Systems Laboratory finish constructing a custom mobile flight operations center in the Guggenheim parking lot under the supervision of Professor Christopher Lum. This large, enclosed trailer is the result of a Joint Center for Aerospace Technology & Innovation (JCATI) award and will be used to conduct field experiments related to unmanned aerial systems (UAVs) over the course of the coming year.
Other students are working around the city as interns at companies such as Boeing, Lockheed Martin, Systima, Optinav and AeroTec. They are bringing their academic knowledge in flight sciences, aerostructures, propulsion and design engineering to industry while gaining valuable experience that will prepare them for their future careers. A&A Senior Alexis Harroun is one of these interns. She spent the summer in the Test Operations Division at Blue Origin in Kent, Washington. There, Alexis contributed to multiple developmental test campaigns. During the school year, Alexis works with Professor Carl Knowlen in his Ram Accelerator Lab and is the technical lead of the propulsion team for the Society for Advanced Rocket Propulsion (SARP). These experiences helped to prepare her for the quick pace and technical challenge of working for a premier rocket launching company. "The hands-on experience of designing and building rockets for SARP and working in a test facility environment in the lab has translated to skills that I use on the job every day," says Alexis. She also drew inspiration from seeing the talent among her peers in the A&A Class of 2017, as well as the high school students who attended the NewSpace conference, where she was a representative for Blue Origin. Alexis found additional support and insight from the other interns she met at an Aerospace Intern Meetup hosted by the Museum of Flight Future Leaders Team. Alexis says that she feels privileged to live in Seattle and be surrounded not only by the natural beauty of the area but also by a community of people who are enthusiastic about flying planes and launching rockets.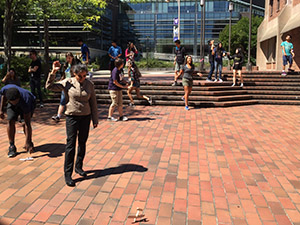 Professor Anshu Narang-Siddarth teaching students at math academy.
Closer to home, Professor Anshu Narang welcomed a crew of young students to the summer College of Engineering Math Academy program at the UW. The Math Academy brings high school juniors from across Washington State to live on campus and take short courses, tour labs, and participate in research projects. The program, which mainly serves underrepresented minority students, helps them to develop the math and problem-solving skills necessary to succeed in engineering. Professor Narang's class on flight mechanics taught the students the science of building and understanding airplanes. After her seminar, Prof. Narang and the students spent 20 minutes adjusting, testing and flying gliders. Professor Narang, who specializes in dynamic modeling, control and safety of autonomous vehicles, says, "It was inspiring to work with such enthusiastic students, and to see them apply the principles they had been taught." The students were equally inspired by Professor Narang—and we hope to see them as UW Aero/Astro freshmen in 2018.
~~~
Seattle, Washington is home to a vibrant aerospace community, booming with culture, entertainment and industry. Examples can be seen all over the city from the signature Space Needle skyline to the annual Blue Angels Air Show. In fact just this past summer the Museum of Flight opened a new Aviation Pavilion where you can tour a 787, the Space Frontier Foundation held their largest NewSpace conference to date, and the EMP Museum showcased exhibits for Star Wars and Star Trek, inspiring thousands of people, young and old. Since 1929, our department has played an important role in the development of the aerospace industry. We are proud to know our students, alumni and faculty continue to contribute to the achievements in this dynamic field from the heart of Jet City*.
* If you're interested in learning more about the history of aerospace in the Puget Sound, you might consider picking up a copy of "Jet City Rewind - Aviation History of Seattle and the Pacific Northwest." by A&A AlumnusTim Nelson (BSAA '85, MSAA '89).