Design Build Fly charts a new course
By: Amy Sprague
Top image: The UW-22 Albatross gets ready to take-off again after dropping a simulated vaccine package, halfway through the Mission 3 flight at the competition.

A vastly expanded membership base and a reimagined organizational structure delivered a very successful airplane and groundwork for more.
While Design Build Fly (DBF) has long been one of A&A's most popular student organizations, the AIAA-sponsored competition team is transforming itself from a smaller, less-structured group to one that is not only focused on this year's plane, but building the team capacity to build winning planes in the years to come.
What is DBF?
DBF chapters at several universities spend the academic year designing, building, and flying an unmanned electric-powered, radio-controlled aircraft with a specific mission profile. The goal is to compete at the annual AIAA DBF Competition, now in its 28th year. Each year sees different challenges, and about 150 teams submit the initial design proposal for the annual DBF competition. Not every plane design is cleared for the build stage, but each team works toward a design that delivers excellent flight handling, affordable manufacturing and high performance.
Organized, explosive growth
A&A senior and DBF Project Manager Pranav Bhagavatula emphasizes that the UW chapter has been in a "building back" phase since before his freshman year. "We were trying to recruit new members and rethink our organizational structure," he says. Now with 140 people signing up at the beginning of last year and ultimately landing at about 70 active members, DBF is thriving under the growth.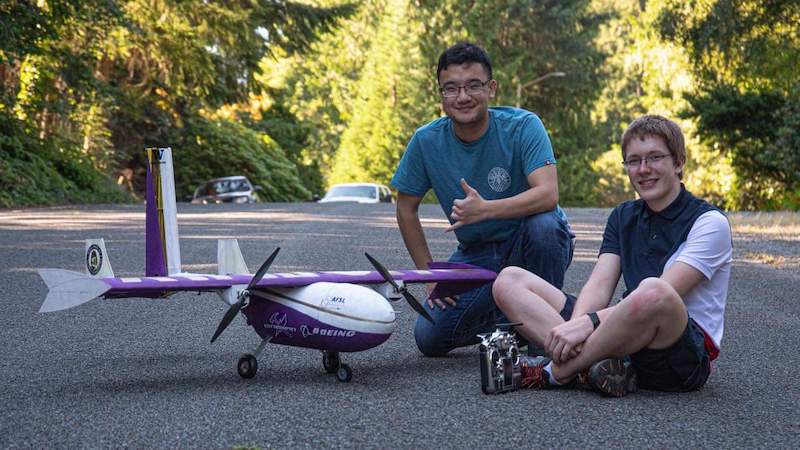 "To give credit where it is due, Ethan Uehara (A&A '21) and Daniel Moore (A&A '22), worked to rebuild this team and structure the capacity to handle growth," says Pranav. Professor Dana Dabiri, DBF's faculty adviser last year, agrees. "Ethan's and Daniel's leadership transformed our DBF team into a highly organized and efficient group, and we have seen the result in superb performance and delivery in the last couple of years. This is most exciting, and we look forward to the team's continued success," he says.
The difference has been an organizational structure with subteams and excellent communications channels. Pranav continues, "This year we have subteams to look at every aspect of the plane versus in previous years when we'd be designing, say, our landing gear, and thinking, 'We're just going to wing it.' "
DBF history
DBF has a rich history, spanning back to the early 2000s. Each year presented new challenges, and our team evolved with exciting rule changes and advanced technologies.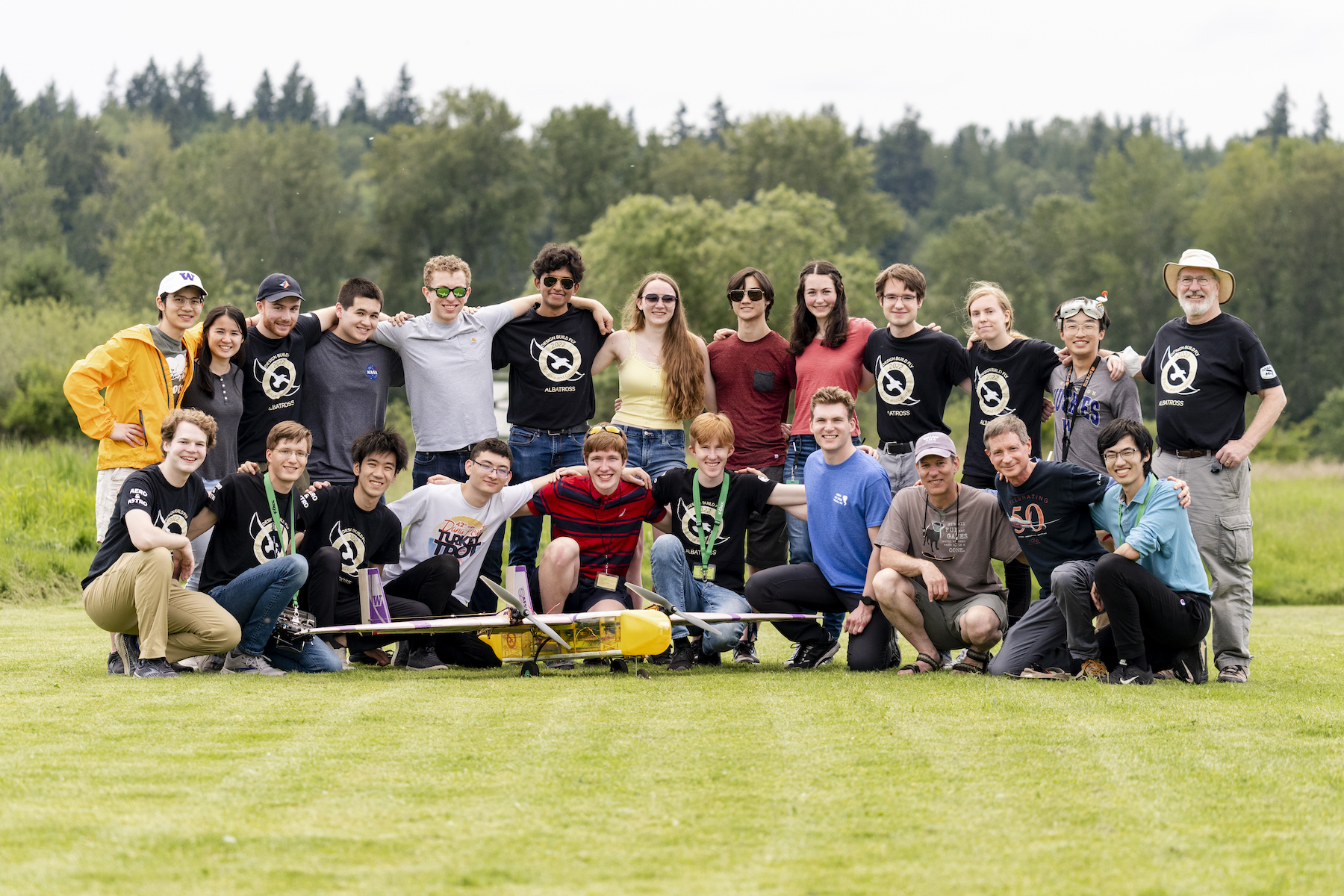 Educate and compete
While some DBF chapters reuse and adapt the same airframe and manufacturing techniques from year to year, the UW team starts over again completely every year. Daniel says, "Starting with a clean-slate allows us to better educate our members and give them that extra experience. With our motto 'Educate and Compete,' we are trying to provide the opportunity and resources, not just to build a competitive aircraft, but to develop the member's design, academic, and professional skills."
 
You don't need experience to join DBF. We're looking for an attitude and a mindset that's going to enable getting to that high level of competence. We need to build an aircraft and we're going to provide the resources to do it"
Pranav adds that the educational opportunities that DBF offers are pretty amazing. "You don't need experience to join DBF. We're looking for an attitude and a mindset that's going to enable getting to that high level of competence. We need to build an aircraft and we're going to provide the resources to do it," he said.
The team has an impressive library of tutorials and lectures on their YouTube channel, including Ethan's playlist on Structures and Daniel's playlist on SolidWorks, and last year had been able to resume in-person seminars and manufacturing training. Some students enter the team as first years with introductory concepts of lift and drag.
DBF Chief Engineer and A&A senior Caleigh Stagnone says, "We have a lot of underclassmen who are interested in getting lessons on aerodynamic analysis, finite element analysis or Solid Works 3D design ­– things you wouldn't see until junior year in the curriculum."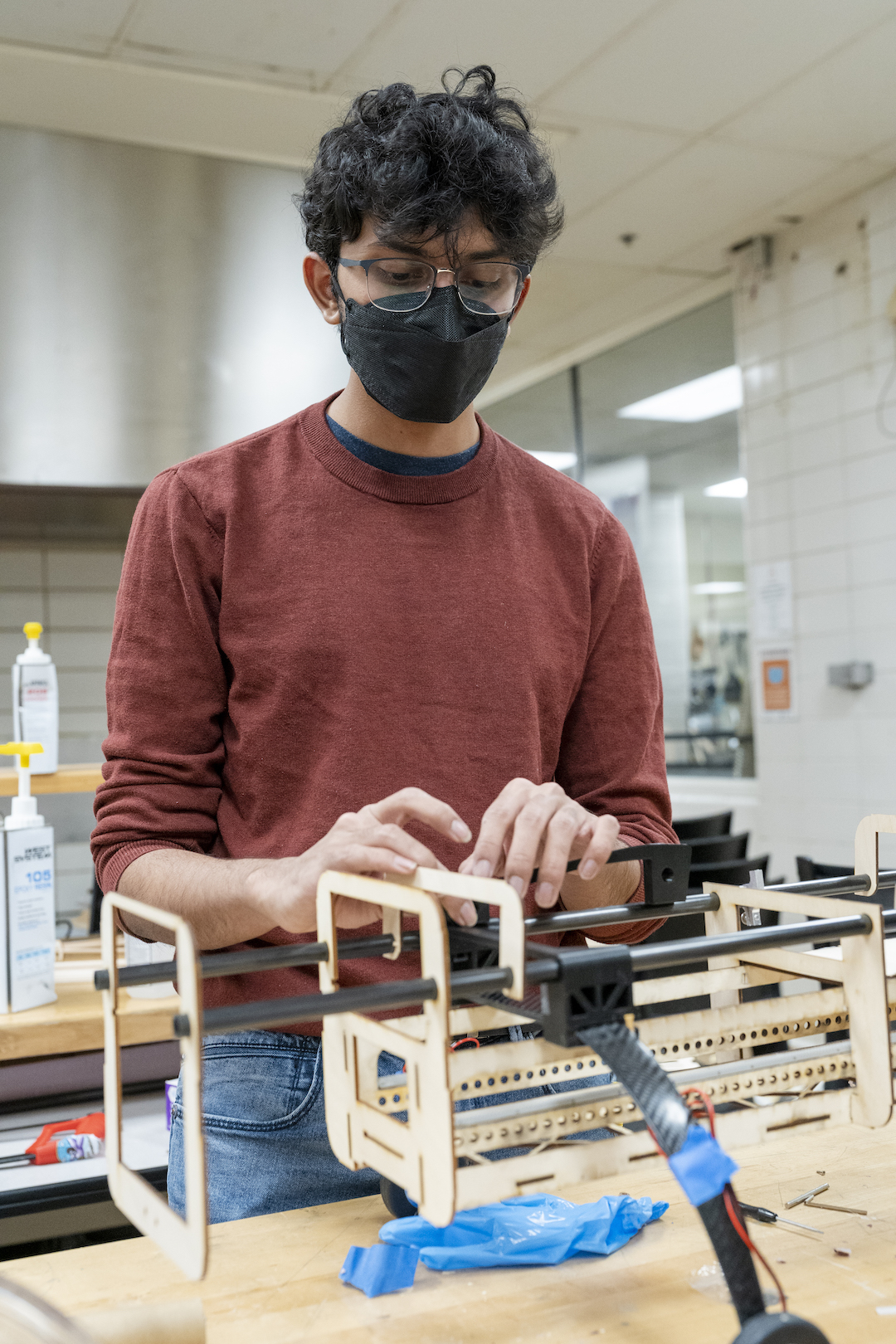 While all of this training takes up a lot of the time of the experienced members, it is a strategy that will pay off for the sustainability of the program. With the extra membership, they have the capacity to both build this year's plane and lay the training groundwork for next year's plane.
The recent new strategy has also boosted efforts to engage local industry. These efforts have not only attracted sponsorships in excess of $15,000 last year, well beyond their previous fundraising efforts, but the team has engaged mentors from Boeing, Janicki, SpaceX and the Marymoor Radio Control Club, with many ex-Boeing and ex-Microsoft Engineers. Pranav notes, "They're taking us to the next level."
The philosophy is paying off for the more senior members. Caleigh says, "It's kind of cool that if you're in the team all four years, that at the end, you've built four complete airplanes that are all very different." She continues, "This experience is really valuable when you go into industry. Last summer I had an internship with Janicki Industries, an aerospace composite manufacturer. My position as DBF Materials Lead was directly applicable to my internship. This team provides experiences that you're not going to get inside of a classroom."

The Albatross
The Albatross, the team's official 2022 competition plane, was curiously named considering albatrosses are known for not sticking their landings because of their high-speed approaches. The plane lived up to its namesake bird in several of the test flights. Caleigh said with a laugh, "Well, it's true that one of the major design challenges this year was our nose landing gear."
The Albatross's design reflected a complicated mission for the spring competition. It was simulating a humanitarian vaccine delivery. The plane had to carry packages of syringes, fly three laps in under 5 minutes, deliver a package, and repeat the process as many times that time permitted.
It was working toward perfecting the reliability in the repetition that led to one of the most satisfying breakthroughs. Pranav explains, "It is actually quite a difficult challenge to land, deploy a package, take off and repeat the process six times. After three iterations and several 12-hour days in the shop, diagnosing and re-diagnosing, we finally got the reliability we were looking for. And it brought us to this place we have never been before – we're at a much more professional stage that we didn't see ourselves achieving, even just two years ago."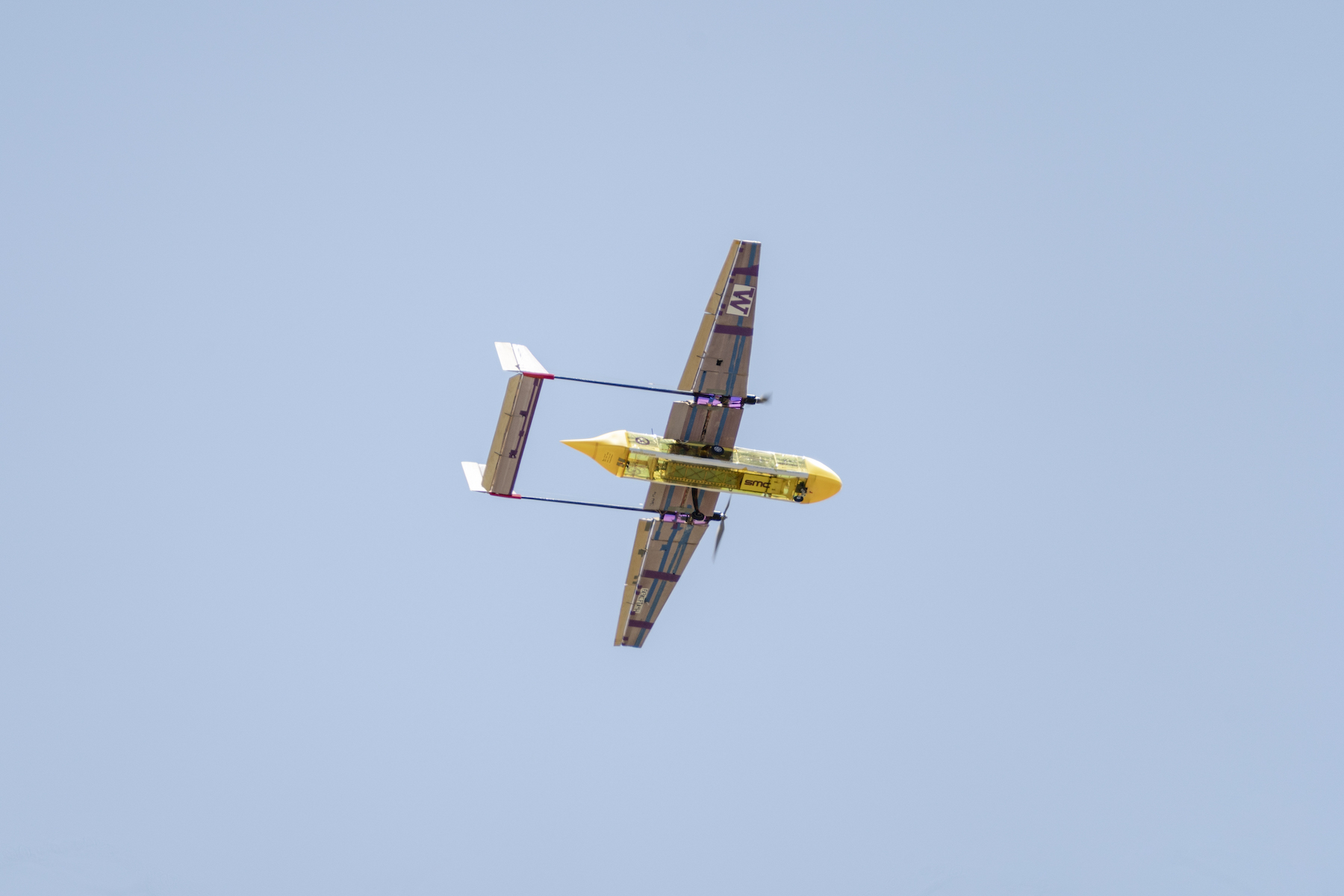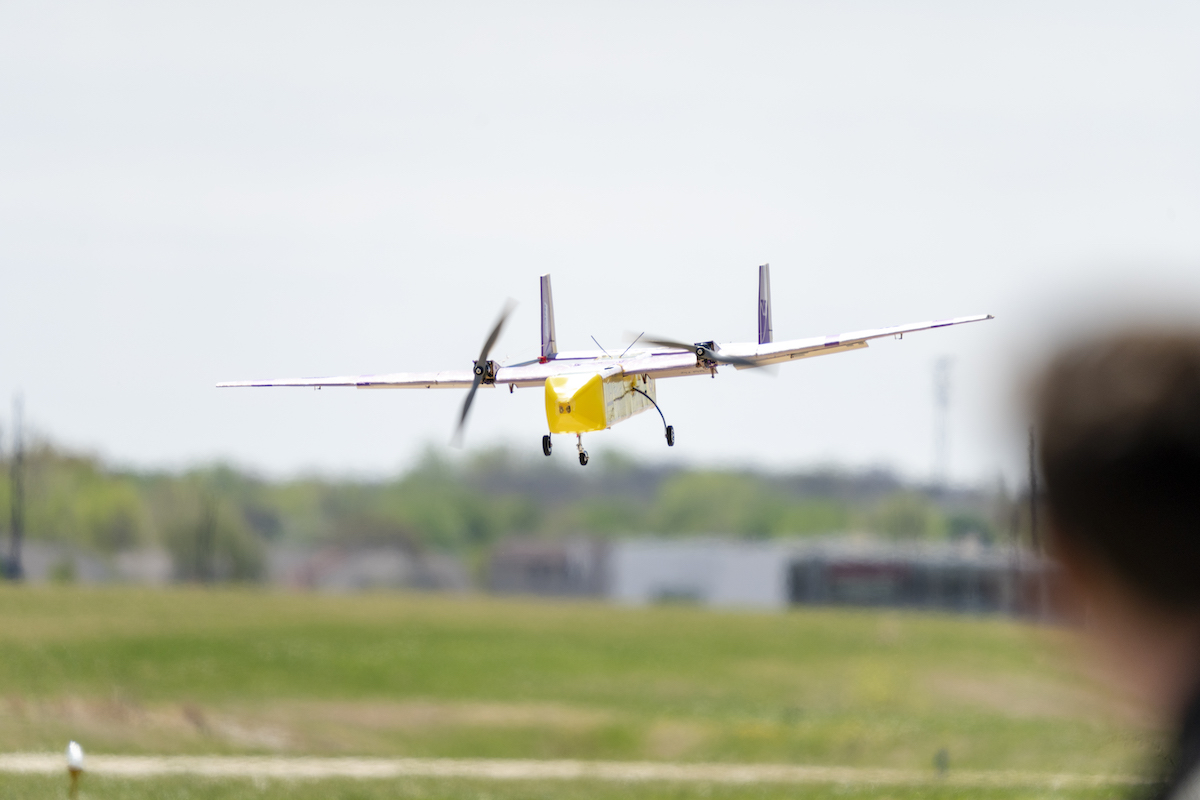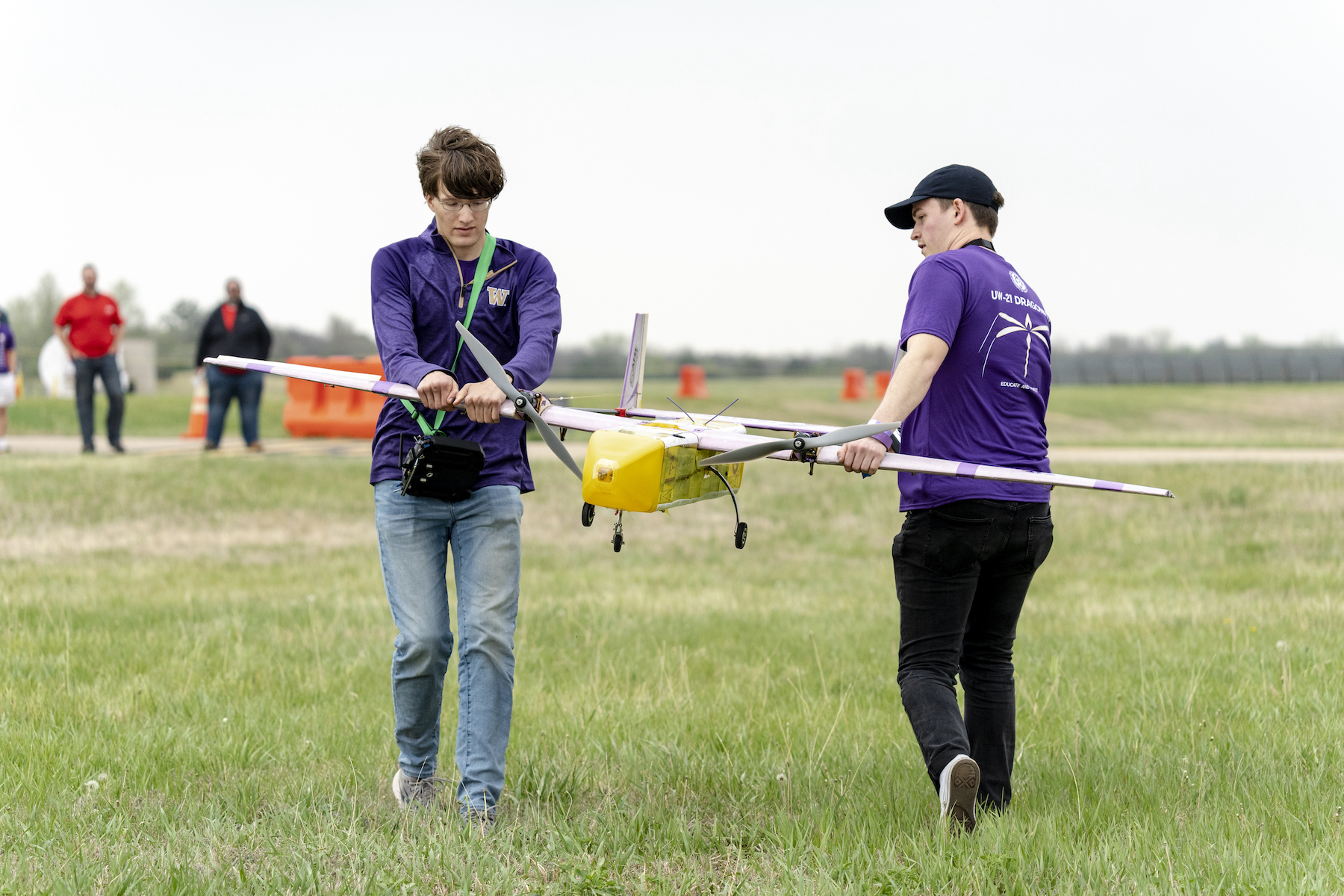 The 2022 DBF competition in Wichita, Kansas
Three years ago at the 2019 DBF competition in Tucson, Arizona, our DBF team placed 93 out of 104 teams. While the 2020 and 2021 teams improved their standings, the team was looking for a big win in Wichita. In the 2022 competition, the Albatross flew well, with no crashes, finishing 9th out of ninety-seven teams, the highest standing by far the team has ever achieved.
Of this result, Daniel muses, "There are many highly competitive teams at competition, and after four years investing immeasurable time into the DBF UW team, it was a blessing to see the fruits of our labors, with our team competing on the same level with the very best of them." Looking ahead with this year's recruits, Caleigh is ready to go further, "Our team's goal this year is to win."