May 5, 2017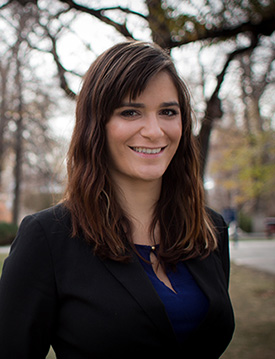 Sierra Adibi, a PhD student in the William E. Boeing Department of Aeronautics & Astronautics, has just received a National Defense Science & Engineering Graduate Fellowship. Sierra is currently working with Professor Kristi Morgansen in the Nonlinear Dynamics and Control Laboratory on novel applications of Unmanned Aerial Vehicles in GPS-denied environments.
Sierra received her BS in Mechanical Engineering from the University of Nevada in 2016. As part of her undergraduate research, Sierra worked on such projects as a Fixed-Wing VTOL Unmanned Aerial Vehicle; an Autonomous UAV Landing in Windy Conditions with MAP-Elites; and a Collapsible Wing for an Aerially Deployed Autonomous System. She received a NASA Space Grant Research Scholarship and NASA Space Grant Consortium Scholarship. Sierra also served as the Tau Beta Pi Engineering Honor Society NV-A Chapter President and the AIAA UNR Chapter President.
After graduation, Sierra worked as a research associate at the NASA Ames Research Center performing Computational Fluid Dynamics (CFD) simulations on experimental rotorcraft for design analysis and validation. She was also the Simulation & CFD technical team lead, overseeing 11 projects and 13 high school and college interns.
Sierra loves to explore, and in her free time you can usually find her either in the mountains or on a plane, in search of adventure. Her ultimate goal is a career in research, where her passion for exploration can flourish through innovation.