In Memoriam: Anita Abrego

March 10, 2017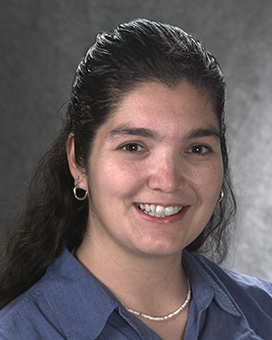 Photo courtesy of NASA
It is with much sadness that we share the loss of alumna Anita Abrego (BS '94). Anita passed away on December 27, 2016.
Anita graduated from the University of Washington in 1994, though she was a member of the 1993 class of the Aeronautics and Astronautics (UWAA) Engineering program. A strong advocate for underrepresented populations, Anita was active at the UW in the Society of Hispanic Professional Engineers (SHPE) and in the American Indian Science and Engineering Society (AISES). She received her Master of Science from the University of Colorado Boulder in 1996 and took a full-time position with NASA, where she had done several internships as a student. At NASA, she continued her advocacy work, chairing the Native American Advisory Committee for the NASA-Ames campus. She served as a mentor and role model to young women pursuing engineering and the sciences.
Anita was a highly-recognized and awarded research scientist in the field of rotor blade dynamics. She managed wind tunnel test programs for NASA, for the U.S. Army, and for the U.S Navy, including the Tiltrotor Descent Aerodynamics test program during the development of the U.S. Navy V-22 Osprey Tiltrotor. She was recognized multiple times during more than 25 years in her career at NASA, including the NASA Equal Employment Opportunity Medal. In 2005 she was recognized by Science Spectrum Magazine as the Top Minority in Science winner. In Spring 2009, Anita was named one of the top 40 emerging leaders from underrepresented communities to watch by the UW and the UW Alumni Association publication Viewpoint.
More important than her professional accolades, however, was Anita's character. She was an incredibly generous person with both her time and her spirit. She had a quick wit that was often delivered with little more than a smirk until you realized she was joking, and then her smile would light the room and your soul. She was a loving daughter to her parents, sister to her siblings, and auntie to her nieces and nephews. She brought a joy for life to those around her and a warmth not often found in those of us in the engineering circles.
To honor her memory, two of Anita's classmates, Bill Fishburn and Juan Carlos Varela have started a memorial student endowment fund at the University of Washington. It will target women pursuing engineering degrees, and it will be weighted toward awarding women of Native American and/or Latina descent. With a goal of making the fund a perpetual scholarship, $100,000 must be raised by January of 2018. Please consider making a donation in Anita's memory.