August 30, 2022
A&A's 2016 Distinguished Alumnus, Dr. Leland M. Nicolai (A&A '57), passed away in May, at age 86. Dr. Nicolai spent 23 years in the US Air Force as an R&D Officer and aircraft designer (retiring as a Colonel in 1982) and 34 years in the aerospace industry as an aircraft designer/developer (retiring as a Lockheed Martin Fellow).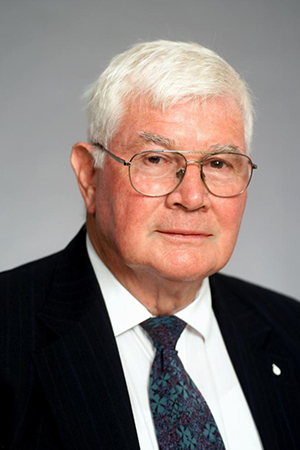 While deployed to The Defense Advanced Research Projects Agency in 1977, Col. Nicolai designed and developed the Advanced Cruise Missile (code name TEAL DAWN). The full-scale design was developed by Convair, San Diego. The ACM program was transferred to the Air Force in 1982 as the AGM-129A and was recognized officially in 1988. Convair produced 460 ACMs and none were ever launched in conflict.
As an educator, Dr. Nicolai conducted a five-day aircraft design short course for 25 years and a 15 week aircraft design course as part of the Lockheed Martin Aeronautics Technical Institute for 30 years. Over 2000 practicing engineers went through the two programs. Dr. Nicolai has visited over 20 schools in the last three decades for lectures, design reviews, seminars, and speeches. He has written four text books on aircraft design, three of which are used in US universities, and he holds 9 patents.
Dr. Nicolai received his BS from A&A in 1957. He completed a master's degree at the University of Oklahoma in 1962 and a PhD at the University of Michigan in 1968, He also earned an MBA from Auburn University in 1976.
Among his awards, Dr. Nicolai is a Lockheed Martin Fellow, an AIAA Fellow, and is recipient of the AIAA Aircraft Design award, the SAE Kelly Johnson Aircraft Design award, the Southern California Engineering Council Kelly Johnson Aircraft Design Award, the AIAA Summerfield award, NATO/AGARD Outstanding Service award, LM Aero Presidents award, and LM Skunk Works Golden Skunk award.