Ashley Baldino
July 28, 2022
The National Science Foundation (NSF) awarded Carter Vu (A&A '22) a three-year fellowship through the National Graduate Research Fellowship Program. This fellowship covers his full tuition for his graduate program in computational hypersonics at the University of Minnesota plus a $34,000 annual stipend.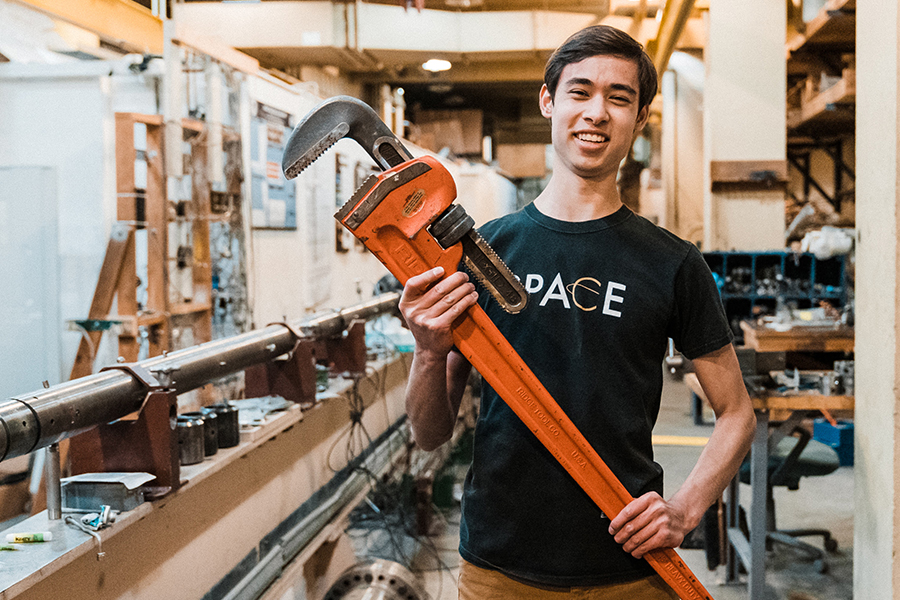 Carter worked with Professor Carl Knowlen on A&A's Ram Accelerator, and he is continuing this research at Minnesota. Carter's research will further a Ramjet System for Low Cost Hypervelocity Launch, which promises to be a cost-efficient launch system for large payloads.
Carter proposes to "use high-speed [RAM] gun-literature to quantify and solve the gas dynamic muzzle issues of Ram accelerators" brought on by high-pressure clogging of combustion products known as thermal choking. He plans to use Hyak, UW's supercomputer, to run simulations and incorporate his findings into both the UW's and the University of Minnesota's Ram functionality.
Carter believes that this technology can be applied to satellite technology to enhance "intelligence, climate analysis, and telecommunications" by "enabling satellite teams to devote their budgets to technological development and satellite functionality."
Carter enrolled at the University of Washington at age 14 through the Robinson Center for Young Scholars. In addition to this NSF Fellowship, he has won many awards, including his selection as the 2020 and 2021 Astronaut Scholar, his election to president for the Washington NASA Space Grant Consortium, and the grand prize of the 2022 Alaska Airlines Environmental Innovation Challenge.
Professor Knowlen says, "Carter is an excellent student and a promising scholar, which has made him an excellent candidate for the NSF GRFP. His diverse research interests serve him well in his lab activities and substantially round out his technical expertise. He is well-suited for his research involving rocket and space propulsion systems."