By Clarice Mauer
June 22, 2022
A&A professor emeritus Reiner Decher, who taught from 1967 until 2001, just published three very different aerospace books for general audiences.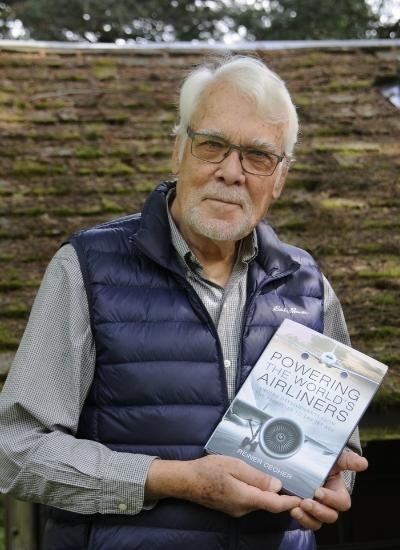 Powering the World's Airliners: Engine Developments from the Propeller to the Jet Age outlines the history of aircraft engines since the beginning of aviation. The Vortex and the Jet, published in February this year, is a non-technical primer on flight. And, finally, the freshly released Turbulent Journey details his family's escape from post-war Germany to France and, ultimately, to the U.S.
Decher's inspiration for the first two books grew from his work as a docent at the Museum of Flight. Powering the World's Airliners came out of many conversations he had at the Museum about the history of flight. Decher provides a history of commercial aviation from a propulsion perspective and features many of the people who contributed to the advancements that created the airlines we have today.
Over the years at the Museum, he and his colleagues have fielded many questions from the public which were technical in nature but required a more everyday explanation to reach the audience where they were. The Vortex and the Jet is a primer on the mechanics of flight for non-engineers.
Decher includes a combination of illustrations and details into the complexities of flight to create a useful and intriguing introduction to flight for both high school students as well as prospective engineers. To make it even more accessible, it is published as open access.
In Turbulent Journey, Decher covers the history of flight from a personal perspective. His father, Siegfried Decher, was part of the engineering team that designed the Messerschmitt Me 262 and the control system of the Jumo 004 jet engine. As a valuable aviation expert, the U.S. Government offered to evacuate the family under Operation Paperclip, but the operation ceased before the Decher family could leave. This is the story of the family's extended journey to the U.S. by way of France, and his father's entry into the U.S. aviation industry.
Reiner's unique position as an aerospace engineer who has delighted in speaking to non-engineers on flight and his family's deep history in aviation provides a solid foundation for these books. He is looking to fascinate non-engineers, hook in budding engineers, and provide historical context for all.