Amy Sprague
September 27, 2019
"Although the club is 85% mechanical engineering students, the aerodynamics team is perfect for A&A students interested in fluid dynamics or composite structures." – A&A junior Sam Reissmann
March 2020 Update:
UW Formula Motorsports is currently receiving applications for the Spring Quarter until March 15, 2020. A&A students are encouraged to apply!
A&A's Sam Reissmann loves to see the UW Formula Motorsports electric race car perform on a wet or dusty track. The third year student says, "You can see the plume that goes up behind the car. The moisture or dust lets you see the aerodynamics that you usually only have visualized through computer simulations. You can actually see what's happening."
Reissmann, along with sophomores Jerry Hu and Michael Chi, are the only three A&A students returning to the UW Formula Motorsports club this year. And they would like more company. Reissmann will be heading the aerodynamics team this year and would like to count on more A&A expertise.
Says Reissmann, "Although the club is 85% mechanical engineering students, the aerodynamics team is perfect for A&A students interested in fluid dynamics or composite structures."
The club is coming off of a strong performance at this summer's annual Formula SAE International competition in Lincoln, Nebraska, where the team placed second overall and first in Endurance, the most rigorous category for the fastest time in the longest race.
The club is ready to start another year with next year's summer competition in Lincoln in its sights. After the fall recruitment period concludes, teams will start the fall design quarter using CAD analysis and other tools to plan the car's various parts and weight estimates to produce simulations of speed and performance.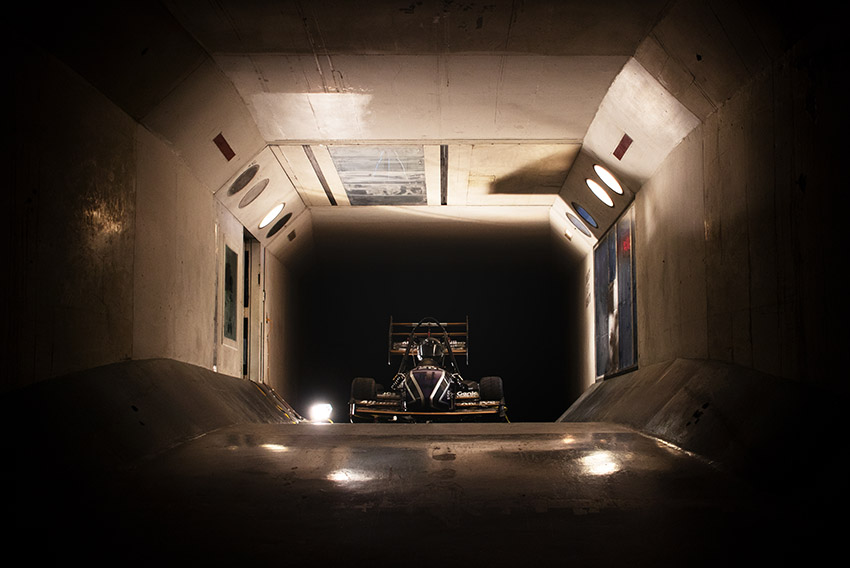 Winter quarter is for manufacturing the parts. Spring is crunch-time with assembly and then getting the new car into the Kirsten Wind Tunnel for aerodynamics checks and onto the track for testing and adjustments. Reissmann, who also works at the wind tunnel, enjoys combining the traditional aerospace industry experience of the wind tunnel to race car aerodynamics.
The aerodynamics team is focused on creating the greatest negative lift possible for the car to grip the track during the acceleration of turns. Each team member is responsible for designing and manufacturing one car part. Reissmann, Hu and Chi have worked on various fairings to reduce drag, sidewings to produce negative lift, and the composite undertray that compresses air to create lower pressure underneath the car.