A&A drone mapping project advances wildfire modeling
Amy Sprague
October 10, 2018
"I can't think of a better and more satisfying introduction to aerospace engineering, especially for UW students who are still deciding which major to pursue." – A&A Prof. Christopher Lum
Jim Cronan, a researcher with the Seattle-based Pacific Wildland Fire Sciences Lab of the U.S. Forest Service, was brainstorming with a colleague about the state of current wildfire behavior models. It's an area of increasing concern in the western U.S., especially after the dubbing of August as "smoke season" after the last two years of heavy wildfire smoke in Seattle and other areas.
Cronan says, "Fire behavior models currently used by fire management agencies are not that accurate. There is increasing momentum towards development of a new generation of fire behavior models that have the potential to more accurately characterize how a fire moves across the landscape. This new generation of models requires detailed information about the spatial arrangement of what potential fuels are in that landscape. Improved vegetation mapping and next generation fire behavior models could greatly improves predictions of how fire behaves before a fire would start." They wondered if a $1000 off-the-shelf drone could serve as a replacement for expensive LiDAR (laser light) biomass surveying system, costing over $30,000 per system.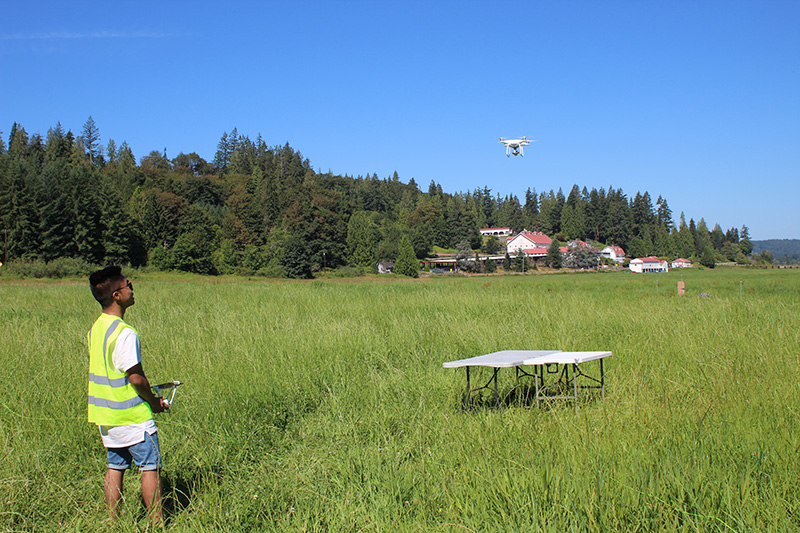 Betting that drones could do the job, Cronan found University of Washington Aeronautics & Astronautics Professor Christopher Lum and the Autonomous Flight Systems Lab (AFSL). The Lab is well-positioned for this initiative because it has both active flight and field testing operations. With funding allocated to the project, the AFSL started developing a biomass drone-mapping system.
Lum has shepherded this project through two summers of operations, mapping the height of grasses and other biomass in AFSL test plots in Carnation, WA, creating 3D models, and advancing the system of gathering and delivering the data in the most efficient and effective way. The goal is to develop a system to feed biomass data into the Forest Service's wildfire behavior models to predict how a wildfire would burn.
From Lum's point of view, this project delivers so many important educational components. First, he states, "It's valuable to be working directly with the end user. A lot of engineering research groups are answering questions that have never been asked – purely science for the sake of science dealing with what's possible, but not immediately needed. This project, in contrast, gives students the unique experience of directly collaborating with a client on a real-world, vital service."
Second, the project delivers a full-scale, accessible project to students. Lum explains, "There is a low barrier to entry on this project. Students get to engage in the entire timeline of a project in a very compressed window. Some students started the project never having turned on a multi-rotor or drone and now they've developed the workflow from taking a drone out of a box to coding missions for it, and developing a 3D model of the environment. I can't think of a better and more satisfying introduction to aerospace engineering, especially for UW students who are still deciding which major to pursue."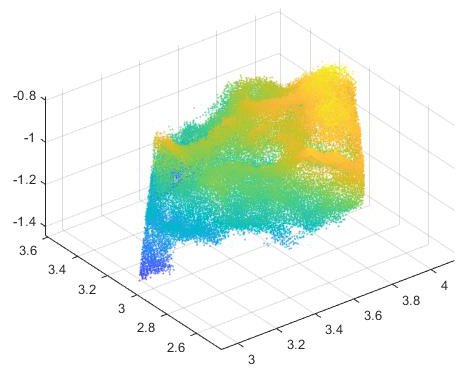 A&A undergraduate student Jaspreet Kaur Sidhu, who works on the project, agrees. She says, "In my first year in the lab, I was reluctant to join projects because I felt like I needed to be familiar with coding or the different components of drones and planes, which I wasn't. However, in this project, we are using a new 3D modeling software, pix4D, that no one knew anything about. We all had to familiarize ourselves with this new software, and from there we planned what we were going to do next." Sidhu continues, "No one enjoyed the wildfire smoke from this summer, so working to improve this problem we were all experiencing is an even more valuable experience."
For Cronan and the Pacific Wildlands Fire Sciences Lab, they are looking forward to taking this project to the next steps, which, if upcoming analysis determines that the AFSL drones have hit their biomass accuracy targets, will be to advance the testing and methodology. Says Cronan, "Next summer we would like to refine our methods, map larger test plots, and then burn them to really see how well the models predicted actual fire behavior."