May 5, 2017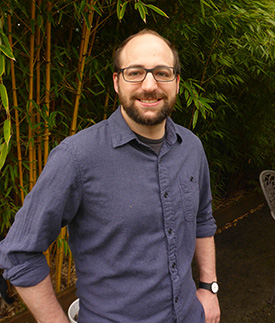 Doctoral student Dillon Foight, who works with Professor Anshu Narang-Siddarth, is the recipient of a prestigious National Science Foundation Graduate Research Fellowship. Before joining our department in 2015, Dillon earned a BS in Physics from Embry-Riddle Aeronautical University (ERAU). Dillon, who was on the Dean's List for 7 semesters, was also inducted into Sigma Pi Sigma, the Physics Honors Society, and received the College of Arts and Sciences Student Research of the Year Award.
Dillon later worked as a science mission planner for NASA's Chandra Space Telescope. This experience in satellite operations sparked his interest in improving and expanding the role of autonomous control for space applications.
The development of new mathematical tools driven by controller design for slowly-actuated systems is the current focus of Dillon's research in Professor Narang-Siddarth's Advanced Dynamics, Validation & Control Laboratory. While Dillon's personal interest is in applying these results to space systems, there is also direct applications in flight safety (an aircraft's engines can influence the aircraft attitude but are slow to respond to command input) as well as adding to the available techniques for analysis of multi-scale systems in structural engineering, biology, and other fields. After graduate school, Dillon looks forward to contributing to the next generation of autonomous spacecraft in an industry position.