Annual Alumni Luncheon
The second annual A&A Alumni and Friends Luncheon was held on October 27, 2017.
Guests had an opportunity to connect with A&A faculty, staff, friends and fellow A&A alumni, receive an update on the department, and hear a key note address from Alumnus Paul Forquera (BS 02) Director - Guidance, Navigation and Control, SpaceX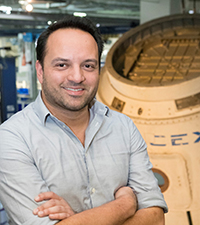 Paul Forquera
Director - Guidance, Navigation and Control, SpaceX
---
Paul Forquera is the Director of Guidance, Navigation and Control at SpaceX. Joining the company in its infancy, he has had a front row seat to the commercial new-space shift in the aerospace industry. Having lead all Guidance, Navigation and Control activities at SpaceX since 2009, Paul built and presides over an influential and innovative team developing enabling technologies for a number of commercial aerospace firsts. Highlights include development of the Dragon spacecraft, the first non-government vehicle to supply the International Space Station and the only vehicle currently in operation with any significant cargo return capability from orbit. Most recently, Paul's GNC team developed the critical boost back, entry, and propulsive descent capability of Falcon 9, enabling for the first time recovery and reuse of the booster stage of a launch vehicle. 
Earlier in Paul's career he spent time at Lockheed Martin and Northrop Grumman where he served in numerous roles as a satellite attitude control systems analyst and the pointing controls lead for a laser weapons program. 
Paul holds a Masters Degree in Aeronautics and Astronautics from Stanford, and a Bachelors of Aeronautical and Astronautical Engineering from the University of Washington. 
---
The Alumni and Friends luncheon coincides with the UW's Be Boundless campaign, which seeks to raise $5 billion by the year 2020. View A&A Fundraising goals and priorities.