Our main offices are located in the historical Guggenheim Hall, in central campus, just east of Drumheller Fountain and south of the HUB.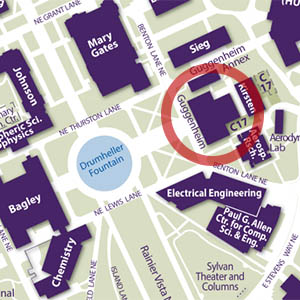 Other UW campus buildings that house A&A programs and labs are the Aerospace Engineering Research Building, Kirsten Wind Tunnel and the Aerodynamics Laboratory. All are adjacent to Guggenheim Hall.
Address for visitors
Guggenheim Hall:

3940 Benton Lane NE
Guggenheim Hall Room 211
Seattle, WA 98195
Shipping address
Guggenheim Hall:

First Name / Last Name
3940 Benton Lane NE
UWAA Box 352400
Guggenheim Hall 211
Seattle, WA

98195-2400
Directions, transportation, and parking
UW Commuter Services provides directions to the University of Washington to help you navigate parking and transportation alternatives such as bus, light rail, and biking.