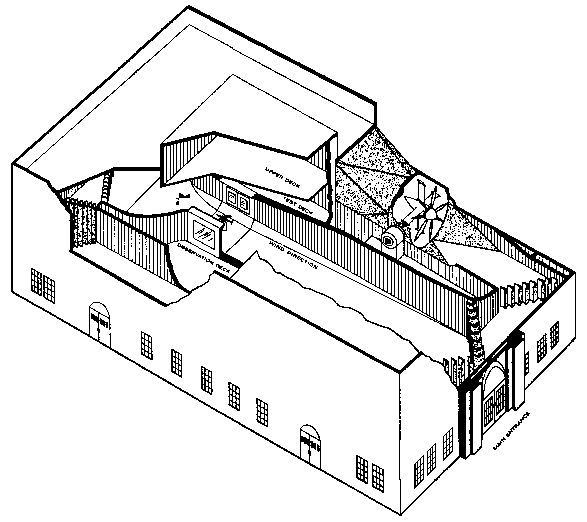 Cutaway view of the Kirsten Wind Tunnel.
Building overview
The Kirsten Wind Tunnel building is constructed of brick and concrete. There is couble access requirement for the building with both exterior building locks and interior building locks, each of which have personnel discretion programming. The building has three main levels. Locks can restrict access to the test section, model preparation area, balance deck and all of the second and third levels, if necessary.
Control room
The control room, located on the third floor of the building, is where the tunnel is operated, data is acquired then reduced, and the test is monitored. The tunnel operator's console has controls for operating the tunnel, changing speed, changing model attitude, and acquiring data.
Adjacent to the operators console is the test engineer's workstation. The desk contains dual flat-panel monitors attached to a PC networked to the data system. Several video feeds are displayed on an adjacent flat panel television. The desk is directly across from the run board where the test engineer will specify the test parameters for the tunnel operator.
Company room
A company room is located adjacent to the control room to provide a convenient office for the customer while testing. The company room has five desks and can be closed for privacy. The company room has an exclusive telephone line for customer use, 206-616-5981, and several PCs that are networked to the data system for either online plotting or post-processing. A closed-circuit television monitor displays realtime test information over one of several available video feeds from the test section.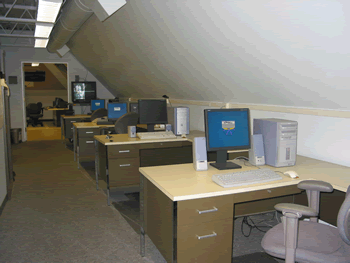 Fans
The wind is generated by two variable speed, seven-blade fans. Each fan is powered by a 500 hp dc electric motor. The fan motor armatures are linked by an idler shaft, ensuring that both fans spin at the same RPM. Each fan's diameter is 14.75 feet and the blades are constructed from laminated blocks of Honduran mahogany.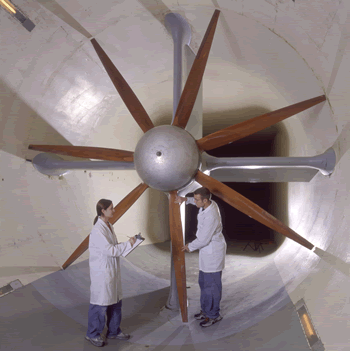 Model deck
The model deck is on the east side of the test section and has room for laying out model parts and performing minor mods. Stored there are commonly used supplies (model fillers, various tapes, screws, nuts, etc.), hand tools, shop air, and photography accessories. An LED readerboard displays two lines of realtime test information, typically Q, Alpha, Psi, and Run Number. However, the readerboard's control software enables many other choices.
Observation deck
An observation area is on the west side of the test section and provides an unobstructed view of the model through a 44" x 87¼" window. The window can be covered with three steel plates for protection during powered tests, or black curtains for darkening the test section.