UW A&A Account Setup
Pardon our dust... We are in the process of updating this page. If you have questions, please contact Stephen Scheier support@aa.washington.edu.
Changing Your Password | U:\ Drive | File Storage Quota
As a matriculated Aero-Astro (A&A) student or non-A&A student taking an A&A course, you are provided with access to departmental computing resources, including 40+ Windows workstations located in the GUG 212 Student Computing Lab and remotely accessible Windows Session Servers.
A UW A&A Windows account has been created for your use, matching your university NetID account name. A notification email was sent to your UW NetID account, listing your account username and initial password, along with the link to this account setup document. (Note that while your UW A&A account name matches your NetID account, this is only a convenience to help you remember your username; there is no other association.)
GUG 212 Workstations Lab Login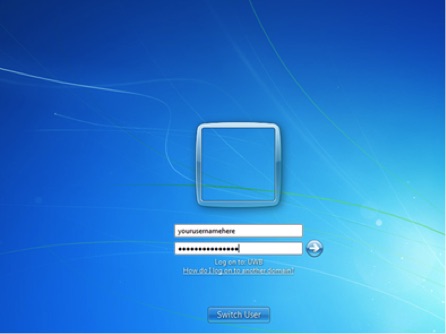 You initiate a login to the Windows PC's in the Student Computing Lab (GUG 212) by typing Ctrl-Alt-Del keys. Initiating a remote session to either RDSH-1 or RDSH-2 remote Windows terminal servers requires creating and launching a Remote Desktop session on your personal computer (see Remote Windows Sessions section below for details). In either case, you should see a login window similar to Figure 1. Enter your A&A username and initial password in the appropriate fields and press OK, making certain the "Log onto" entry is "UWAA". (You can force this by entering "UWAA\" before your username, e.g. "UWAA\smith".) If your login is not successful, check your password and, if still a problem, contact A&A computing support staff.
Changing Your Password
It is recommended that you change your password from its initial value, as this was sent to you in plaintext via email, necessary but insecure. To change your password on the GUG 212 workstations, type Ctrl-Alt-Del.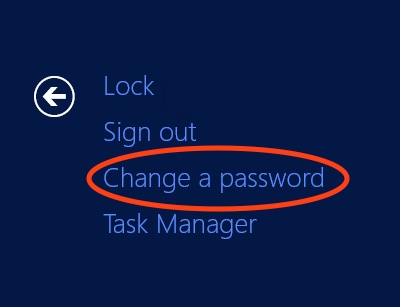 From the resulting display, select "Change a password…".  (From a Remote Desktop Windows session, type Ctrl-Alt-End.)
The new password must be 6 or more characters in length and should include special characters, e.g. ";", "!", "@", "$", "%", making it harder for someone to guess.
Changing Your Password in Windows Remote Desktop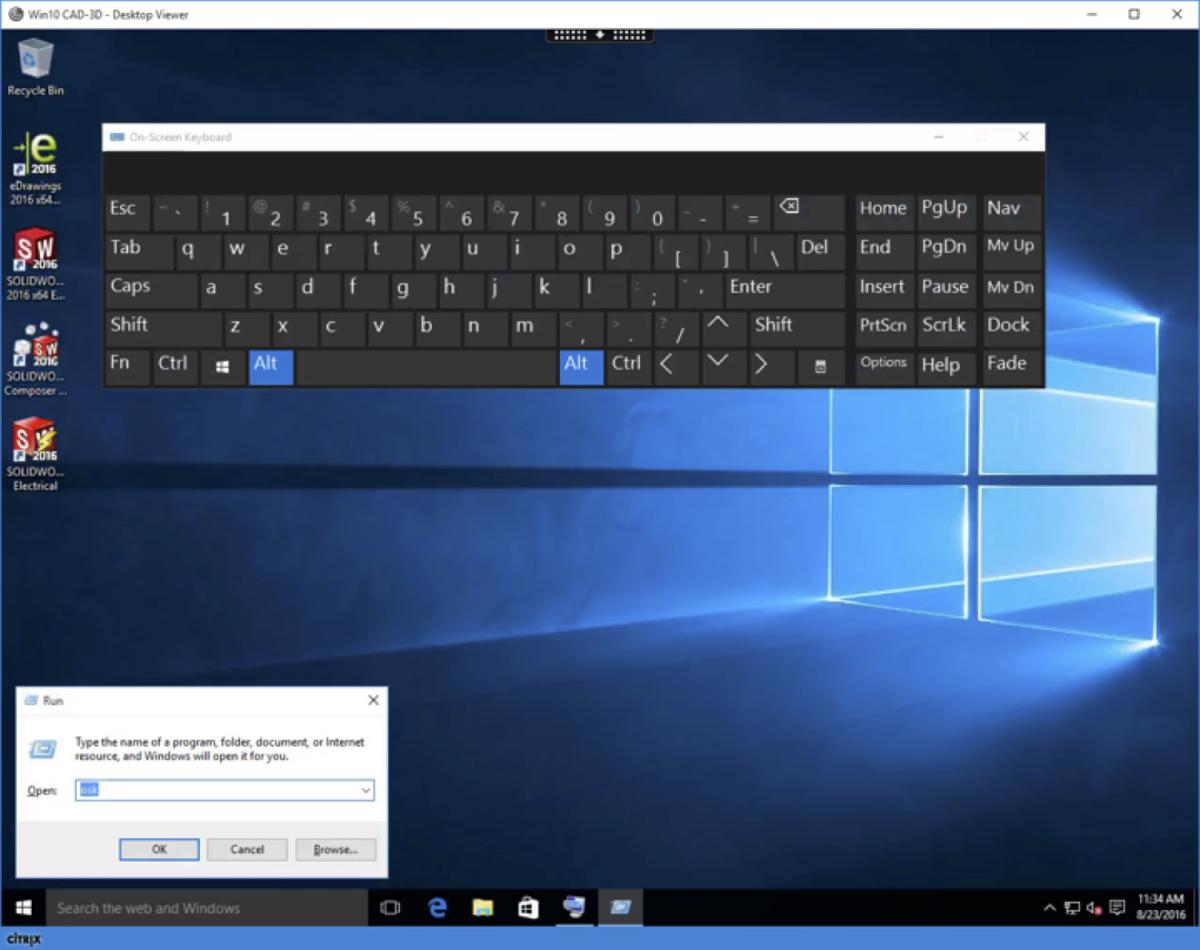 The inability of a Windows Remote Desktop session to map the Ctrl-Alt-Del key sequence requires a different sequence. This applies to all remote session clients, including Windows, Mac, and Linux. From your Remote Windows Desktop Session, right-click on the Start window icon and select "Run". Type "osk" to launch the On-Screen Keyboard.

Hold the "Ctrl" and "Alt" keys on your Windows keyboard ("control" and "option" keys on your Mac keyboard ) and use your mouse to select the "Del" key. From this point, proceed as explained for the GUG 212 workstations.
U:\ Drive File Storage
When you log into a UW A&A domain computer, you have a "My Documents" folder on the local system's hard disk (C:\) and a personal department-wide Windows share volume (U:\ ) available for your use. The "My Documents" folder on the system's local hard disk provides your highest performance file access, while your U:\ drive is intended as an option for long-term storage and file sharing. Your local "C:\Users\\My Documents" folder is recommended for use with disk intensive applications, e.g. ANSYS, Matlab, and CAD. It is important to note that files stored in local "My Documents" are only accessible when you are using that particular computer. As someone else is likely to be using that computer when you next return to the lab, you need to get in the habit of moving session files to readily accessible storage, whether to your personal USB-memory stick drive or your U:\ file area.
Remember that files located in your C:\ personal file area are not backed up as part of the daily departmental backup and may be deleted at any time to recover disk space or rebuild a system.
File Storage Quota
Each student is assigned a default disk quota of 5GB, both for local storage on RDSH-1/RDSH-2 remote Windows servers and shared U:\ drive. If that limit is reached, you will not be able to create new files without reducing your disk utilization by deleting unneeded files or having your disk quota increased. Contact the computing support staff if you feel you have justification for increased disk capacity.