11th Annual PNW AIAA Technical Symposium Call for Abstracts

May 9, 2017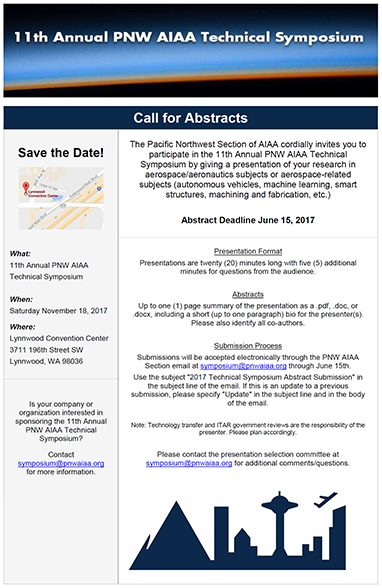 The Pacific Northwest AIAA invites you to participate in our 11th Annual Technical Symposium!
Apply to give a presentation of your research in the aerospace field
Abstract Deadline: June 15, 2017
Presentation Format
Presentations are twenty (20) minutes long with five (5) additional minutes for questions from the audience.
Abstracts
Up to one (1) page summary of the presentation as a .pdf, .doc, or .docx, including a short (up to one paragraph) bio for the presenter(s). Please also identify all co-authors.
Submission Process
Submissions will be accepted electronically through the PNW AIAA Section email at symposium@pnwaiaa.org through June 15th.
Use the subject "2017 Technical Symposium Abstract Submission" in the subject line of the email. If this is an update to a previous submission, please specify "Update" in the subject line and in the body of the email.
Note: Technology transfer and ITAR government reviews are the responsibility of the presenter. Please plan accordingly.
Please contact the presentation selection committee at symposium@pnwaiaa.org for additional comments/questions.
Save the Date!
What:
11th Annual PNW AIAA
Technical Symposium
When:
Saturday November 18, 2017
Where:
Lynnwood Convention Center
3711 196th Street SW
Lynnwood, WA 98036