Please bookmark this page and check back often. We will continue to update this page to add more information as it comes available in the coming weeks.
If you come to campus, please be aware of the face covering requirement.

Please do level up your masking. We cannot require higher levels of masking than cloth, but please to use the highest level of masking available, which is N95. With omicron being a more infectious strain, we need to be aware of how the various kinds of masks are protecting us. Please consider using at least KN95 or N95 masks at all times (not just in UW spaces.)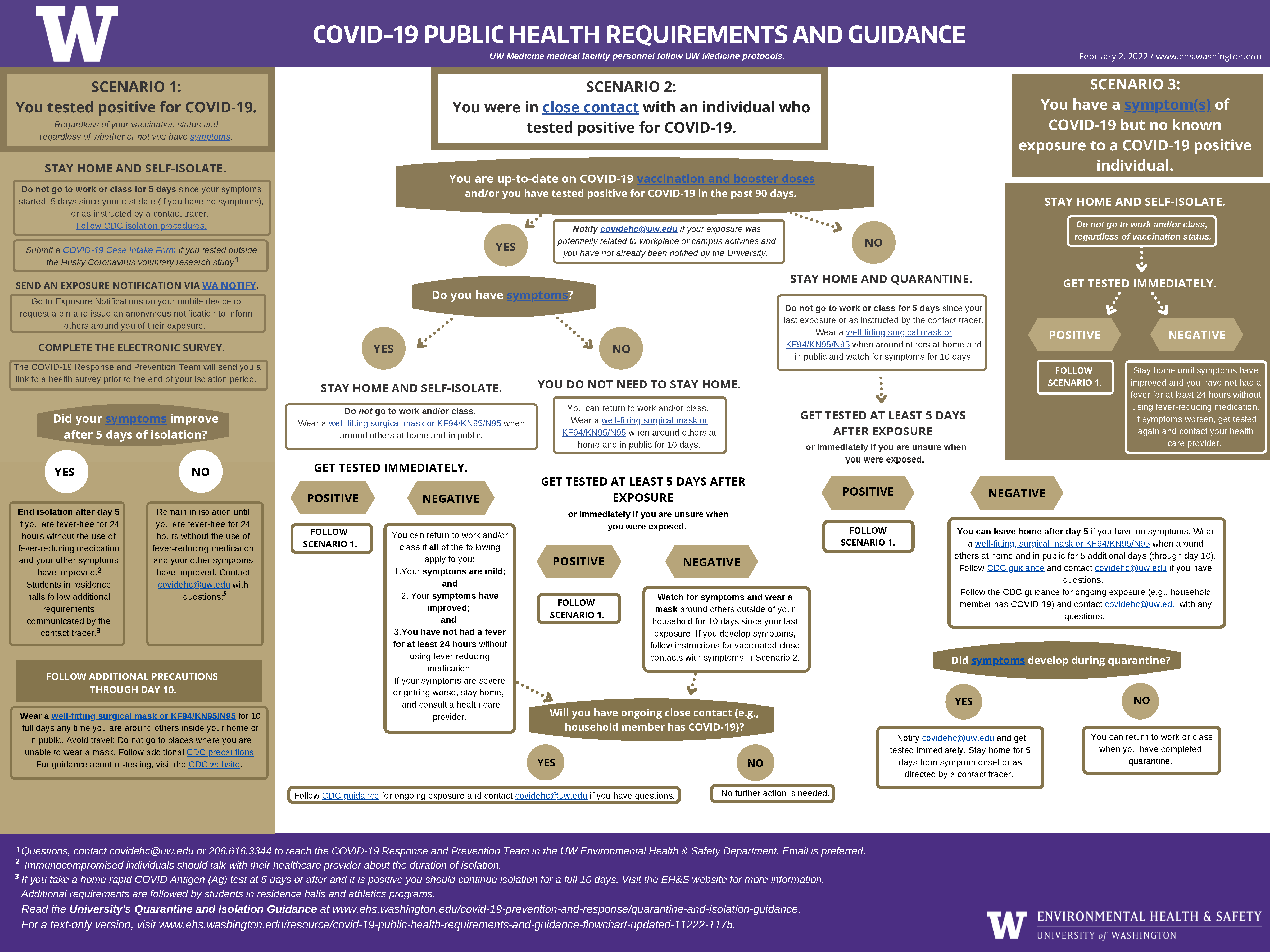 Vaccination verification for employees
All new employees must complete their vaccine verification by your first day of employment. 
Emergency resources
UW: Emergency Aid 
The UW Food Pantry: Hours, location and more
City of Seattle: COVID-19 Seattle-area emergency food resources
From the Seattle Times: Food, child care, mental health support and more: Resources to support the community during the coronavirus outbreak.
UW resources on health and security
The WholeU: Virtual fitness and mindfulness classes
IMA: Virtual mindfulness classes including the recorded library
IMA: Virtual group fitness classes
UW Human Resources: UW Emergency Baby and Kid Sitter Network for UW employees in critical positions.
International Student Services: Coronavirus information for F1 & J1 students
College of Engineering resources
Coronavirus information and resources
Archive of the COVID-19 Resources Digest
Online learning resources for students and instructors
Community resources
Comcast / Xfinity: Resources for Internet Connectivity 
Spectrum Mobile: Community Assistance & Internet Access
#PashFam Free Community Resource Bank: Google doc on resources covering creativity, entertainment, financial health, parenting, employment, learning, mental health, physical health, and more.
Rental assistance resources for King, Pierce, Snohomish Counties
UW College of Education: Guides for families during school closures
WA state free and charitable clinics
Mutual aid: Seattle area, Tacoma, Snohomish
COVID-19 relief fund for WA undocumented people
A&A remote desktop servers
A&A offers access to remote Desktop Services via the College of Engineering, Virtual Desktop Interface (or COEVDI for short). Learn more about available services and how to access them. 
Students will need to have installed and be connected to the UW VPN using the "HUSKYONNET" VPN client, which installs the application called "F5-Big IP Client" on their individual PC's or Macintosh computers and then will want to connect to these RDP Servers using their UW NetID and UW NetID password by logging on as netid\UWNetIDName.
Department communications archive
Below is the archive of departmental communications related to COVID-19.