Coronavirus & COVID-19 Resources
Our campus and department communities are feeling the many daily impacts of the current COVID-19 outbreak. To help everyone navigate these unique times, we created this page as a local collection of resources.  
Please bookmark this page and check back often. We will continue to update this page to add more information as it comes available in the coming weeks.
All UW employees who come to a UW campus for work — whether for a full day or just to pick up work-related materials — must complete a new, daily Working On-Site COVID-19 Symptom Attestation. 
Emergency resources
UW: Emergency Aid 
The UW Food Pantry: Hours, location and more
City of Seattle: COVID-19 Seattle-area emergency food resources
From the Seattle Times: Food, child care, mental health support and more: Resources to support the community during the coronavirus outbreak.
UW resources for working, teaching, research and academics
Main UW page: Coronanavirus Facts & Resources
UW Center for Teaching & Learning: Teaching During COVID-19
UW IT-Connect: Working and Collaborating Remotely
Student Technology Loan Program (STLP):Computer & Equipment Checkout for Students
Office of the Provost: Facts and information regarding spring quarter 2020
Office of the University Registrar: COVID-19 FAQs
Office of Research: FAQs and research update relating to research aspects of Governor's Stay Home, Stay Healthy directive.
Office of Research: Mitigating impacts to research activities due to COVID-19.
UW resources on health and security
The WholeU: Virtual fitness and mindfulness classes
IMA: Virtual mindfulness classes including the recorded library
IMA: Virtual group fitness classes
UW Human Resources: UW Emergency Baby and Kid Sitter Network for UW employees in critical positions.
International Student Services: Coronavirus information for F1 & J1 students
College of Engineering resources
Coronavirus information and resources
Online learning resources for students and instructors
A&A resources
Online Course Delivery Approaches by Professor Shumlak
Kristi Morgansen's slides from A&A Town Hall on April 6, 2020
David Wilson's IT notes from A&A Town Hall on April 6, 2020
David Wilson's "How to: Turn chat back on in Zoom!"
David Wilson's "New Zoom Client Adds a new 'Security' button . . ."
Community resources
Comcast / Xfinity: Resources for Internet Connectivity 
Spectrum Mobile: Community Assistance & Internet Access
#PashFam Free Community Resource Bank: Google doc on resources covering creativity, entertainment, financial health, parenting, employment, learning, mental health, physical health, and more.
Rental assistance resrouces for King, Pierce, Snohomish Counties
UW College of Education: Guides for families during school closures
WA state free and charitable clinics
Mutual aid: Seattle area, Tacoma, Snohomish
COVID-19 relief fund for WA undocumented people
A&A remote desktop servers
A&A has three Fully Qualified Domain Names (FQDN) for three of the A&A Remote Desktop Servers which can be used by students to gain access to most of the software that was/is available in the A&A Computing Lab:
Name: rdsh-2.aa.washington.edu
Name: rdsh-3.aa.washington.edu
Name: rdsh-4.aa.washington.edu
Students will need to have installed and be connected to the UW VPN using the "HUSKYONNET" VPN client, which installs the application called "F5-Big IP Client" on their individual PC's or Macintosh computers and then will want to connect to these RDP Servers using their UW NetID and UW NetID password by logging on as netid\UWNetIDName.
Department communications archive
Below is the archive of departmental communications related to COVID-19.
5/13/2020 COVID SOP
Hi Colleagues,
In anticipation of the state allowing us to resume our research in our labs, I'd like to encourage you all to start developing your COVID-19 SOPs and send them to EHS for approval. Carl wrote an excellent COVID-19 SOP for the KWT, and based on it, I developed mine which I've attached for you all as guidance. Since the COVID guidelines are constantly changing, I'm attaching mine, as it is the latest, and also since I've included the referenced websites and pdfs as links. I would encourage you all to do the same as this will keep your SOPs more current, since the COVID changes will be made on these websites and online pdfs – it would, though, require that you periodically check these links to ensure your practices are also current.
Once you write your SOPs, please email them to these personnel at EHS below, and please cc to me as well. If they need to include other personnel due to the specifics of your lab, they'll be sure to include them.
Natalie Daranyi: ndaranyi@uw.edu
Denise Bender: db58@uw.edu
Brandon Kemperman: bjkemp@uw.edu
Tracy Harvey: tdy@uw.edu
It might take a few back-and-forth until your SOP is finalized, but once it is, please forward it to Rachel, and cc to me as well. As always, if you have any questions, please don't hesitate to reach out to me, I'll be more than happy to help.
Best Wishes, Dana
4/8/2020 Recent Updates to Zoom Settings . . .
To: aa-staff, aa-faculty, aa-postdocs, aa-grads
From: David Wilson
Subject: Recent Updates to Zoom Settings . . .
Greetings!
In the ongoing efforts of UW-IT to both support online instruction and to make it a worthwhile and safe undertaking for both our faculty and staff, and the student population… They have made several changes to the 'default' settings for Zoom as detailed on this IT Connect Update from UW-IT.
https://itconnect.uw.edu/we-are-making-uw-zoom-safer-for-teaching-and-learning
Some of these changes may impact your instruction, and we've already posted a step-by-step process for turning back on group Chat in Zoom yesterday… A lot of work and effort has gone into dealing with behaviors of both Zoom and the very small number (fingers crossed!) of 'knuckleheads' that want to use the technology for their own entertainment… I remain committed to support our primary mission of delivering instruction to our students, and I'm ready to try and help you solve issues that may arise and to support your efforts!
Thanks!
DAVID R. WILSON
Senior Computer Specialist
4/3/2020 UW Mental Health Services for Students
From: Stanley Choi and Danyel Hacker
To: aa-students

Dear campus community,
As we launch into spring quarter with remote learning, Hall Health Mental Health and the Counseling Center wanted to share answers to questions you may have about the mental health resources available for students, as we cope with COVID-19 stress.
Will Let's Talk be available? (Drop-in informal counseling with counseling professionals)
This quarter we are piloting Let's Talk online.  Let's Talk will be offered on Monday, Tuesday and Thursday 2-4pm.
What mental health services are available?
Students who are interested in mental health services are able to schedule a secure online appointment with a counselor.  Individual, group and crisis counseling are available via secure online video sessions. Students can also access online workshops and other content to enhance your well-being and self-care.
Hall Health Mental Health

Counseling Center

· Psychiatric medication management

· Group counseling

· Brief individual counseling

· Crisis response

· Online workshops

· Brief individual counseling

· Crisis response

 

 

Call 206-543-5030 to make an appointment

Call 206-543-1240 to make an appointment
What can I expect from an online appointment with the Counseling Center or Hall Health Mental Health?
We will meet with you via secure online video sessions and can discuss your concerns. We will then work collaboratively with you to develop a plan for next steps. Next steps may include effective coping strategies, a follow-up appointment, or referral to other resources.
Who should I contact for mental health services?
Both Hall Health Mental Health and the Counseling Center offer similar counseling services. If you already have a provider at Hall Health or you are interested in medication, Hall Health may be a good place to start. If you do not have access to health insurance, the Counseling Center may be a good place to start. Either way, the professionals at both places can help direct you to the appropriate service.
What additional option will be available this quarter to attend to my mental wellbeing?
There are a number of resources available online, including:
· The centralized wellness website, which includes self-help mindfulness resources
· Sanvello is a mobile app that helps you monitor your wellbeing and teaches you coping strategies.  Its premium content is currently free in response to additional stress related to COVID-19.
· UW Recreation is offering several yoga, mindfulness and nutrition series online
· How to cope with COVID-related stress
Warmly,
Natacha Foo Kune, Ph.D.   and    Meghann Gerber, Ph.D.
Counseling Center                         Hall Health Mental Health           
206.543.1240                                  206-543-5030
4/2/2020 Short Video Tutorial on Using "Breakout Rooms" in Zoom
From: David Wilson
To: aa-faculty, aa-staff, aa-corestaff, aa-postdocs
Subject: Short Video Tutorial on Using "Breakout Rooms" in Zoom
Greetings!
Since we have gone to an all on-line method of delivering instruction, a LOT of time and energy has gone into creating curriculum that works in that environment by all of us…
The folks from UW Instructional Technology have a full series of Teaching Remotely at UW courses that are available within Canvas, including a full session on Zoom. The link to self-enroll yourself into the Zoom Workshop is here:
https://canvas.uw.edu/enroll/ND87FE
One of the key takeaways from any of these sessions is to make the technology fit and support YOUR teaching methods and at a level of technology-to-human interaction that you are comfortable with. There are a LOT of functions available within Zoom that do not get used in the day-to-day use of an average Zoom session, and one of these that could be an advantage to classroom interactions is the "Breakout Room".
First, there is a very short (less than 3 minutes) video from Zoom that shows you how Breakout Rooms in their simplest form function from within Zoom:
The purpose of Breakout Rooms in Zoom is to allow a large group to be broken into smaller groups for discussion or project oriented purposes… The following Information School (or iSchool for short) video walks you through the process of pre-creating and assigning Breakout Rooms via a CSV (Comma Separated Value) spreadsheet, and Zoom even includes the template for building these rooms within the Web Portal (the Zoom Web Portal) requires you to log into Zoom via a browser by logging into the following URL:
As always, if you need any additional help or wish to test this functionality within a Zoom session I am available to be added as a participant to try and help you with the process of using this technology in your Zoom sessions!
Thanks!
DAVID R. WILSON
Senior Computer Specialist
4/1/2020 Department Town Hall: Mon, 4/6, 4pm
From: Kristi Morgansen
To: aa-allusers, mae-grads
Subject: Department Town Hall: Mon, 4/6, 4pm
Dear All,
Now that we're a couple of days into Spring Quarter, I'd like to welcome everyone "back" to the department and to UW. I hope that everyone was able to get a bit of rest over Spring Break. As we settle into a most unusual Spring Quarter, I want to ensure we continue to communicate with each other, voice our needs, and share resources.
On Monday, 4/6/2020 (4pm), we will host a department Town Hall Meeting via Zoom. I will use a few minutes to offer any new updates I can, and our IT Manager, David Wilson, will share an overview of the department's computer resources. Beyond that, I expect to use most of the time to hear from you and answer your questions.
Spring 2020, Aero & Astro Department Town Hall
Monday, 6 April; 4pm (Pacific)
https://washington.zoom.us/j/445595820
There will be ample time to ask questions during the meeting. However, I created this online forum where you can share your thoughts, comments, and questions in advance. As things come to mind -- anything at all -- please share them here.
www.slido.com
event code: #L823
In addition to the Town Hall slido forum, we still have our confidential "Feedback" form on the department website. I encourage you to use that system to send us your questions, comments, or concerns. You can find the Feedback link on the right side of all Student pages of our website.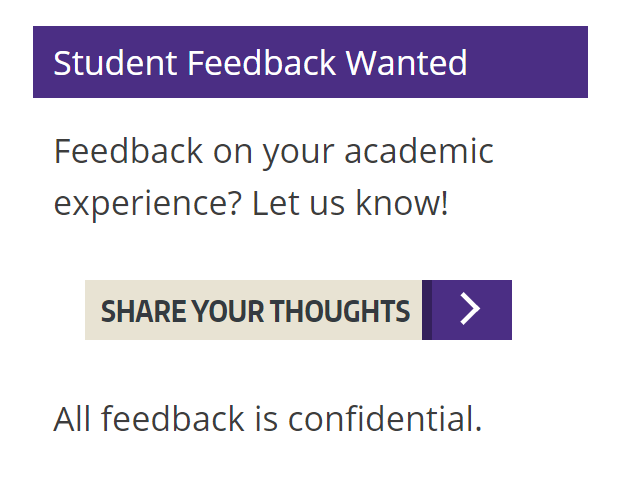 Very Sincerely,
Professor Morgansen
4/1/2020 A&A: Critical resources available and more
From: Amy Sprague
To: aa-allusers
Subject: A&A: Critical resources available and more
Hello A&A,
We at the department hope you are all doing well and are safe and healthy. We have added a few items to our main A&A coronavirus resource page. You can find this link from our A&A homepage.
Resources include food assistance, information for international students, emergency babysitting network for critical employees, internet access and more.
There are also new links from the WholeU and the IMA for virtual mindfulness and fitness classes. These are all free, so please take advantage! 
If you have suggestions for additional resources for this page, please do let me know. You can also reach out to myself or other A&A staff if you are finding something particularly challenging.
Stay well,
Amy
--
Amy Sprague | PM & Communications | UW Aero & Astro
206.543.6736 |  aa.washington.edu | @uwaeroastro | sprag@uw.edu
3/25/2020 Fwd: $200K Ventilator Design Challenge
To: aa-allusers
From: Kristi Morgansen
Subject: Fwd: [Engr-excom] $200K Ventilator Design
---------- Forwarded message ---------
From: Nancy Allbritton <nlallbr@uw.edu>
Date: Wed, Mar 25, 2020 at 7:53 AM
Subject: [Engr-excom] FW: $200K Ventilator Design Challenge
To: excom@engr.washington.edu <excom@engr.washington.edu>
FYI
From: council-of-chairs-bmes@googlegroups.com <council-of-chairs-bmes@googlegroups.com> On Behalf Of David Juncker, Prof.
Sent: Wednesday, March 25, 2020 7:15 AM
To: council-of-chairs-bmes@googlegroups.com
Subject: $200K Ventilator Design Challenge
Dear Colleagues,
I am pleased to share a CAD $200K ventilator design challenge for COVID-19 patients to address the shortage of available ventilators. The Challenge is lead by Code Life.ca and the Montreal General Hospital foundations. The designs are due end of March 2020, but I am sure many people in your community already started designing ventilators, and this could be an opportunity for them to energize their project, and get wider exposure.
The details and rules are posted there, and participants can sign up to begin.
 https://www.agorize.com/en/challenges/code-life-challenge/
Please distribute widely!
Stay safe.
Best wishes
David
-------------------------------------------------------------
David Juncker, PhD
Professor & Chair
Biomedical Engineering Department
Canada Research Chair in Bioengineering
McGill University                        Tel:  + 1 (514) 398 7676
Genome Centre                         david.juncker@mcgill.ca
740, Dr. Penfield Av. #6206       https://juncker.lab.mcgill.ca
Montreal, QC, H3A 0G1            
Canada
3/25/2020 Action Required Today by 5pm - AA Research Active Faculty
To: aa-faculty, aa-postdocs, aa-staff
From: Kristi Morgansen
Subject: Action Required Today by 5pm - AA Research Active Faculty
Dear AA Faculty, Postdocs and Staff,
As you know, Governor Inslee has issued a stay at home order that begins tonight at 5 pm.  This means effective 5 pm today all in-person work on campus in our department must cease until the end of the stay at home order.  The only exception to this requirement is those who are deemed as completing critical activities. The dean's office has requested a list of individuals for our department who meet this requirement.  
They must meet one of the following criteria to be identified as critical:
1. Employees, including faculty, academic personnel, and staff, critical to supporting remote learning.  This includes faculty who require access to campus to facilitate remote instruction (example: access to specific technology).
2. Employees conducting COVID and public health research, and research employees critical to maintaining research and operational continuity.
3. Critical state workers designated as necessary to maintain university (including clinical) operational   continuity, including, facilities, utilities, transportation, human resources, information technology, financial services, employee health and safety, communications, housing and food services.
4. Research that is essential to meet thesis requirements for a final defense in Spring Quarter.
Please use this google form to send a list of identified individuals with their criteria category included.
*Please note anyone who is not identified and added to this list will not be identified as critical and cannot be on campus. *
Best regards,
Kristi
3/25/2020 Graduate Exams in Spring Quarter
From: Danyel Hacker
To: aa-grads
Subject: Graduate Exams in Spring Quarter
Hi Everyone,
>With the recent announcement that Spring 2020 instruction will be entirely online and all common departmental spaces are closed, I'm sure many of you are wondering how this will impact your MS Thesis presentations or doctoral exams next quarter.
Many graduate exams in the past few weeks were successfully held via Zoom and we will continue to hold exams and thesis presentations remotely throughout spring quarter. Once you have identified a time that works for your committee and are ready to schedule your exam, please email me the date and time, the title of your exam, and the Zoom meeting link. If you need help setting up a Zoom meeting, just let me know and we can work through it.
The Graduate School has made modifications to its requirements on video conferencing in doctoral exams to accommodate current circumstances. No one can be required to physically participate in exams, and we strongly encourage all exam participation to be remote. Departmental conference rooms are closed throughout the quarter and will not be reserved for exams as they have in the past.
MS thesis presentations, general exams, and final exams should be easily accommodated via Zoom. We realize the qualifying exam is more challenging to conduct via Zoom given the questions at a whiteboard component. This is something we will actively work to find an appropriate solution to before the oral qualifying exams take place in June.
For many of us this is a stressful time filled with anxiety, so if there's anything I can do to help, please do not hesitate to reach out. I have remote advising appointments available (aa-danyel.youcanbook.me) and am checking email as well. I've been having a lot of conversations with my dog lately, so even if you just need to talk to a person about something/anything I get it, and I'm here.
Danyel

Danyel Hacker

she/her/hers/

Academic Adviser, Graduate Programs
3/23/2020 Update on A&A Departmental Operations and SOP Requirements
Dear A&A Faculty, Post-Docs and Staff,
As a follow up to my message last week, I wanted to send some details regarding 1) research lab operations and revised SOPs, 2) fiscal paperwork, purchasing, travel and order delivery and 3) cleaning supplies.  I also wanted to note that the main administrative office (GUG 211D) will continue to be closed through Spring quarter.  
Standard Operating Procedures for Research Labs, KWT, 3x3 Wind Tunnel and Machine Shop
All research labs, Kirsten Wind Tunnel (KWT), 3x3 wind tunnel and the machine shop need to update their standard operating procedures (SOP) to include social distancing and cleaning guidelines.  Please incorporate the Environmental Health & Safety guidelines that are attached to this email. These will need to be updated and in place by March 27th in order to continue operations.  Please send a copy of your updated SOP to Dana Dabiri dabiri@aa.washington.edu.
A&A, KWT and 3X3 Wind Tunnel Machine Shop Operations
These facilities are currently staffed and are accepting requests for space access as well as manufacturing jobs. However, until further notice, access for department members will be restricted to sponsored research only. Please continue to submit your requests as you currently do to Carl Knowlen (KWT), Dzung Tran (Machine Shop) and Owen Wilson (3x3 Wind tunnel)
All student related design/build activities, both academic and RSO, will be cancelled effective 03/20/2020.  Capstone related work will be evaluated once new revised plans for spring quarter are in place.  Additional communication to students and instructors will be forthcoming.
Fiscal Paperwork, Purchasing, Travel and Order Delivery
Currently the entire finance team is working remotely, but they are available via email and their office phone numbers during business hours.  Please continue to send your purchasing and travel requests and questions to aerobuy@uw.edu as appropriate. Please do not send requests to personal work email addresses, as they might not be taken care of quickly and efficiently.
Be aware of three new changes in the processing of requests:
Electronic Paperwork
At this time please send all new travel reimbursements and purchasing requests via the above email addresses.  We are not accepting paper copies of reimbursement or travel requests.  To have your travel, purchasing and reimbursement requests processed, please send scanned images or photos of your forms to the email addresses above as appropriate.
 
Procard and Direct Purchases
If you place any orders directly via ARIBA or procard, please use Mailing Services main address as your delivery address:
Aeronautics and Astronautics
℅ Mailing Services
3900 7th Ave NE,
Seattle, WA 98195.

At the time you place your order, please also send an email to aerobuy@uw.edu so we can help coordinate pick up with mailing services. 
 
We are working on the details but you can expect an email later this week with instructions on how to submit your procard reconciliation electronically, starting with the current (March) transaction cycle (due in early April).
 
Order Delivery and Pick Up
We will be picking up mail and delivered orders on Tuesday and Friday mornings from mailing services.  You can expect to receive an email from aerobuy@uw.edu to arrange pick up of your order on these dates.  If you have an item that you see has been delivered or you need to pick it up sooner than our schedule, please email aerobuy@uw.edu to arrange a pick up time directly.
Cleaning Supplies
We placed an order a couple weeks ago for cleaning supplies which are still on back-order. Once we receive these supplies, Rachel will be in touch with labs to coordinate delivering some to each of you.
 
If you have questions regarding any of these details, please contact Rachel via email at rreicher@uw.edu or phone at 206-616-1116.
Best,
Kristi
---
Dear A&A Faculty, Post-Docs and Staff,
As a follow up to Kristi's email below requesting updated SOPs, please submit your updated SOPs here.
Please note in addition to submitting an updated SOP, you will want to ensure all lab members are provided with live, interactive training on the updates to your SOP. This must be completed by April 3rd.
Thanks, Rachel
3/20/2020 Updates on A&A Teaching, Learning, and Working in Spring Quarter
3/20/2020
To: Students CC: Emeritus, Grad Advising, Undergrad Advising, Corestaff, Faculty, Susan Murphy
Subject: Updates on A&A Teaching, Learning, and Working in Spring Quarter
Dear Students,
As a follow-up to my message regarding facilities closures, I wanted to send additional information about what you can expect in spring quarter.
First, please remember the department is maintaining a list of informational and service resources on our website: https://www.aa.washington.edu/coronavirus
Please also remember that Stanley and Danyel actively maintain Canvas pages for all undergraduate and graduate students. Information and updates sent in email will also be posted there for future reference. All declared/admitted A&A students and A&A faculty have access to these canvas pages:
A&A Undergraduate Student Canvas Site: https://canvas.uw.edu/courses/1380611
A&A Graduate Student Canvas Site: https://canvas.uw.edu/courses/1356878
Below are updates regarding several aspects of teaching/learning in the department for spring quarter. As more information becomes available, or if anything chances, we will continue to notify you at your official UW email address.
ACADEMIC ADVISING
The advising staff are working remotely, but they are working. Please continue to reach out via email and/or book individual appointments to discuss your needs:
Appointments w/ Stanley: http://stanchoi.youcanbook.me/
Appointments w/ Danyel: http://aa-danyel.youcanbook.me/
Appointments w/ Ed: https://econnery.youcanbook.me
SPRING COURSEWORK ONLINE
Per the University's announcement on 3/18/2020, Spring 2020 instruction will be offered exclusively online. No in-person course meetings, office hours, review sessions, or lab sections are permitted. A vast majority of our courses are lecture based and can be moved into a webcast (typically Zoom) format. However two undergraduate courses will require changes:
AA 322, "Aerospace Lab II". AA 322 involves extensive teamwork and building/testing activities that cannot be safely accommodated this quarter. In light of this limitation, AA 322 will be removed from the Spring 2020 time schedule. AA 460, "Propulsion" will be scheduled in its place for Spring 2020, and AA 322 is planned to be offered in Autumn 2020. These schedule updates will appear on your registration during the next week. There is no action required at this time. We will ensure that this change does not prevent any student's ability to graduate on time. Contact Stanley (ugadvising@aa.washington.edu) with graduation questions.
AA 411/421, Capstone. All instructional labs in the department are closed to students until further notice. This will necessitate a shift in the planning and execution of senior capstone design. Seniors enrolled in capstone will receive detailed updates regarding new processes and expectations in the first week of spring quarter. Many details are still undecided, but teams can expect that the first portion of spring will include rescoping design timelines and deliverables. Though details are still emerging, senior capstone will continue, and the class of 2020 will be able to graduate on time.
RSOs & DESIGN-BUILD ACTIVITIES ARE SUSPENDED
RSOs, including design-build teams, are prohibited from all meetings and activities on campus. This includes using department offices and lab space for designing, manufacturing, assembling, and testing hardware (e.g., AA Machine Shop, KWT 101 & 102, AERB 013).
We recognize and share the deep disappointment this represents for everyone who has spent months working toward design-build competitions and related activities. However, health and safety are our greatest concerns and there can be no exceptions to the prohibition of student work on campus this spring. We will contact the student leaders of our design-build teams in the near future to discuss how the department can best support your continued success going forward.
In the meantime, all RSOs are encouraged to use online meeting tools to maintain communication and provide valuable community to their members.
GRADUATE STUDENT EXAMS (Thesis Presentations, Qual, General, Final)
Graduate students will be able to complete examinations and final thesis presentations in the spring and graduate on time. Examination formats will be adjusted to allow everyone to participate safely and substantively. Danyel will distribute details in email and on Canvas. Please email her directly with any questions or concerns (gradadvising@aa.washington.edu).
A&A COMPUTER LAB
The department computer lab is closed until further notice. The department will reassess the safety and feasibility of reopening the computer lab when campus libraries resume normal operations.
Access to educational software is available through remote computing tools. Department staff are actively working to expand and reinforce remote computing resources for students. Updates will be posted on our website. For technical problems, continue to email David at support@aa.washington.edu.
ACADEMIC STUDENT EMPLOYEES (RAs, TAs, SAs, and Graders)
No existing ASE appointments or offers will be cancelled or rescinded as a result of changes in spring quarter teaching, etc. TA course assignments are being actively reviewed and revised in light of the changing instructional landscape. TAs will receive assignments in the early part of next week. Your extended patience on this detail has been especially appreciated.
SHARED STUDENT OFFICES (Graduate Students, RA/TAs, etc.)
All students, faculty, and staff are encouraged to work remotely. Anyone with a shared office is especially encouraged to do so. If you are experiencing difficulty accessing needed resources for remote work, please contact your supervisor and "cc" Ed (econnery@aa.washington.edu).
We understand that remote work may be impossible at certain times. Any work done on campus must happen within strict social distancing guidelines. We will contact students with desks in shared spaces to develop appropriate safety measures in the coming days.
RESEARCH IN FACULTY LABS
Non-instructional, funded research is allowed to continue at this time. However, all work must happen in accordance with strict social distancing guidelines. If you have been working in a faculty lab doing sponsored research, please contact your faculty supervisor to understand how lab operations and facilities access will be managed in spring quarter.
Your academic advisor (Stanley or Danyel) will be able to advise you on how to manage research credits (299, 499, etc). Many of those details will be available in the first week of spring quarter.
I am incredibly proud of how everyone in the department is handling this most difficult situation. Please continue to take care of yourselves and one another. Be safe, and do not hesitate to reach out for any of the resources that are available or just to say hello and check in.
Best regards,
Prof. Morgansen
3/19/2020 Time Sensitive! Please Collect Personal Items from Denton Room and Computer Room!
3/19/2020
To: Students
Subject: Time Sensitive! Please Collect Personal Items from Denton Room and Computer Room!
Dear Students,
Things are unfolding rapidly (we know you're feeling it too), so we're working to get you the best information! as quick ly as possible. Before the end of the day tomorrow, you will recieve some more in-depth updates about everything from computing resources, to spring classes, safety in shared office spaces, etc.
However, I wanted to offer an immediate follow-up regarding the imminent closure of the Computer Lab and the Denton Room.
If you have any personal items in those rooms -- anything at all -- please collect them immediately. Those spaces will be closed and inaccessible by Monday, 3/23.  I hope it's obvious that we will not throw away personal property. But we really want to avoid a situation where you are cut off from your stuff and/or staff are having to wrangle unattended items. 
I hope the end of finals week is going as well as possible and that you are all staying safe and healthy.
Thanks!
-ed
3/19/2020 Update Regarding Department Resources
3/19/2020
To: aa-allusers 
Subject: Update Regarding Department Resources & Facilities
Dear A&A Community,
I want to echo Dr. Cauce in thanking you all for your extraordinary professionalism, dedication and sacrifice for the public good. I also want to assure everyone that our departmental operations are aligned with this university-wide charge. Please take a moment to read important updates below.
Additional messages will be sent ! to our de partment community groups (faculty, students, etc.) with more information and greater detail on what to expect in spring quarter. Continue to monitor your campus email account closely for forthcoming information.
1. Departmental Webpage with Resources
I am excited to share this new webpage where we are collecting information and resources to help everyone navigate the challenges and opportunities ahead. Please bookmark and check this page often for updates.
A&A Website: Coronavirus & COVID-19 Resources
2. Closing Buildings and Common Facilities
Effective Friday, March 20th, our buildings will be locked and closed to the public. This includes Guggenheim, AERB, and both wind tunnel facilities (KWT and 3x3). Keys and CAAMS access will continue to be generally available. However, in light of the ongoing public health concerns, the department is implementing additional restrictions on use of certain spaces.
All common departmental spaces, including conference rooms and instructional labs, will be closed until the end of spring quarter. Please be aware that existing conference room reservations will be cancelled starting tomorrow, Friday, 3/20.
The spaces included are: 
Conference & Meeting Spaces
GUG 211D
GUG 305
GUG 312
AERB 130
GUG 205 (Denton Study Lounge)
For meetings and collaborations, please take advantage of the remote work resources provided by the university. You can also write to our IT Specialist, David (support@aa.washington.edu), for help with finding and using the best tools for your needs.
Instructional Spaces
GUG 212 (Computer Lab)
AERB 117 (Instructional Lab)
AERB 139 & 221; KWT 101 & 102 (Capstone / Design-build Labs)
Students will receive detailed updates in the coming days regarding spring quarter changes impacting lab courses, capstone, and RSO-based design-build activities.
3. A&A Machine Shop Operations
The machine shop is currently staffed and Dzung is accepting requests for space access as well as manufacturing jobs. However, until further notice, access for department members will be restricted to sponsored research only. Please continue to submit your requests to Dzung directly (dztran@uw.edu).
These changes will require us to be flexible, creative, and patient in the coming months. But I am confident our department is ready! to do ou r very best in the face of challenging circumstances. Thank you again for your dedication and positive spirit!
Best regards,
Kristi
Kristi A. Morgansen, Ph.D.
Professor and Chair
William E. Boeing Department of Aeronautics and Astronautics
Box 352400
University of Washington
Seattle, WA  98195-2400
pronouns:  she/her/hers
voice: (206) 616-5950   fax: (206) 543-0217
email: morgansen@aa.washington.edu
http://www.aa.washington.edu/faculty/morgansen/
3/18/2020 Message from Mary Lidstrom, Vice Provost for Research re: COVID-19
To grads, faculty, research-staff, 
Subject: Message from Mary Lidstrom, Vice Provost for Research re: COVID-19
All - I wanted to make sure everyone saw this message from Mary Lindstrom, Vice Provost for Research...
---------- Forwarded message ---------
From: Linda Gamman <lmkelley@uw.edu>
Date: Wed, Mar 18, 2020 at 5:51 PM
Subject: [UW Administration] Message from Mary Lidstrom, Vice Provost for Research re: COVID-19
To: uwadministration@uw.edu <uwadministration@uw.edu>
Message sent on behalf of Mary Lidstrom, Vice Provost for Research
Dear Colleagues,!
First, let me thank you for the extraordinary work you are doing to support your research groups through this unprecedented time. As you have probably heard, the UW will be holding classes online for the duration of spring quarter, and you are likely wondering what that will mean for research. Even as many research universities around the country close their research facilities and buildings, I want to assure you that the UW is doing everything possible to keep our research programs open and productive, while also protecting the health and safety of our students, postdocs, faculty, and staff. 
My goal in this communication is to provide you with guidance and resources to help you in planning during this time when constraints due to COVID-19 are constantly evolving and changing how we conduct research. How we plan can minimize the negative impact we may experience. Here is how you can help.
Research Considerations
Make sure your research business continuity plan is up to date and share it with your group. Consider documenting critical step-by-step instructions.
Please encourage everyone in your research group to work at home if they can. It is a great time to analyze data, write proposals and progress reports, and get caught up on manuscripts (especially working on that review you have been wanting to write). Students may be able to write the first chapter or two of their thesis, or work on a portion of an upcoming progress report or General Exam document. I encourage you to set up journal clubs and hold them remotely, if you have not already done so.!
Discuss plans with each member of your research team; it may be useful to have a regular remote check-in on weekly plans and progress. Remember, everyone should be able to find a way to stay productive even if they are working at home (see HR policy and advice).
For those who continue working at UW research facilities, remind them to NOT COME IN IF THEY ARE SICK, and encourage frequent hand-washing.
Maintain social distancing. If it is difficult to maintain social distance due to crowding, you will need to work out shifts and set up schedules so that the number of people working at any one time does not preclude the ability to keep social distance. Ensure that research team members are able to arrange personal interactions to maintain a comfortable six -foot distance from each other.
Cross-train research staff to fill in for others who may be out sick or unable to come to work.
Remember to be as accommodating as possible for the members of your research team; each person will have unique circumstances. Regular and frequent communication is key for your research group.
If you feel that the best course of action for your research group is to ramp down your research activities, you should do so. Every situation will be different. If you do begin to ramp down, please be sure to address the issues noted below in the section, "Guidance for the Possibility of a Research Facility Shutdown."
Office of Sponsored Programs and Human Subjects Division
The Office of Research has continuity plans in place so our work can continue. OSP is able to access all UW and sponsor systems remotely to e-support proposal handling, award acceptance, issuance of subawards, handling of non-award agreements, and pre- and post-award activities. HSD and the UW IRBs are fully functional and operating remotely at our standard capacity, however,! please l ook for further messaging from HSD regarding a temporary halt of some human subjects research. Priority will be given to inquiries, requests, applications, and modifications related to SARS-COV-2 or COVID-19 research, or their impacts on other research. We are prioritizing our workload to accommodate changes in our work environment and we are strategizing to handle the expected increase in workload (within our current constraints) due to COVID-19.
Other Research Support Offices
Please use the links listed below to access information on other research support offices. They are all open and functioning, and each has important information for research continuity.
Building Access and Security!
Finally, for security, UW buildings have moved to a locked mode, similar to on weekends or holidays, so you and your research team will still have access. Your building coordinator will be working on plans for deliveries, but make sure you have a plan for communication with anyone who might not have after-hours access but has legitimate access needs (such as an undergraduate researcher or a repair person, for instance). You will need to call ahead for access to recharge facilities that are in a different building. Note that some of these facilities are curtailing hours and/or services, so it is wise to check in advance anyway.
Although there are no plans to restrict access to UW research facilities to those who currently have after-hours access, this is a rapidly evolving situation and coul! d change. As the Governor noted yesterday, they are considering all potential options. It is prudent to plan, just in case, and some ideas are listed below. In addition, as we have seen around the nation, two-week quarantines are a real possibility. Plan ahead and challenge your research group to consider what each would do if they could not come to the UW tomorrow.
Guidance for the Possibility of a Research Facility Shutdown
Prepare for a significant drop in support services on which you depend. By thoughtfu! l plannin g you may be able to minimize the long-term impacts on your research.
Make sure all data is backed up on the cloud, that all labile materials are stored appropriately, and that all instruments are shut down every night. Plan as if you may not have access tomorrow.
Take stock of your inventory and pre-order reagents and suppl! ies that have long shelf lives. Consider those that have had long shipping delays in the past and order early. Make sure your critical consumables (gloves, pipette tips, growth media, etc.) are in stock.
Plan for keeping equipment functional and safe.
Repairs performed by Facilities and other service providers may be delayed. Consider scheduling those now.!
Check on updates from UW research units like the Office of Animal Welfare and EH&S for further guidance (see links at the bottom of this email). 
Keep up the good work, wash your hands, and stay safe!
Mary Lidstrom
Vice Provost for Research
Key Resources
Mitigating Impacts to Research Activities Due to COVID-19
UW Novel coronavirus & COVID-19: facts and resources
Hu! man Subje cts Division COVID-19
Office of Sponsored Programs (see Announcements)
Environmental Health and Safety
King County Public Health Coronavirus Disease 2019